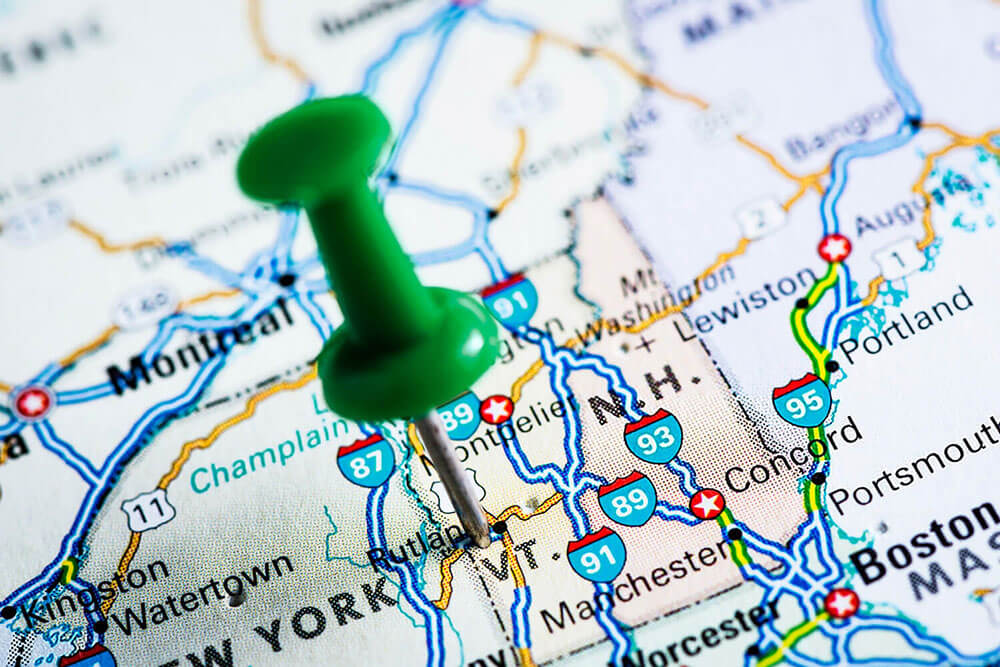 If you live in Vermont, would like to pursue a career in nursing and want to start earning competitive pay as quickly as possible, you should consider training to become a licensed practical nurse. Becoming licensed can take as little as 12 to 18 months, and LPNs in Vermont enjoy exceptional pay and benefits along with excellent job security. With hundreds of positions available around the state, finding employment upon becoming licensed will be a snap.
While becoming an LPN in Vermont is fairly easy, it mostly hinges on the quality of the training that you receive. Therefore, take your time while searching for training programs in the state. The right one will must be approved by the Vermont State Board of Nursing, or you will not be eligible to sit for the NCLEX-PN — the licensing exam for LPNs. Below, find recommendations for top LPN programs in Vermont.
Top LPN Programs in Vermont
The training program that you complete to become an LPN has the biggest impact on how difficult or easy the entire process will be. It is crucial to choose carefully and to give careful consideration to every program.
As mentioned previously, your training program must be approved by the State Board of Nursing to qualify to sit for the NCLEX-PN. It is also smart to check each program's pass rates for the exam, as they can vary widely. Stick with programs with pass rates of around 95 percent or higher for best results.
Here are some recommendations for reputable LPN programs in Vermont:
Vermont Technical College

210 South St 4th Floor,

Bennington, VT 05201

(802) 442-8811

Vermont Technical College

124 Admin Dr,

Randolph Center, VT 05061

(800) 442-8821

Vermont Technical College

201 Lawrence Pl,

Williston, VT 05495

(802) 879-5965
Neighboring States: Massachusetts | New Hampshire | New York
LPN Licensing Requirements in Vermont
By knowing what to expect regarding the LPN licensing process in Vermont, you will get through it much faster and more easily. All matters pertaining to LPN licensing in Vermont are handled by the Vermont State Board of Nursing, and this agency enforces licensing requirements for these health care professionals, including:
Completing an LPN training program that is officially approved by the Vermont State Board of Nursing. Expect your training to take anywhere from 12 to 18 months to complete.
Submitting an application for licensure by examination to the Vermont State Board of Nursing, including a copy of a valid government-issued ID such as a driver's license and official transcripts from your training programs, or a Verification of Education Form in a sealed envelope from same.
Registering for, taking and passing the licensing examination for LPNs, the NCLEX-PN. Note that it is administered at testing locations around the state on dates throughout the year.
If you hold a valid multistate LPN license from another NLC state, you may just begin practicing here as an LPN if you want. Contact the Vermont State Board of Nursing to learn how to transfer your LPN license from a non-NLC state.
In Vermont, LPN licenses expire every two years. At the time of renewal, you must provide proof of having completed at least 400 contact hours of work over the last two years or at least 960 contact hours over the last five years.
Vermont State Board of Nursing
When applying for an LPN license in Vermont, you will submit your application to the Vermont State Board of Nursing. This agency handles all matters that pertain to licensing in the state, so you will contact them for renewals and other business too. Contact information is as follows:
Vermont State Board of Nursing
89 Main St 3rd Floor, Montpelier, VT 05602
Phone: (802) 828-2396
Fax: (802) 828-2484

LPN Salary & Employment Outlook in Vermont
Before devoting any serious time, money or effort to becoming an LPN, you should make sure that you'll be able to find jobs and that they will pay enough to be worth your while. This is easy enough to determine, as information regarding LPN salaries in Vermont is readily available, as it is for all other states.
According to the U.S. Bureau of Labor Statistics, LPNs in the state of Vermont earn an average wage of $57,150 per year, which is equal to $27.48 per hour. This is a bit higher than the national average yearly pay for LPNs, which is $55,860, or $26.86 per hour. As an LPN in Vermont, then, you stand to earn a bit more than average, which is a major perk.
As far as finding work goes, you shouldn't have anything to worry about in Vermont. According to the BLS, the field of licensed practical nursing is expected to grow by a rate of about 4 percent from 2014 to 2024. This is far slower than the national growth rate, 16 percent, but it still means that at least 50 new LPN jobs will become available per year during that time.
LPN Salaries in Vermont by Area
What kinds of factors affect how much you can expect to earn as an LPN in Vermont? Your level of experience and quality of training or education play important roles, but where you are located in the state affects things too. Just as LPNs in some states earn more than LPNs in others, LPNs in some metro regions of Vermont earn more and have access to more jobs than LPNs in other parts of the state.
With that in mind, here's what to expect regarding employment and salary for LPNs in various parts of the state:
Becoming an LPN in Vermont is easier than you probably think. Get the ball rolling today by checking out some of the top LPN programs in the state and enrolling!