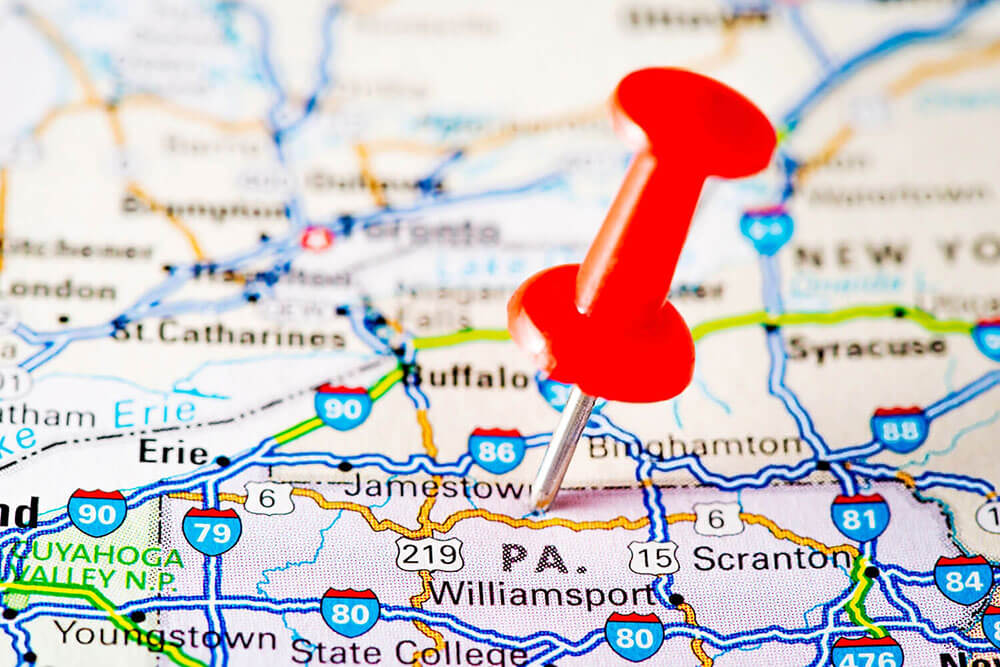 If you'd like to pursue a career in nursing, live in Pennsylvania and want to start earning good pay as quickly as possible, consider training to become a licensed practical nurse. Unlike the training that's required for registered nurses, which takes at least two to four years, training to become an LPN only takes 12 to 18 months. With an LPN license in hand, you'll be eligible for jobs around the state that offer competitive pay and benefits.
Although becoming an LPN in PA is fairly simple, much of it depends on the quality of the training that you receive. This is why it's so important to take your time while looking for LPN programs. It also helps to know what to look for and to have a basic understanding of licensing requirements in the state. Get up to speed regarding becoming an LPN in Pennsylvania by reading on below.
LPN LICENSING REQUIREMENTS IN PENNSYLVANIA
To work as an LPN in PA, you must possess a valid LPN license. To become licensed as an LPN in the Keystone State, you must meet the requirements as set forth by the Pennsylvania State Board of Nursing. Familiarize yourself with these requirements to ensure the smoothest, easiest time:
Complete an LPN training program that is approved by the Pennsylvania State Board of Nursing. This program must be at least 1,500 hours in length and take at least one year to complete.
Send an application for licensure by examination to the Pennsylvania State Board of Nursing. With it, complete criminal background check as well as pay applicable licensing fees.
Register for, take and pass the NCLEX-PN licensing exam for LPNs. It is administered at test sites around the states on dates throughout the year.
If you possess a valid LPN license from another state, the Pennsylvania State Board of Nursing has an endorsement process that may be used to transfer it to PA. Note that Pennsylvania is not a part of the Nurse Licensure Compact, or NLC, although legislation in the state is pending for NLC at the time of this writing.
PA LPN licenses expire on June 30 of every even-numbered year. Unlike in many other states, you do not need to meet any continuing education requirements when renewing your license, so it tends to be quick and easy to do.
Pennsylvania State Board of Nursing
When applying for an LPN license in PA, send your application to the Pennsylvania State Board of Nursing. In the future, any time you need help with your license, you will direct inquiries to this agency. Therefore, keep its contact info handy:
Pennsylvania State Board of Nursing
2601 N 3rd St, Harrisburg, PA 17110
Phone: (717) 783-7142
Fax: (717) 783-0822
LPN SALARY & EMPLOYMENT OUTLOOK IN PENNSYLVANIA
Although becoming an LPN is one of the quickest and most affordable ways to kick-start a career in nursing, it still requires investments of effort, money and time. Before really throwing yourself into it, then, confirm that you will come away with credentials that allow you to find a well-paying job.
You will be pleased to know that LPNs in Pennsylvania do quite well. Per the U.S. Bureau of Labor Statistics, LPNs in PA earn a median income of $50,250 per year, which is equal to $24.16 per hour. Nationwide, the average annual salary for LPNs is $48,820, or $23.47 per hour, so LPNs in PA tend to earn more on average than LPNs in the country as a whole.
As for job prospects, they are good and should continue to remain so for the foreseeable future. According to the BLS, the LPN field in PA is projected to grow by a rate of 9 percent from 2014 to 2024. This is quite a bit slower than the national growth rate of 16 percent, but it still means that more than 1,400 new LPN jobs will be added every year during that period.
LPN Salaries in Pennsylvania by Area
Several factors affect how much you can expect to be paid as an LPN in Pennsylvania. In addition to things like experience and quality of training, your geographic location impacts job availability and compensation. This is evidenced below:
| Area | Total Employment | Average Hourly Wage | Average Annual Salary |
| --- | --- | --- | --- |
| Philadelphia-Camden-Wilmington | 15,760 | $27.69 | $57,590 |
| Harrisburg-Carlisle | 1,530 | $24.96 | $51,920 |
| Reading | 870 | $24.93 | $51,860 |
| Gettysburg | 190 | $24.91 | $51,800 |
| Allentown-Bethlehem-Easton | 1,700 | $24.54 | $51,050 |
| Lebanon | 420 | $23.55 | $48,990 |
| Lancaster | 1,920 | $23.37 | $48,600 |
| Chambersburg-Waynesboro | 370 | $23.13 | $48,110 |
| Bloomsburg-Berwick | 450 | $22.85 | $47,520 |
| Scranton-Wilkes-Barre-Hazleton | 2,140 | $22.62 | $47,050 |
| Williamsport | 480 | $22.50 | $46,790 |
| York-Hanover | 860 | $22.47 | $46,730 |
| East Stroudsburg | 260 | $22.28 | $46,330 |
| Pittsburgh | 5,700 | $21.99 | $45,740 |
| Altoona | 620 | $21.56 | $44,840 |
| State College | 300 | $21.34 | $44,400 |
| Erie | 1,030 | $20.69 | $43,040 |
| Johnstown | 360 | $19.21 | $39,950 |
TOP LPN PROGRAMS IN PENNSYLVANIA
Given the importance of selecting a first-rate LPN training program, it makes sense to research plenty of options before making a decision. However, you can easily feel overwhelmed simply from the sheer number of options out there. Get your search off to a great start by considering these recommendations:
All-State Career School

50 W Powhattan Ave,

Essington, PA 19029

Bucks County Community College

275 Swamp Rd,

Newtown, PA 18940

Career Technology Center of Lackawanna County

3201 Rockwell Ave,

Scranton, PA 18508

Central Pennsylvania Institute Science & Technology

540 N Harrison Rd,

Bellefonte, PA 16823

Central Susquehanna Intermediate Unit

1339 St Mary St #2,

Lewisburg, PA 17837

Chester County Intermediate Unit

443 Boot Rd,

Downingtown, PA 19335

Clarion County Career Center

447 Career Ln,

Shippenville, PA 16254

Clearfield County Career & Technology Center

1620 River Rd,

Clearfield, PA 16830

Community College of Beaver County

1 Campus Dr,

Monaca, PA 15061

Crawford County Career & Technical Center

860 Thurston Rd,

Meadville, PA 16335

Delaware County Technical Schools

85 N Malin Rd,

Broomall, PA 19008

Eastern Center for Arts & Technology

3075 Terwood Rd,

Willow Grove, PA 19090

Falcon Institute of Health & Science

3045 Ave B,

Bethlehem, PA 18017

Fayette County Career & Technical Institute

175 Georges Fairchance Rd,

Uniontown, PA 15401

Fortis Institute

517 Ash St,

Scranton, PA 18509

Franklin County Career & Technology Center

2463 Loop Rd,

Chambersburg, PA 17202

Great Lakes Institute of Technology

5100 Peach St,

Erie, PA 16509

Greater Altoona Career & Technology Center

1500 4th Ave,

Altoona, PA 16602

Greater Johnstown Career & Technology Center

445 Schoolhouse Rd,

Johnstown, PA 15904

Greene County Career & Technology Center

60 Zimmerman Dr,

Waynesburg, PA 15370

Harrisburg Area Community College

1 HACC Dr,

Harrisburg, PA 17110

Hazleton Area Career Center

1451 W 23rd St,

Hazle Township, PA 18202

Health and Technology Training Institute

100 S Broad St,

Philadelphia, PA 19110

Huntingdon County Career & Technology Center

13221 Big Valley Pike,

Mill Creek, PA 17060

Indiana County Technology Center

441 Hamill Rd,

Indiana, PA 15701

Jefferson County DuBois

576 Vo-Tech Rd,

Reynoldsville, PA 15851

Lancaster County Career & Technology Center

1730 Hans Herr Dr,

Willow Street, PA 17584

Lebanon County Career & Technology Center

833 Metro Dr,

Lebanon, PA 17042

Lehigh Carbon Community College

4525 Education Park Dr,

Schnecksville, PA 18078

Lenape Technical School

104 Armstrong St,

Ford City, PA 16226

Lincoln Technical Institute

5151 Tilghman St,

Allentown, PA 18104

Mercer County Career Center

776 Greenville Rd,

Mercer, PA 16137

Mercyhurst University

501 E 38th St,

Erie, PA 16504

Northampton Community College

3835 Green Pond Rd,

Bethlehem, PA 18020

Northern Tier Career Center

120 Career Center Ln,

Towanda, PA 18848

Penn Commercial Business / Technical School

242 Oak Spring Rd,

Washington, PA 15301

Penn State Lehigh Valley

2809 Saucon Valley Rd,

Center Valley, PA 18034

Pennsylvania College of Technology

1 College Ave,

Williamsport, PA 17701

Pennsylvania Institute of Technology

800 Manchester Ave,

Media, PA 19063

PITC Institute

827 Glenside Ave,

Wyncote, PA 19095

Pittsburgh Technical College

1111 McKee Rd,

Oakdale, PA 15071

Prism Career Institute

8040 Roosevelt Blvd,

Philadelphia, PA 19152

Reading Area Community College

10 S 2nd St,

Reading, PA 19602

Schuylkill Technology Center

101 Technology Dr,

Frackville, PA 17931

Somerset County Technology Center

281 Technology Dr,

Somerset, PA 15501

Susquehanna County Career & Technology Center

2380 Elk Lake School Rd,

Springville, PA 18844

The Rapha School

17 Griffith Dr,

Home, PA 15747

United Career Institute

1015 Mt Braddock Rd,

Lemont Furnace, PA 15456

Venango Technology Center

1 Vo-Tech Dr,

Oil City, PA 16301

Western Area Career & Technology Center

688 Western Ave,

Canonsburg, PA 15317

Wilkes-Barre Area Career & Technical Center

350 Jumper Rd,

Wilkes-Barre, PA 18702

York County School of Technology

2179 S Queen St,

York, PA 17402
LPN training programs in PA are typically offered at vocational schools and community colleges. Always confirm that a program is approved by the PA State Board of Nursing prior to enrolling, as you will be ineligible to sit for the exam otherwise. While you're at it, check each school's pass rates for the NCLEX-PN, and stick with programs with a pass rate of 95 percent or higher.
Browse LPN schools in PA and enroll in one today!