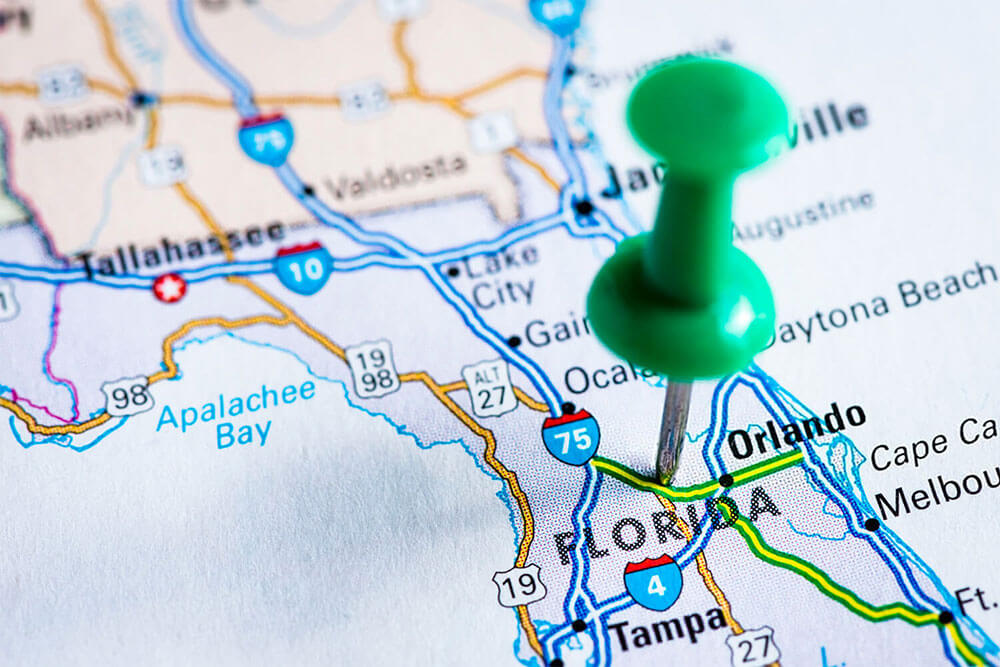 If you aspire to be a licensed practical nurse, or LPN, and live in the state of Florida, you've come to the right place. On this page, you'll find all of the basic information that you need to learn how to become an LPN in FL. As you will see, it involves completing an approved training program and passing a licensing exam.
Without question, the most critical step in becoming an LPN in Florida is completing your LPN training. With that in mind, it's imperative to enroll in a program that has a solid reputation and that is known for graduating students who go on to pass the NCLEX-PN exam. Learn more about licensing requirements for LPNs in Florida along with a lot of other useful information by reading on below.
LPN LICENSING REQUIREMENTS IN FLORIDA
It helps a lot to understand the licensing requirements for LPNs in Florida, as it allows you to get through the process as quickly and efficiently as possible. The only way to be eligible to work as an LPN in Florida is by obtaining an LPN license, and licensing is handled by the Florida State Board of Nursing.
Some licensing requirements for LPNs in FL include:
Complete a board-approved LPN training program, which typically takes anywhere from 12 to 18 months.
Submit your application to the state board of nursing prior to sitting for the exam along with the required fees and an electronic fingerprint for a background check.
Take and pass the NCLEX-PN licensing exam, which is administered at sites around the state throughout the year.
If you possess an LPN license from another state, you may be able to transfer it to Florida through the endorsement process.
LPN licenses in Florida expire every two years on July 31, and it is important to renew yours in a timely manner to avoid problems.
Florida Board of Nursing
All issues regarding LPN licenses in the state of Florida are handled by the Florida Board of Nursing. For example, when you apply for your license, you will submit your application to them. In the future, you must renew your license with them and contact them for any other assistance.
Contact information is as follows:
Florida Board of Nursing
4042 Bald Cypress Way #120, Tallahassee, FL 32399
Phone: (850) 245-4125
Fax: (850) 617-6460
LPN SALARY & EMPLOYMENT OUTLOOK IN FLORIDA
Before going through the work, effort and expense of becoming a licensed practical nurse in Florida, you'd probably like to make sure that LPNs are fairly compensated and able to find work easily in the Sunshine State. Because the state of Florida has such a large population of senior citizens, job opportunities abound for LPNs, who work with seniors in nursing homes, hospitals and even in their own homes.
According to the U.S. Bureau of Labor Statistics, the annual mean wage for LPNs in Florida is $46,710, which is equal to $22.46 per hour. This is slightly less than the nationwide average pay for LPNs, which is $48,820 per year, or around $23.47 per hour.
As for job outlook for LPNs in FL, the news is very good. According to the BLS, there is expected to be a 22-percent increase in LPN jobs in Florida from 2014 through 2024. This rate is 6-percent higher than that for the nationwide LPN job growth rate, so it proves that LPNs in Florida have plenty of opportunities now and will have even more in the upcoming years. If you break into the field now, you can rest assured of enjoying steady employment throughout your career.
LPN Salaries in Florida by Area
The amount that you can expect to earn as an LPN in Florida will vary based on numerous factors, and location is among the most important of them. As you will see from the list below, salaries and available jobs for LPNs vary widely across the state. It might be worth your while to relocate if you live in an area with fewer opportunities.
| Area | Total Employment | Average Hourly Wage | Average Annual Salary |
| --- | --- | --- | --- |
| Gainesville | 990 | $26.63 | $55,380 |
| Port St. Lucie | 1,360 | $23.60 | $49,100 |
| Sebastian-Vero Beach | 380 | $23.45 | $48,780 |
| Miami-Fort Lauderdale-West Palm Beach | 10,650 | $23.34 | $48,540 |
| North Port-Sarasota-Bradenton | 1,920 | $23.31 | $48,480 |
| Jacksonville | 3,120 | $22.65 | $47,110 |
| Tampa-St. Petersburg-Clearwater | 6,920 | $22.60 | $47,010 |
| Ocala | 610 | $22.44 | $46,680 |
| Orlando-Kissimmee-Sanford | 4,360 | $22.30 | $46,390 |
| Homosassa Springs | 390 | $21.76 | $45,260 |
| The Villages | 270 | $21.76 | $45,250 |
| Cape Coral-Fort Myers | 1,090 | $21.43 | $44,570 |
| Naples-Immokalee-Marco Island | 850 | $21.17 | $44,040 |
| Pensacola-Ferry Pass-Brent | 990 | $21.05 | $43,780 |
| Deltona-Daytona Beach-Ormond Beach | 1,110 | $21.03 | $43,740 |
| Lakeland-Winter Haven | 1,250 | $20.98 | $43,640 |
| Punta Gorda | 350 | $20.93 | $43,530 |
| Tallahassee | 940 | $20.87 | $43,400 |
| Palm Bay-Melbourne-Titusville | 1,120 | $20.70 | $43,050 |
| Sebring | 200 | $19.49 | $40,540 |
| Crestview-Fort Walton Beach-Destin | 680 | $18.74 | $38,980 |
| Panama City | 330 | $18.53 | $38,530 |
Source: U.S. Bureau of Labor Statistics (BLS)
TOP LPN PROGRAMS IN FLORIDA
Given how important it is to select an LPN program that will adequately prepare you for the NCLEX-PN, it pays to take your time and do your homework when looking for programs. It's easy to feel overwhelmed simply because there are so many options across the state. To make this easier, here's a list of some of the most popular and highly rated LPN programs in Florida:
Academy for Nursing and Health Occupations

5154 Okeechobee Blvd,

West Palm Beach, FL 33417

Angel Technical Institute

453 Cortez Rd W,

Bradenton, FL 34207

Antigua College International

14505 Commerce Way #522,

Miami Lakes, FL 33016

ATA Career Education

7351 Spring Hill Dr #11,

Spring Hill, FL 34606

Atlantic Technical College - Broward County

4700 Coconut Creek Pkwy,

Margate, FL 33063

Big Bend Technical College

3233 S Byron Butler Pkwy,

Perry, FL 32348

Brewster Technical College

2222 N Tampa St,

Tampa, FL 33602

Burnett International College

2601 S Military Trail,

West Palm Beach, FL 33415

Cambridge College of Healthcare & Technology

460 E Altamonte Dr,

Altamonte Springs, FL 32701

Cambridge College of Healthcare & Technology - Delray

5150 Linton Blvd STE 340,

Delray Beach, FL 33484

Cape Coral Technical College

360 Santa Barbara Blvd N,

Cape Coral, FL 33993

Chancellor Institute

5648 W Atlantic Blvd,

Margate, FL 33063

Charlotte Technical College

18150 Murdock Cir,

Port Charlotte, FL 33948

Concorde Career Institute

7259 Salisbury Rd,

Jacksonville, FL 32256

Daytona State College

1200 W International Speedway Blvd,

Daytona Beach, FL 32114

Desoto County School of Practical Nursing

310 W Whidden St,

Arcadia, FL 34266

Eastern Florida State College

1519 Clearlake Rd,

Cocoa, FL 32926

Emerald Coast Technical College

761 N 20th St,

Defuniak Springs, FL 32433

Emiraza College

510 S US Hwy 1,

Fort Pierce, FL 34950

Erwin Technical College

2010 E Hillsborough Ave,

Tampa, FL 33610

Evolution Health Academy

18350 NW 2nd Ave #402,

Miami Gardens, FL 33169

First Coast Technical College

2980 Collins Ave Building D,

St. Augustine, FL 32084

Florida Gateway College

149 SE College Pl,

Lake City, FL 32025

Florida Panhandle Technical College

757 Hoyt St,

Chipley, FL 32428

Florida State College at Jacksonville

101 W State St,

Jacksonville, FL 32202

Fort Myers Technical College

3800 Michigan Ave,

Fort Myers, FL 33916

Fortis Institute

9022 S U.S. Hwy 1,

Port St. Lucie, FL 34952

Galen College of Nursing

11101 Roosevelt Blvd N,

St. Petersburg, FL 33716

Gulf Coast State College

3800 Garrison Ave,

Port St Joe, FL 32456

Gwinnett Colleges & Institute

1900 N Alafaya Trail #100,

Orlando, FL 32826

Herzing University

1865 FL-436,

Winter Park, FL 32792

Horizon Healthcare Institute

3677 Central Ave,

Fort Myers, FL 33901

Horizon Healthcare Institute

1032 S Tamiami Trail,

Port Charlotte, FL 33953

Ideal Professional Institute

20295 NW 2nd Ave,

Miami, FL 33169

Immokalee Technical College

508 N 9th St,

Immokalee, FL 34142

Indian River State College

3209 Virginia Ave,

Fort Pierce, FL 34981

International Institute for Healthcare Professionals

6870 N Federal Hwy,

Boca Raton, FL 33487

J & J Healthcare Institute, Inc.

1410 N Pine Hills Rd,

Orlando, FL 32808

Jersey College

3625 Queen Palm Dr,

Tampa, FL 33619

Jersey College

8131 Baymeadows Cir W,

Jacksonville, FL 32256

Lake Technical College

2001 Kurt St,

Eustis, FL 32726

Lindsey Hopkins Technical College

750 NW 20th St,

Miami, FL 33136

Lively Technical College

500 Appleyard Dr,

Tallahassee, FL 32304

Locklin Technical Center

5330 Berryhill Rd,

Milton, FL 32570

Manatee Technical College

5530 Lakewood Ranch Blvd,

Bradenton, FL 34211

Marion Technical College

1014 SW 7th Rd,

Ocala, FL 34471

McFatter Technical College

6500 Nova Dr,

Davie, FL 33317

Medical Prep Institute of Tampa Bay

2304 E Busch Blvd,

Tampa, FL 33612

Mercy Hospital School of Practical Nursing

3663 S Miami Ave,

Miami, FL 33133

Miami Lakes Educational Center and Technical College

1450 NE 2nd Ave,

Miami, FL 33132

North Broward Technical Center

1871 W Hillsboro Blvd,

Deerfield Beach, FL 33442

North Florida College

325 Turner Davis Dr,

Madison, FL 32340

North Florida Technical College

609 N Orange St,

Starke, FL 32091

Okaloosa Technical College

1976 Lewis Turner Blvd,

Fort Walton Beach, FL 32547

Orange Technical College

301 W Amelia St,

Orlando, FL 32801

Palm Beach State College

4200 S Congress Ave,

Lake Worth, FL 33461

Pasco-Hernando State College

10230 Ridge Rd,

New Port Richey, FL 34654

Pensacola State College

1000 College Blvd,

Pensacola, FL 32504

Piberry Institute

30356 Old Dixie Hwy,

Homestead, FL 33030

Pinellas Technical College

6100 154th Ave N,

Clearwater, FL 33760

Pinellas Technical College - St Petersburg

901 34th St S,

St. Petersburg, FL 33711

Premiere International College

2055 Central Ave,

Fort Myers, FL 33901

Rasmussen College

9160 Forum Corporate Pkwy,

Fort Myers, FL 33905

Rasmussen College

4042 Park Oaks Blvd Suite 100,

Tampa, FL 33610

Rasmussen College

18600 Fernview St,

Land O' Lakes, FL 34638

Rasmussen College

2100 SW 22nd Pl,

Ocala, FL 34471

Richard O. Jacobson Technical High School at Seminole

12611 86th Ave N,

Seminole, FL 33776

Ridge Technical College

7700 FL-544,

Winter Haven, FL 33881

Riveroak Technical College

415 Pinewood Dr SW,

Live Oak, FL 32064

Robert Morgan Educational Center

18180 SW 122nd Ave,

Miami, FL 33177

Santa Fe College

3000 NW 83 St,

Gainesville, FL 32606

Sheridan Technical College

5400 Sheridan St,

Hollywood, FL 33021

Siena College of Health

7491 W Oakland Park Blvd #100,

Tamarac, FL 33319

Sigma Institute of Health Careers

1260 E Oakland Park Blvd,

Oakland Park, FL 33334

South Dade Technical College

109 NE 8th St,

Homestead, FL 33030

South Florida Medical College

1111 Park Centre Blvd #102,

Miami Gardens, FL 33169

South Florida State College

600 W College Dr,

Avon Park, FL 33825

South Tech Academy

1300 SW 30th Ave,

Boynton Beach, FL 33426

Southeastern College

17395 NW 59th Ave,

Hialeah, FL 33015

Southeastern College

1756 N Congress Ave,

West Palm Beach, FL 33409

St. Johns River State College

283 College Dr,

Orange Park, FL 32065

Suncoast Technical College

4748 S Beneva Rd,

Sarasota, FL 34233

Sunshine Academy

2755 S Federal Hwy Suite 9 & 10,

Boynton Beach, FL 33435

Taylor College

5190 SE 125th St,

Belleview, FL 34420

Tom P. Haney Technical Center

3016 FL-77,

Panama City, FL 32405

Traviss Technical College

3225 Winter Lake Rd,

Lakeland, FL 33803

West Lawrence School of Nursing

3632 Evans Ave,

Fort Myers, FL 33901

Withlacoochee Technical College

1201 W Main St,

Inverness, FL 34452
In addition to checking a program's NCLEX pass rates to ensure that they are properly preparing students, make certain that the program is approved by the Florida Board of Nursing. Keep in mind that many LPN programs have online components that make it easier for busy, working adults to complete the work.
Becoming an LPN in Florida doesn't have to be difficult. By selecting the right LPN school to enroll in, you will be on your way to earning your license in no time.