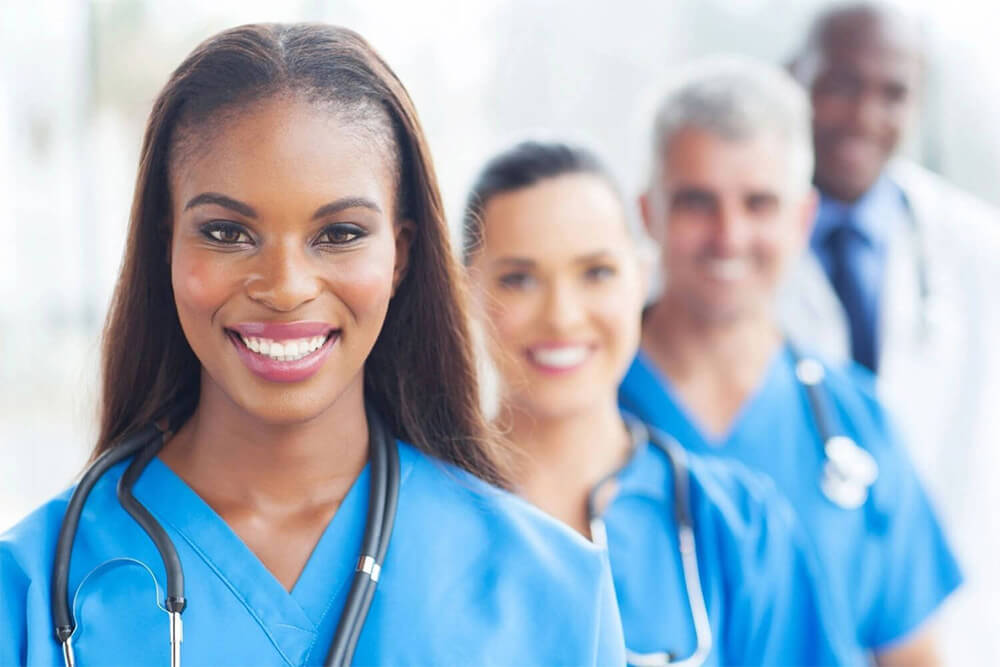 If you have your Licensed Practical Nurse, or LPN, license, but are ready to progress into a career as a Registered Nurse (RN), you can either work toward an associate degree in nursing (ADN) or a bachelor of science in nursing (BSN). The latter option takes longer, but it opens up many exciting opportunities and makes you eligible for better jobs and compensation. Put your existing training and work experience to work by completing an LPN-to-BSN bridge program. That way, you can achieve your dream of being a BSN-educated RN that much more quickly.
About LPN-to-BSN Bridge Programs
Those who are completely new to nursing must complete four-year programs to earn their BSNs. If you already possess an LPN license, however, a bridge program lets you avoid having to go over the same material again. Your previous training will be applied toward your degree, so you will have less work to do to earn your BSN. Such programs are designed with busy working adults in mind, so they are great options for LPNs who want to keep moving forward.
Requirements
To be eligible for an LPN-to-BSN bridge program, you must possess a valid LPN license. If yours is due to expire soon, have it renewed before you enroll. Most programs like these also require some sort of proof of relevant work experience, so you will have to obtain employment documentation as well. Other than that, the requirements are largely the same as for standard BSN programs. They include:
A high school diploma or GED
High school transcripts with a minimum GPA or 2.0 or 2.5 or higher
Entrance exam
Age 18 or older
Cost
If you've been holding off on pursuing your BSN due to concerns about cost, you're not alone. People often struggle to pay for their nursing educations. However, earning your degree through an LPN-to-BSN bridge program is a great way to save money, as you can usually earn your degree with fewer credits.
The total cost to complete this training varies far too widely to provide accurate information here. However, factors affecting cost include whether the school is in state or out of state, the reputation of the school, and whether you are eligible for any sort of financial aid.
Duration
Deciding to pursue a BSN instead of an ADN is a wise move, as BSN-educated nurses are in far higher demand and tend to enjoy higher pay and better benefits. The trade-off, however, is that earning a BSN takes almost twice as long as earning an ADN. Bridge programs let you get where you need to be faster, however. Depending on your existing work and educational experience, you may be able to complete this program in as little as two years. On average, however, it takes students around three years to complete this type of bridge program.
Locations
Most of the time, LPN-to-BSN bridge programs are simply variations of traditional BSN programs. In fact, students of bridge programs and traditional programs are often enrolled together. You can find LPN-to-BSN bridge programs virtually wherever you find BSN programs. Nearly all nursing schools offer bridge programs nowadays, so you should be able to find one near you.
In addition to being offered on campus, LPN-to-BSN bridge programs can also be at least partially completed online. These are actually hybrid programs, where much of the coursework is done through an online portal, while clinical training work is conducted on-site at local healthcare facilities.
Accreditation
Most nursing students understand the importance of sticking with accredited training programs. It is just as important for a bridge program to be accredited as for a traditional BSN program. Accreditation matters because without it, you will not be eligible to sit for the very exam that you must pass to earn your RN license. Look for accreditation from either ACEN (Accreditation Commission for Education in Nursing) or CCNE (Commission on Collegiate Nursing Education). When in doubt, contact these accrediting bodies for referrals to approved programs.
Online Training
Like many LPNs pursing bachelor's degrees, you may need to continue working while working toward your BSN. Fortunately, many LPN-to-BSN bridge programs are available online as well as on campus, so there are options for everyone. With that being said, online LPN-to-BSN bridge programs are technically hybrid programs in that the clinical training must be completed on site. Before enrolling in a bridge program like this, find out how the clinical training is handled. Additionally, look for programs that offer asynchronous online training, which means that you can complete assignments at your own pace.
Typical Courses
In addition to having to complete a certain number of clinical training hours, you must complete a number of general education courses to earn your BSN. It usually takes around two years to do so, but it tends to be quicker with a bridge program. Your curriculum will also include an array of nursing-related courses. They start out simple and steadily progress into more advanced topics. A few examples of the kinds of courses that you will have to complete during an LPN-to-BSN bridge program include:
Health Assessments
Nursing Theory
Microbiology
Human Development
Nutrition
As you can see, you don't have to go back to square one to switch from working as an LPN to working as an RN. By enrolling in and completing an LPN-to-BSN training program, you can earn your bachelor's degree and become a registered nurse a lot faster, so find a suitable program today.