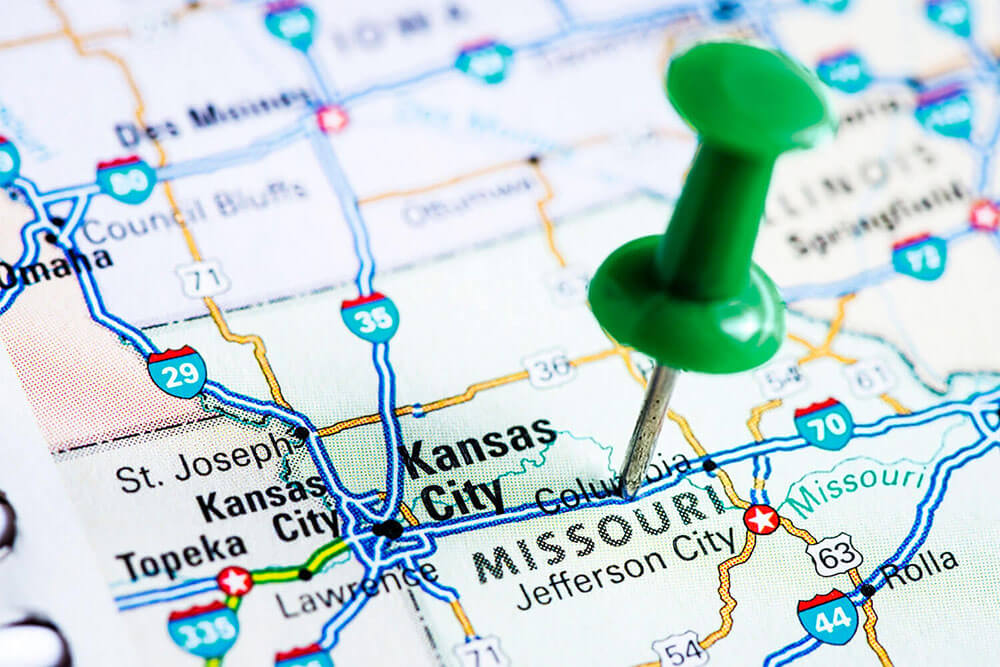 Interested in pursuing a career in nursing, but unsure about devoting years of your life and thousands of dollars to get started? Consider becoming a licensed practical nurse, or LPN, to launch your career faster. If you live in Missouri and aspire to be a nurse, training to become an LPN is among the fastest, easiest ways to get started. In just 12 to 18 months or so, you can fulfill the necessary requirements to obtain an LPN license in MO.
As you will learn, the first and most crucial step in becoming an LPN in Missouri is completing a State Board of Nursing-approved training program. These programs are designed to help students pass the NCLEX-PN licensing exam, and they must be approved by the state for graduates to be eligible to take the test. Therefore, refer to the recommendations below to zero in on a training program in MO that's right for you.
LPN LICENSING REQUIREMENTS IN MISSOURI
Get a feel for the steps that you must follow to become a licensed LPN in Missouri. That way, you will know exactly how to proceed, and you should be able to get your license that much more quickly.
The Missouri State Board of Nursing has a series of requirements that must be fulfilled to obtain an LPN license. Some of these requirements include:
Completing an LPN program that is approved by the MO State Board of Nursing. Note that such programs typically run anywhere from 12 to 18 months in duration
Submitting an application for LPN licensure by exam to the Missouri State Board of Nursing along with a 2" x 2" headshot; official transcripts from your training program; the application fee; and authorization to perform a criminal background check
Registering for, taking and passing the NCLEX-PN licensing exam. It is administered at testing sites across Missouri on dates throughout the year
Missouri is part of the Nurse Licensure Compact, or NLC. If you possess a multistate LPN license from another participating state, you can practice in Missouri. If you hold an LPN license from a non-NLC state, contact the State Board of Nursing for instructions on transfer by endorsement.
Missouri State Board of Nursing
When you apply for your MO LPN license, you'll submit your application to the State Board of Nursing. This agency handles all manner of LPN licensing needs, so keep its contact information handy:
Missouri State Board of Nursing
3605 Missouri Blvd, Jefferson City, MO 65109
Phone: (573) 751-0681
Fax: (573) 751-0075
LPN SALARY & EMPLOYMENT OUTLOOK IN MISSOURI
It stands to reason that before putting any major time, effort or money into your LPN training, you'll want to check and see how well you can expect to be compensated and how easy or difficult it will be to find gainful employment.
According to the U.S. Bureau of Labor Statistics, LPNs in MO earn an average pay of $44,490 per year, which is equal to $21.39 per hour. Nationally, LPNs earn an average pay of $48,820 per year, or $23.47 per hour. Note that LPN salaries vary across the state, however, and you may be able to land a job earning at or above the national average.
As far as employment outlook, it is solid. Per the BLS, the LPN field should grow by a rate of around 7 percent between 2014 and 2024. This equates to around 590 new jobs around the state every year during that period. Therefore, LPNs have ample opportunities in MO now and will have even more in the years ahead.
LPN Salaries in Missouri By Area
If you check into LPN salaries in your part of the state and are disappointed, bear in mind that you may be able to earn more by moving elsewhere. As this list shows, LPN salaries and job opportunities vary widely from one metro region to another.
| Area | Total Employment | Average Hourly Wage | Average Annual Salary |
| --- | --- | --- | --- |
| St. Louis | 5,460 | $23.13 | $48,120 |
| Kansas City | 4,480 | $23.04 | $47,930 |
| Columbia | 600 | $21.46 | $44,640 |
| Springfield | 1,210 | $20.97 | $43,620 |
| St. Joseph | 340 | $20.50 | $42,640 |
| Jefferson City | 340 | $20.24 | $42,090 |
| Joplin | 420 | $19.79 | $41,150 |
| Cape Girardeau | 400 | $18.02 | $37,480 |
TOP LPN PROGRAMS IN MISSOURI
The importance of selecting the right LPN training program can't be stressed enough. For one thing, the program that you choose must be officially approved by the MO State Board of Nursing. Otherwise, you may graduate and still be ineligible to sit for the NCLEX. Speaking of the exam, check each school's NCLEX-PN pass rates before enrolling. Stick with programs with pass rates of around 95 percent or higher for best results.
Get the ball rolling on your search for LPN programs in MO with these recommendations:
Applied Tech - MET Center

6347 Plymouth Ave,

St. Louis, MO 63133

Applied Tech - South Tech

12721 W Watson Rd,

St. Louis, MO 63127

Bolivar Technical College

1135 N Oakland Ave,

Bolivar, MO 65613

Cape Girardeau Career and Technology Center

1080 S Silver Springs Rd,

Cape Girardeau, MO 63703

Carthage Technical Center

609 S River St,

Carthage, MO 64836

Cass Career Center

1600 E Elm St,

Harrisonville, MO 64701

Clinton Technical School

602 S 5th St,

Clinton, MO 64735

Concorde Career College - Kansas City

3239 E Broadway,

Columbia, MO 65201

Crowder College

601 Laclede Ave,

Neosho, MO 64850

Four Rivers Career Center

1978 Image Dr,

Washington, MO 63090

Franklin Technology Center Adult Education

3950 Newman Rd,

Joplin, MO 64801

Hannibal-LaGrange University

2800 Palmyra Rd,

Hannibal, MO 63401

Jefferson College

1000 Viking Dr,

Hillsboro, MO 63050

Kirksville Area Technical Center

1103 S Cottage Grove Ave,

Kirksville, MO 63501

Lex La-Ray Technical Center

2323 High School Dr,

Lexington, MO 64067

Metropolitan Community College - Penn Valley

3200 Broadway Blvd,

Kansas City, MO 64111

Mineral Area College

5270 Flat River Rd,

Park Hills, MO 63601

Moberly Area Community College

101 College Ave,

Moberly, MO 65270

Moberly Area Community College

2900 Doreli Ln,

Mexico, MO 65265

Moberly Area Community College

1818 W Worley St,

Columbia, MO 65203

North Central Missouri College

1301 Main St,

Trenton, MO 64683

North Central Missouri College

3400 Bulldog Ave,

Bethany, MO 64424

North Central Missouri College Outreach

1515 S Munn Ave,

Maryville, MO 64468

Ozarks Technical Community College

1001 E Chestnut Expy,

Springfield, MO 65802

Ozarks Technical Community College

22360 Hwy Mm,

Lebanon, MO 65536

Ozarks Technical Community College - Table Rock

10698 MO-165,

Hollister, MO 65672

Pike-Lincoln Technical Center

342 Vo Tech Rd,

Eolia, MO 63344

Rolla Technical Institute

1304 E 10th St,

Rolla, MO 65401

Saline County Career Center

900 W Vest St,

Marshall, MO 65340

Sikeston Career and Technology Center

1002 Virginia St,

Sikeston, MO 63801

South Central Career Center

407 W Thornburgh St,

West Plains, MO 65775

St. Charles Community College

4601 Mid Rivers Mall Dr,

Cottleville, MO 63376

St. Louis College of Health Careers

1297 N Hwy Dr,

Fenton, MO 63026

State Fair Community College

3201 W 16th St,

Sedalia, MO 65301

State Fair Community College

113 S Pine St,

Eldon, MO 65026

State Technical College of Missouri

1 Technology Dr,

Linn, MO 65051

Texas County Technical College

6915 US Hwy 63,

Houston, MO 65483

Warrensburg Area Career Center

205 S Ridgeview Dr,

Warrensburg, MO 64093

Waynesville Career Center

400 Gw Ln,

Waynesville, MO 65583
As you can see, becoming an LPN in the state of Missouri isn't that confusing or difficult. The biggest hurdle is finding and completing a training program, as all that's left after that is to take the exam and apply for the license. With so many LPN programs in MO, there's no need to wait. Start exploring them today!