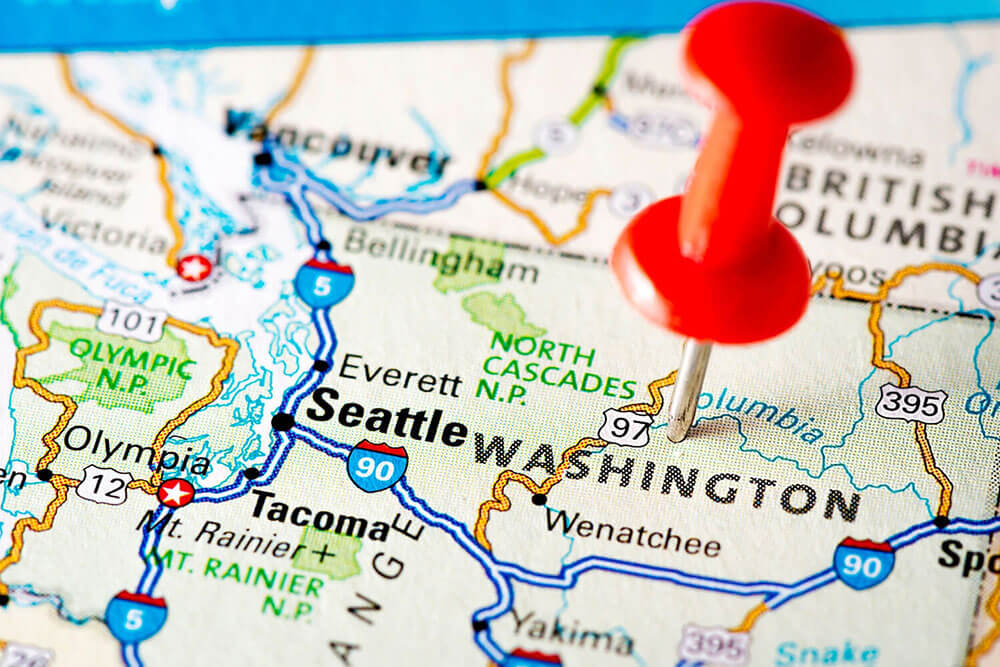 Do you aspire to be a nurse, live in the state of Washington and want to get started as fast as possible? Consider training to become a licensed practical nurse. All told, training typically takes only 12 to 18 months, and it tends to be fairly affordable. With a valid LPN license in hand, you'll have access to thousands of jobs across the state offering excellent pay and benefits.
Before you can do anything else, you must take and pass an LPN training program. To be eligible to sit for the licensing exam, which you must take to obtain your WA LPN license, your program must be approved by the Washington State Nursing Care Quality Assurance Commission. This is their equivalent to the state board of nursing. Below, look for recommendations for reputable, approved LPN training programs across Washington State.
LPN LICENSING REQUIREMENTS IN WASHINGTON
At this point, you know that you must complete an approved training program to become an LPN in WA. The Washington State Nursing Care Quality Assurance Commission sets and enforces requirements for LPN licensing in the state. Some of the most important requirements include:
Completing a state-approved LPN training program. Most programs take anywhere from 12 to 18 months to complete.
Submitting an application for LPN licensure by exam to the Washington State Nursing Care Quality Assurance Commission, including with it official transcripts from your LPN training program; authorization for an FBI background check; and any applicable fees.
Registering for, taking and passing the licensing exam for LPNs, the NCLEX-PN. Note that this exam is administered at test sites across the state on dates throughout the year.
Unfortunately, Washington is not a member of the Nurse Licensure Compact, or NLC. Whether you hold a valid license from an NLC or non-NLC state, you must undergo an endorsement process to transfer it. Check with the Washington State Nursing Care Quality Assurance Commission for more info.
In WA, LPN licenses expire every year on the licensee's birthday. Make sure to renew your license in a timely manner, as a lapse can put your job in jeopardy.
Washington State Nursing Care Quality Assurance Commission
To apply for LPN licensure in WA, submit your application to the Washington State Nursing Care Quality Assurance Commission. This agency is responsible for all manner of licensing concerns, including transfers and renewals, and its contact information is as follows:
Washington State Nursing Care Quality Assurance Commission
111 Israel Rd SE, Tumwater, WA 98501
Phone: (360) 236-4703
Fax: (360) 236-4738
LPN SALARY & EMPLOYMENT OUTLOOK IN WASHINGTON
If you are going to devote any serious amounts of time, money or effort into becoming a licensed practical nurse, it stands to reason that you'd like to be paid well and to have access to plenty of jobs when you are finished. This can be determined easily by consulting a few pieces of information. As you will see, LPNs in Washington State have it very good.
According to the U.S. Bureau of Labor Statistics, LPNs in WA earn a mean wage of $59,780 per year, which is equal to $28.74 per hour. This is quite a bit higher than the national average pay for LPNs, which is $48,820, or $23.47 per hour. It is reassuring to know that simply by being a resident of this state, you should have access to jobs that offer truly competitive pay.
As far as job availability goes, things look good there too. According to the BLS, the field of licensed practical nursing in Washington is expected to grow by a rate of around 10 percent from 2014 to 2024. This is a bit slower than the national rate of growth for this field, which is 16 percent, but it still means that at least 300 new LPN jobs will become available every year during that 10-year period.
LPN Salaries in Washington by Area
Just as LPN salaries vary from one part of the United States to another, they vary from one region of Washington State to another too. While it's not always possible to relocate, it may be worth it if it means earning far more per year.
In areas around WA, here's how LPN salaries and jobs look:
| Area | Total Employment | Average Hourly Wage | Average Annual Salary |
| --- | --- | --- | --- |
| Seattle-Tacoma-Bellevue | 4,410 | $29.46 | $61,270 |
| Longview | 220 | $29.38 | $61,100 |
| Spokane-Spokane Valley | 620 | $29.20 | $60,730 |
| Kennewick-Richland | 280 | $29.12 | $60,570 |
| Yakima | 230 | $28.78 | $59,860 |
| Walla Walla | 50 | $28.58 | $59,450 |
| Olympia-Tumwater | 390 | $28.16 | $58,580 |
| Bremerton-Silverdale | 280 | $26.83 | $55,810 |
| Bellingham | 200 | $26.32 | $54,750 |
| Mount Vernon-Anacortes | 190 | $25.45 | $52,930 |
| Wenatchee | 100 | $25.19 | $52,400 |
TOP LPN PROGRAMS IN WASHINGTON
With dozens of LPN training programs across the state of WA, zeroing in on the right one can be overwhelming. It's essential to enroll in a program that's approved by the Washington State Nursing Care Quality Assurance Commission. Additionally, a solid program will boast competitive pass rates for the NCLEX; stick with rates of 95 percent or higher.
Some recommendations for reputable LPN programs in WA include:
Bates Technical College

1101 S Yakima Ave,

Tacoma, WA 98405

Centralia College

600 Centralia College Blvd,

Centralia, WA 98531

Clover Park Technical College

4500 Steilacoom Blvd SW,

Lakewood, WA 98499

Edmonds Community College

20000 68th Ave W,

Lynnwood, WA 98036

Green River College

12401 SE 320th St,

Auburn, WA 98092

Olympic College

1600 Chester Ave,

Bremerton, WA 98337
Although it may seem like a long way off, you could become a LPN in Washington in just 18 months to two years. First, though, you must complete a training program, so find one and enroll today.