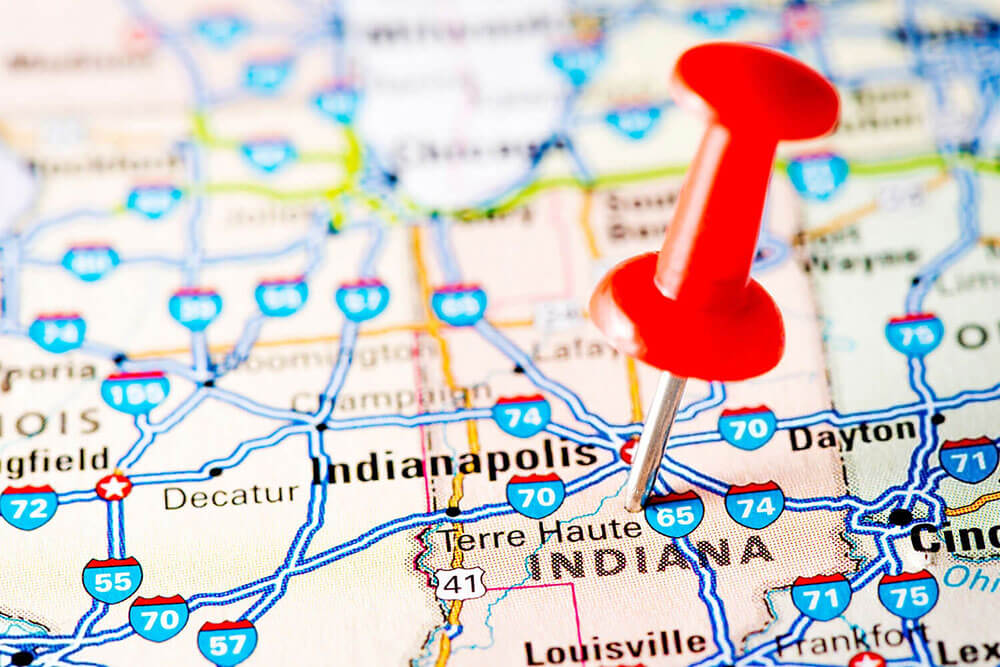 Becoming a licensed practical nurse in the state of Indiana is easier than you probably think. If you're looking for a quick, easy and relatively affordable way to get started in the field of nursing, it's a great way to go. Opportunities abound for LPNs in Indiana, so you can expect to come away with the potential to earn a great living and to easily find suitable jobs.
With all of that being said, the first step in the process is the most critical. The LPN training program that you choose can make or break your odds of easily becoming an LPN, so it's essential to do plenty of research and to identify a program that suits your needs well. There's a list of recommended programs at the end of this page. For now, read on to learn everything that you need to know about becoming an LPN in IN.
LPN LICENSING REQUIREMENTS IN INDIANA
You can't be hired as an LPN in Indiana without possessing a valid LPN license. This license is your ticket to accessing the best jobs and benefits, so understanding how to get one is important.
Some of the most important licensing requirements for LPNs in Indiana include:
Complete an LPN program that has been approved by the Indiana Board of Nursing, which typically takes anywhere from 12 to 18 months.
Submit an application for an LPN license to the Indiana Board of Nursing. It should also include fingerprint information for a background check and a certificate of completion from your training program.
Register for, take and pass the NCLEX-PN licensing exam, which is administered on dates throughout the year at testing sites across the state.
Unfortunately, Indiana is not part of the Nursing Licensure Compact, or NLC, so the only way to transfer a license from another state is through a somewhat complicated endorsement process.
In Indiana, LPN licenses expire on even-numbered years on October 31. Happily, there is no continuing education requirement to renew as long as the license isn't lapsed. If it is but it's been less than 10 years, you may have to complete 24 hours of continuing education.
Indiana Board of Nursing
When applying for an LPN license, you must submit the application to the Indiana Board of Nursing. This agency handles all licensing needs, and their contact information is as follows:
Indiana State Board of Nursing
402 W Washington St, Indianapolis, IN 46204
Phone: (317) 234-2043
Fax: (317) 233-4236
LPN SALARY & EMPLOYMENT OUTLOOK IN INDIANA
It is always smart to investigate the typical salary and job outlook for a profession before putting any time, money or effort into working in one. With this in mind, check and see that you will be able to earn enough as an LPN in Indiana and that you won't struggle to find gainful employment.
According to the U.S. Bureau of Labor Statistics, LPNs in Indiana earn an annual mean wage of $47,890 per year, which is equal to $23.02 per hour. Nationally, LPNs earn an average of $48,820 per year, or $23.47 per hour. Still, the cost of living in most parts of Indiana is low, and LPNs do well.
As far as job prospects go, the future is bright for LPNs in the Hoosier State. Currently, around 19,800 LPNs are employed in the state. According to the BLS, this field is expected to grow in IN by around 13 percent from 2014 through 2024. Nationally, the projected growth rate is a bit higher at 16 percent. Still, approximately 700 new jobs should open up for LPNs in the state of Indiana over the next 10 years or so, which is quite promising.
LPN Salaries in Indiana by Area
You may have noticed that LPN salaries vary considerably from one part of the U.S. to another. The same concept applies on a state level, and Indiana is no exception. Depending on where you are located, your expected compensation and job outlook is sure to vary. Get a feel for what to expect here:
| Area | Total Employment | Average Hourly Wage | Average Annual Salary |
| --- | --- | --- | --- |
| Michigan City-La Porte | 140 | $25.96 | $54,010 |
| Kokomo | 190 | $24.91 | $51,810 |
| Lafayette-West Lafayette | 240 | $24.37 | $50,680 |
| Evansville | 680 | $24.26 | $50,460 |
| South Bend-Mishawaka | 620 | $23.66 | $49,200 |
| Elkhart-Goshen | 290 | $23.48 | $48,850 |
| Indianapolis-Carmel-Anderson | 4,780 | $23.39 | $48,650 |
| Fort Wayne | 1,490 | $22.79 | $47,410 |
| Bloomington | 250 | $22.13 | $46,040 |
| Columbus | 130 | $22.11 | $45,990 |
| Muncie | 320 | $21.79 | $45,310 |
| Terre Haute | 440 | $21.55 | $44,830 |
TOP LPN PROGRAMS IN INDIANA
Now that you understand the basics of obtaining an LPN license in Indiana, it's time to find a training program. This can be stressful simply because there are so many options around the state. To make things a little easier, here is a list of today's most popular and reputable Indiana LPN training programs:
Ivy Tech

200 Daniels Way,

Bloomington, IN 47404

Ivy Tech

3501 N First Ave,

Evansville, IN 47710

Ivy Tech

2357 Chester Blvd,

Richmond, IN 47374

Ivy Tech

104 W 53rd St,

Anderson, IN 46013

Ivy Tech

50 W Fall Creek Pkwy N Dr,

Indianapolis, IN 46208

Ivy Tech

8204 County Rd 311,

Sellersburg, IN 47172

Ivy Tech

3100 Ivy Tech Dr,

Valparaiso, IN 46383

Ivy Tech

915 Zinc Mill Rd,

Greencastle, IN 46135

Ivy Tech

8000 Education Dr,

Terre Haute, IN 47802

Ivy Tech

4475 Central Ave,

Columbus, IN 47203

Ivy Tech

3800 N Anthony Blvd,

Fort Wayne, IN 46805

Ivy Tech

3101 S Creasy Ln,

Lafayette, IN 47905

Ivy Tech

220 Dean Johnson Blvd,

South Bend, IN 46601

Ivy Tech

4301 S Cowan Rd,

Muncie, IN 47302

Ivy Tech

1440 E 35th Ave,

Gary, IN 46409

Ivy Tech

1815 E Morgan St,

Kokomo, IN 46901

Ivy Tech

590 Ivy Tech Dr,

Madison, IN 47250

Ivy Tech

261 Commerce Dr,

Marion, IN 46953

Vincennes University

850 College Ave,

Jasper, IN 47546

Vincennes University

1002 N 1st St,

Vincennes, IN 47591
Schools on this list are all approved by the Indiana Board of Nursing, which is vital. They also boast top-notch NCLEX pass rates, which matters because it reflects how well students are prepared for the standardized test.
You're so close to launching your career as an LPN. Get closer by finding an LPN training program near you today.