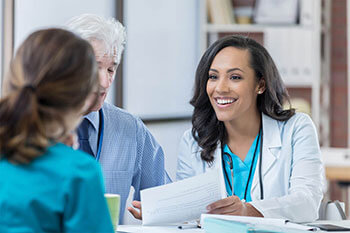 After successfully completing your Licensed Practical Nurse, or LPN, training, passing the NCLEX-PN, and obtaining your LPN license, you are ready to start looking for jobs. Job hunting as a new LPN can be intimidating. Most new LPNs are especially nervous and concerned about sitting for interviews. If you've never sat for an LPN interview, you're apt to be a bit apprehensive. Familiarize yourself with some helpful tips for acing your LPN interview below.
The LPN Interview Process

First, for just about any LPN job that you apply for, you will almost certainly have to sit for an interview before you can officially be hired. Employers want to see how you are under pressure, and being interviewed is indeed a high-pressure situation. Even if you have sat for other kinds of job interviews before, you may be in for a bit of a surprise when sitting for an LPN interview. By learning as much as you can about what to expect, you are more likely to get through the experience with ease.
It is normal to be nervous about sitting down for an LPN interview. Like anything else, however, the more prepared that you are the less your nervousness will affect you during the interview. A few of the best tips to keep in mind when sitting for an LPN interview include:
Tip #1: Get There Early
Without question, the biggest faux pas that you can commit when coming in for an LPN interview is arriving late. The instant that you schedule your interview, put a reminder in your calendar. If you are a very forgetful person, set a reminder the day of the interview to remind you a few hours before it occurs. Use a driving app to find a quick, direct route to the interview location. Don't plan your arrival at the time of the interview. Instead, aim to get there at least 15 minutes early. If you arrive even earlier than that, don't worry. You can always use the time to sit out in your car and go over your materials a little longer. By arriving early, you won't have to rush around to find parking, and you will walk in feeling cool, calm, and collected.
Tip #2: Do Your Homework
You can be sure that the employer will do extra research about you before your interview. You should do the same about the facility in question. See if they have a website, and visit it to learn about the organization. Most companies have an "about us" section, so look for that. Perform an online search about the employer to see if there are any recent press releases or other information that may be pertinent. You're going to want to occasionally mention things about the employer to show that you have done your research. You will come across as being far more enthusiastic about the job if you demonstrate that you're excited about working for that specific employer.
Tip #3: Dress Well
You've probably heard the adage, "Dress for the job you want." That advice doesn't apply in the case of an LPN interview, since you will look a little silly showing up in scrubs. Rather, put together a nice, professional looking outfit. Err on the side of business attire as opposed to casual Friday. Aim for a coordinated look from head to toe. Keep the accessories, if any, minimal. If you are a woman, you can wear makeup, but don't overdo it. Regardless of your gender, make sure that you are well-groomed, including a fresh haircut and trimmed nails.
Tip #4: Practice Common Interview Questions
Buddy up with a friend or fellow LPN to practice commonly asked LPN interview questions. Fortunately, a wealth of information about this topic is available for free online. Try to find interview questions that are specific to LPN jobs, as they tend to differ a lot from other kinds of interview questions. Many websites also include advice about how to properly answer typical interview questions, and it is well worth it to heed that advice as well. By familiarizing yourself with typical LPN interview questions, you are far less likely to be taken by surprise.
Tip #5: Ask Questions
Although you are the one who is being interviewed, the process really should be more like a conversation. It is perfectly okay and even expected for you to ask the interviewer some questions yourself. In fact, near the end of the interview, you will probably be asked if you have any. The worst thing that you can say is no, so come up with some questions to ask before going in for your interview. When possible, try to customize them to suit the specific employer in question. Other ideas are to ask about what your job duties would be and what the patient-to-LPN ratio is.
Tip #6: Follow Up
Finally, you must follow up with the interviewer if you do not hear back from them after enough time has passed following your interview. Most interview experts suggest waiting to hear back from a potential employer for a business week (5-6 or all 7 days of the week). Research a few tips for effectively following up after job interviews, and remember that it is an important part of the process. Before leaving the interview room, of course, be sure to thank the interviewer or interviewers. Shake hands, make direct eye contact and express your interest in the job one last time before leaving.
There are no two ways about it: Sitting for job interviews is stressful. However, if you want to get a job as an LPN, you're going to have to get used to it. In fact, as you progress through your nursing career, you'll likely sit for many interviews. The more that you do it, the easier that it will become, so keep at it.