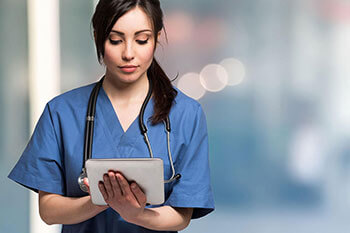 Unlike the old days, you no longer have to circle jobs in the classified section of a newspaper, make numerous calls, and pound the pavement to find work as a licensed vocational nurse, or LVN. Thanks to the internet, it is easier than ever to find and apply for jobs all around the country. While you can always visit individual employers' websites and apply that way, LinkedIn offers a more streamlined and convenient experience much of the time. Learn how to apply for LVN jobs through LinkedIn by reading on below.
Follow these steps to apply for LVN positions on LinkedIn:
Update Your LinkedIn Profile
If you don't already have a profile on LinkedIn, you will have to create one. Even if you have one, it probably needs updating. Be as thorough as you can. Complete as many fields as possible, and provide as much information as you can. Remember: You will only have to do this once. To apply for LVN jobs through LinkedIn, you must have an active profile that includes your work experience and other relevant information.
Navigate to the Job Search Tool
Like many people, you may not have even realized that you can look for and apply for jobs directly through the LinkedIn website or app. And know this that doing so is a snap. Just navigate to the Jobs icon, which is located at the top of the main webpage or down-right in the app. You will then be directed to the job search tool, which is pretty self-explanatory and works a lot like job search tools on other portals. However, don't rush into using the search tool. By understanding how it works, you will have an easier time zeroing in on LVN jobs that suit your needs.
Perform a Search
Now that you're at the job search tool, it's time to start searching for LVN jobs. This search tool gives you a variety of ways to find jobs. The simplest among them, of course, is to search for "LVN jobs" in your desired location. However, you don't have to limit yourself to that. The search tool on LinkedIn also lets you search based on keyword, company name and other variables. If you would prefer to work in assisted living, for example, you might use the keyword "assisted living" to make your search more relevant. If there's a local employer that you'd like to work for, search for the name of the company to see what's available.
Adjust Search Filters
Depending on where you are searching for LVN or LPN jobs, your initial search may return far too many results. Wading through them all is tiresome and stressful. Fortunately, LinkedIn also lets you filter these results according to various criteria. For example, you can adjust filters on the right for location to ensure that only jobs within a certain area are returned. You can also filter your results by experience level, which allows you to zero in on jobs that are suitable for entry-level and experienced LVNs alike. You can also sort the results according to when jobs were posted, which allows you to check out the most recently posted jobs as they appear.
Review LVN Jobs
Once you've whittled things down by using the search filters, you should have a more reasonable list of LVN jobs to explore. Learn more about each job by clicking on the job title. This will open up an in-depth description of the job, including requirements, job duties, salary information and more. If you aren't sure about a job, LinkedIn conveniently lets you save job listings so that you can go back and apply later if desired. Therefore, don't feel pressured to apply for every job that you find. Save those that look promising and then review that list again before applying for anything. This will make your search unfold a lot more quickly, and it will help you identify positions that are truly relevant to you.
Apply Using EasyApply
On LinkedIn, there are two main options when it comes to applying for LVN jobs: You can either apply directly through the site via EasyApply, or you can navigate to the employer's site and apply from there. EasyApply is ideal, of course, because almost everything is automatically populated for you by LinkedIn. Once you've started the process, most of your information will be pulled instantly to populate the application. You may have to input a few things manually, but it shouldn't take too long. LinkedIn also allows you to create unique cover letters for each application, which may help you to stand out from the crowd for particularly in-demand LVN jobs in your area.
Apply Using Link to Company Website
Not all employers enable the EasyApply feature. Some simply don't want to set up another application process and prefer for candidates to be directed to their websites instead. If you see a promising job without the EasyApply button, you will have to click the "Apply on company website" link instead. This should automatically redirect you to the application portal on the company's website. Like so many things concerning technology, however, these links don't always work. Don't give up on a job just because you can't easily apply for it through LinkedIn. Get the number for the employer and contact them via phone. They may be able to give you more information about applying for the LVN job that you want.
When it comes to applying for LVN jobs, there are more options than ever. In terms of convenience, however, it is tough to beat applying directly for LVN jobs through LinkedIn. Even if you've never used the site before, you're sure to find it to be easy to use and very helpful. In fact, you might very well land your first LVN job through LinkedIn, so get started today.