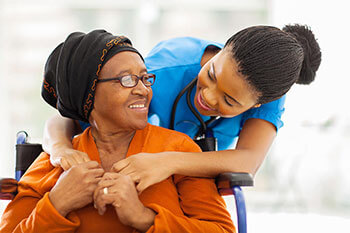 The path to becoming a nurse doesn't have to start with completing a four-year bachelor's degree program. To hit the ground running with a nursing career, becoming a licensed practical nurse, or LPN, is a terrific first step. Find out what LPNs do, how much they earn, and where they work by reading on below.
Typical LPN Duties
LPNs have many duties and responsibilities, including:
Providing personal care, including bathing and dressing patients.
Monitoring patients' conditions, including their eating habits and bathroom usage.
Monitoring patients' vital signs, including temperature, blood pressure and heart rate.
Assisting with tests and procedures. For example, LPNs may assist with phlebotomy, or taking blood samples, by setting up equipment and preparing patients and puncture sites. They may also assist with IV setups by validating solutions; assessing infusion sites; tracking IV functioning and patient comfort; and terminating IVs at required times.
Taking patients' histories and recording information into patients' health records.
Maintaining patients' health records and other documentation. This often involves entering information into computers to update electronic health records, or EHRs.
Providing clinical care, including changing patients' dressings and inserting catheters.
Admitting and billing patients. This is especially true in settings like doctors' offices, which don't always have dedicated office staff.
Assembling medical equipment, including oxygen supplies; gastronomy tubes; and catheters.
Consulting with RNs and physicians about patients and their conditions. LPNs also collaborate with RNs to develop and adjust treatment plans.
Educating patients and their families about treatment plans and other aspects of their care. This often includes providing after-care information to ensure that patients continue making progress after treatment.
Supervising certified nursing assistants, or CNAs, as well as other employees who do not hold nursing licenses.
LPN Roles
Although a lot less schooling is required to become an LPN – you can usually obtain your LPN diploma in as little as 12 months – these professionals assume many different roles during the course of a typical day at work. Some common LPN roles include:
Caretaker

– LPNs provide hands-on patient care, and they tend to directly care for patients more than any other medical professional. In this role, an LPN may assist with feeding, bathing and toileting patients.

Counselor

– Another role that LPNs assume is that of counselor. In this case, LPNs counsel patients and their families about various aspects of patient care.

Educator

– Since LPNs are expected to provide guidance to patients and their families, they also act as educators. Therefore, they must be able to communicate effectively to convey information properly. Moreover, they supervise CNAs, educating them to do their jobs the best they can.

Clinician

– From evaluating and monitoring patients to passing medications, LPNs also provide clinical care. They work directly with patients to ensure that treatment plans are being followed and that progress is being made.

Researcher

– LPNs must also perform research to ensure that patients' treatment plans are in proper order. They must take an organized approach to such research to ensure accurate reporting.

Advocate

– Because they work more directly with patients than other professionals, LPNs serve as important patient advocates. They work in the best interests of patients and may convey information from patients to RNs and physicians as needed.

Consultant

– LPNs work directly under doctors and RNs. Therefore, they communicate directly with these medical professionals on a daily basis and act as consultants on behalf of patients.

Collaborator

– Finally, LPNs must collaborate daily with CNAs, RNs, doctors and other medical professionals, sharing information and discussing issues as needed to ensure that patients are receiving adequate care.
LPN Job Settings
It's easy to assume that LPNs strictly work in nursing homes, but that simply isn't true. In reality, these nursing professionals are employed in many settings, including:
Home healthcare

– Under the supervision of a doctor or RN, many LPNs provide care in patients' place of residence. 13 percent of LPNs provide home healthcare services, which includes taking vital signs, dressing wounds and performing injections.

Doctors' offices

– 13 percent of LPNs work in outpatient care, which may include urgent care facilities and physicians' offices. In this case, they report directly to doctors, and their duties typically include providing immunizations and performing wound care.

Hospitals

– Fifteen percent of LPNs work in public and private hospitals. In this setting, they assist RNs with their daily tasks. They also provide direct patient care, including passing medications and taking vital signs.

Nursing and residential care facilities

– The majority of LPNs – 38 percent – work in nursing and residential care facilities. Such LPNs provide day-to-day care for residents. Typical duties include assisting with personal hygiene and monitoring patients' health and medications.

Correctional facilities

– Some LPNs work in correctional facilities, where they assist in providing care for injured or unwell prisoners. In this case, LPNs must be able to accommodate the sociological and psychological needs of inmates, which can be challenging.

Rehab centers

– In rehab centers, LPNs collaborate with a team of medical professionals to provide therapeutic care to patients who are recovering from surgeries, injuries and illnesses.

Military

– Some LPNs enlist in the military as medics after obtaining their licenses. This involves working in a very fast-paced and potentially dangerous setting, but the duties tend to be similar to those in other LPN job settings.

Travel nursing

– LPNs who have at least one year of clinical experience may also pursue travel nursing, which entails traveling around to different facilities as needed to assist short-staffed medical teams. Travel LPNs' duties include all of the typical responsibilities that go along with this profession, and they are usually more well-compensated. However, this setting is constantly changing, so it's not a great fit for everyone.