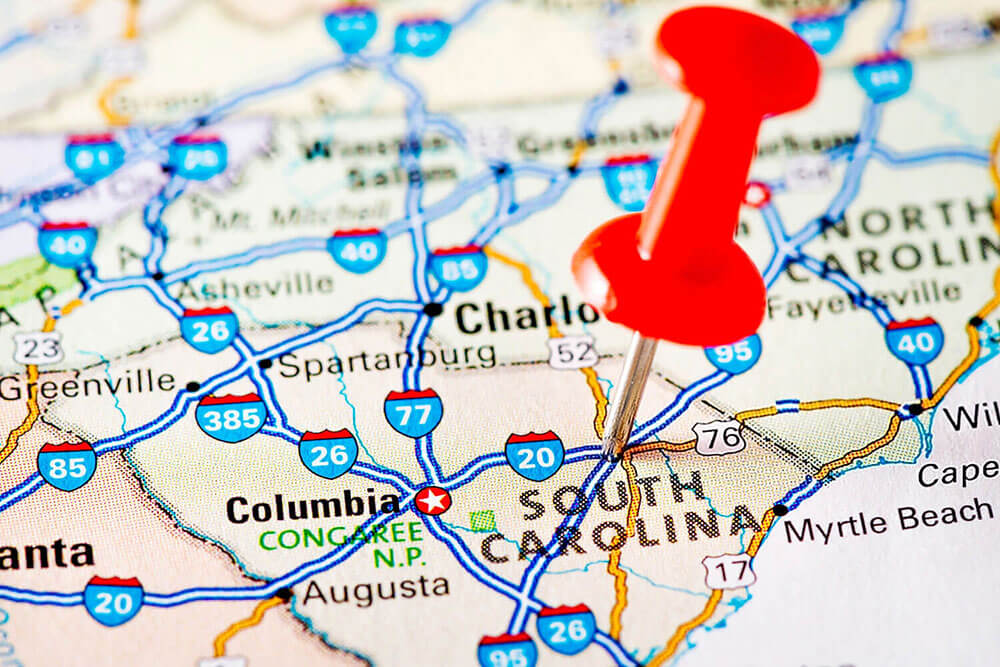 If you are a resident of South Carolina and would like to pursue a career in the field of nursing, you should consider training to become a licensed practical nurse. In just 12 to 18 months, you can complete the required training and be just steps away from earning your license and being eligible to apply for jobs. LPNs in SC have access to numerous jobs around the state.
The first and most important step in becoming an LPN is completing a training program. This program must be approved by the South Carolina State Board of Nursing, or you will not be eligible to sit for the licensing exam after. The exam, the NCLEX-PN, is the next step in the process. Once that's done, you can apply for your license and be on your way.
LPN LICENSING REQUIREMENTS IN SOUTH CAROLINA
Before searching for LPN schools in South Carolina, study up about the most important licensing requirements for LPNs in SC. By knowing what you need to do to fulfill these requirements, you will be able to get your license — and find a job — that much faster.
Some of the most crucial licensing requirements for LPNs in SC include:
Completing an LPN program that has been approved by the South Carolina State Board of Nursing. Note that most programs take 12 to 18 months to complete.
Submitting an application for licensure by examination to the South Carolina State Board of Nursing. With it, complete criminal background check and submit a copy of your social security card, official transcripts from your training program, a birth certificate or valid passport, and a recent headshot — passport style.
Registering for, taking and passing the licensing exam for LPNs, the NCLEX-PN. This exam is administered at testing locations around the state on dates throughout the year.
South Carolina belongs to the Nurse Licensure Compact, or NLC. If you possess a valid multistate LPN license from another NLC state, you can just begin practicing as an LPN here. Otherwise, you may need to apply for licensure by endorsement.
In SC, LPN licenses expire every two years. At the time of renewal, you must show proof of meeting any one of four requirements, one of which is completion of at least 30 contact hours of continuing education.
South Carolina Board of Nursing
When applying for LPN licensure in SC, you'll submit your application to the South Carolina State Board of Nursing. You will turn to this agency for renewals, transfers, verification and more, so keep its contact info handy:
South Carolina Board of Nursing
110 Centerview Dr #202, Columbia, SC 29210
Phone: (803) 896-4550
Fax: (803) 896-4515
LPN SALARY & EMPLOYMENT OUTLOOK IN SOUTH CAROLINA
Becoming an LPN in SC is a fairly quick and easy process. However, it still means having to devote considerable time, money and effort into the endeavor. When you obtain your license, you'd probably like to ensure that you can find jobs and that they pay well.
According to the U.S. Bureau of Labor Statistics, LPNs in SC earn on average $43,630 per year, which is equal to $20.97 per hour. Although this is lower than the national average pay for LPNs, which is $48,820, or $23.47 per hour, it is still more than double the federal minimum wage.
As for job outlook for LPNs in South Carolina, it is good as well. Per the BLS, the LPN field in SC is projected to grow by a rate of 12 percent from 2014 to 2024. This is slightly lower than the national growth rate of 16 percent, but it still means that around 400 new jobs will become available each year during that period.
LPN Salaries in South Carolina by Area
Although there is no way to predict exactly how much you can expect to earn as an LPN in SC, you can look at various factors to get an idea. These factors include things like education and experience, but geography plays a significant role too. As you can see below, depending on where you are in SC, you may enjoy higher pay and access to more jobs.
| Area | Total Employment | Average Hourly Wage | Average Annual Salary |
| --- | --- | --- | --- |
| Charleston-North Charleston | 1,370 | $23.22 | $48,300 |
| Sumter | 120 | $21.82 | $45,380 |
| Columbia | 1,730 | $21.20 | $44,100 |
| Spartanburg | 800 | $20.69 | $43,030 |
| Hilton Head Island-Bluffton-Beaufort | 340 | $20.41 | $42,450 |
| Florence | 780 | $20.33 | $42,290 |
| Greenville-Anderson-Mauldin | 1,590 | $20.30 | $42,230 |
| Myrtle Beach-Conway-North Myrtle Beach | 720 | $20.26 | $42,150 |
TOP LPN PROGRAMS IN SOUTH CAROLINA
The ease with which you break into the field of licensed practical nursing largely hinges on the quality of the training that you receive. Therefore, it is wise to take your time and to consider plenty of options when looking for LPN programs in SC. The right program will be approved by the State Board of Nursing, and it will have NCLEX-PN pass rates of 95 percent or higher.
To help you with your search, here are some recommendations for LPN schools in SC:
Academy for Careers and Technology

2697 US-76,

Marion, SC 29571

Aiken Technical College

2276 Jefferson Davis Hwy,

Graniteville, SC 29829

Denmark Technical College

1126 Soloman Blatt Blvd,

Denmark, SC 29042

ECPI University

7410 Northside Dr,

North Charleston, SC 29420

ECPI University

1001 Keys Dr #100,

Greenville, SC 29615

ECPI University

250 Berryhill Rd #300,

Columbia, SC 29210

Horry Georgetown Technical College

2050 US-501,

Conway, SC 29526

Midlands Technical College

316 S Beltline Blvd,

Columbia, SC 29205

Northeastern Technical College

1201 Chesterfield Hwy,

Cheraw, SC 29520

Orangeburg-Calhoun Technical College

3250 St Matthews Rd,

Orangeburg, SC 29118

Piedmont Technical College

620 Emerald Rd N,

Greenwood, SC 29646

Technical College of the Lowcountry

921 Ribaut Rd,

Beaufort, SC 29902

Tri-County Technical College

7900 US-76,

Pendleton, SC 29670

Trident Technical College

7000 Rivers Ave,

North Charleston, SC 29406

Williamsburg Technical College

601 Martin Luther King Jr Ave,

Kingstree, SC 29556

York Technical College

452 S Anderson Rd,

Rock Hill, SC 29730
Jump-start your career in nursing by finding and enrolling in an SC LPN training program today!