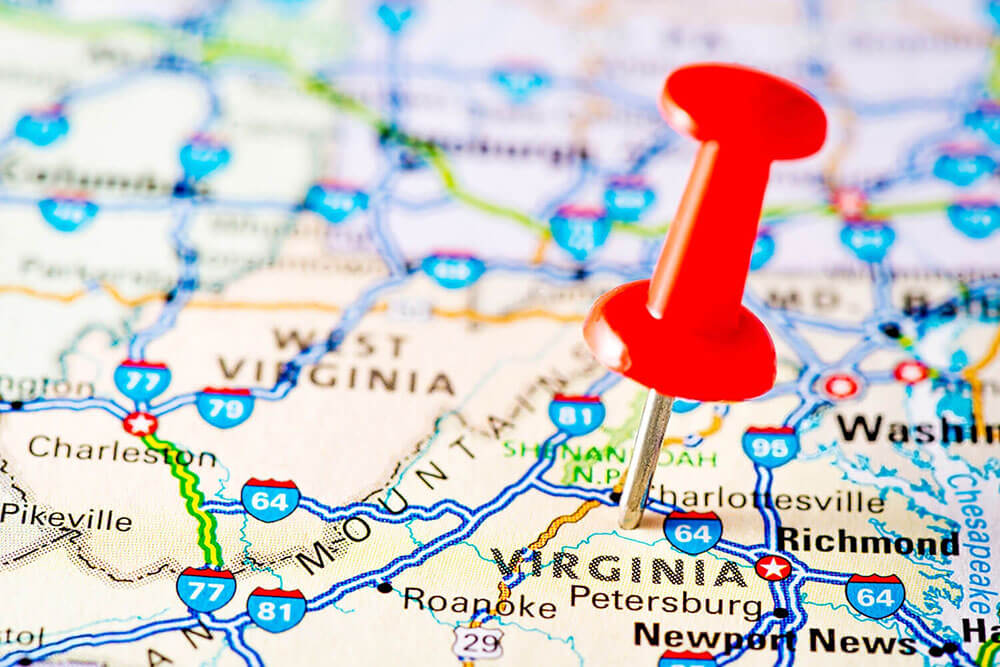 Becoming a licensed practical nurse in Virginia is easier than you probably think. It's also one of the best ways to quickly break into the exciting field of nursing, as training programs are generally quite affordable and usually take only 12 to 18 months to complete. From there, take and pass the licensing exam and apply for your LPN license. Before you know it, you will have access to thousands of excellent LPN jobs around the state.
The first and most important step in becoming an LPN is completing a training program. It must be approved by the Virginia Board of Nursing for graduates to be eligible to sit for the NCLEX-PN licensing exam. You'll quickly see that there are dozens of such programs across the state, and you may struggle to zero in on the right one. To make things easier, look below for a list of recommended VA LPN training programs.
LPN LICENSING REQUIREMENTS IN VIRGINIA
Get up to speed about the basic licensing requirements for LPNs in VA to more quickly and easily get through the process. It is fairly straightforward, but knowing what to expect beforehand helps a lot.
Some of the most crucial LPN licensing requirements as established by the Virginia Board of Nursing include:
Completing an LPN program that is approved by the Virginia Board of Nursing. Your training will likely take anywhere from 12 to 18 months to complete. Note that you must also complete 400 hours of supervised, direct patient care.
Submitting an application for licensure by exam to the Virginia Board of Nursing, including with it official transcripts from your training program; authorization for a background check; and any applicable fees.
Registering for, taking and passing the NCLEX-PN, the licensing examination for LPNs. It is administered on dates throughout the year at test sites across the state.
Virginia belongs to what is known as the Nurse Licensure Compact, or NLC. If you hold a valid multistate LPN license from another NLC state, you may just begin practicing here as an LPN. Otherwise, you may seek to transfer your license via endorsement; check with the Board of Nursing for more information.
Virginia Board of Nursing
You must submit an application for licensure to the Virginia Board of Nursing to obtain an LPN license. Later, when you need to renew or verify your license or otherwise have business to handle pertaining to it, you will contact this agency. Its contact info is as follows:
Virginia Board of Nursing
9960 Mayland Dr #300, Richmond, VA 23233
Phone: (804) 367-4515
Fax: (804) 527-4455
LPN SALARY & EMPLOYMENT OUTLOOK IN VIRGINIA
Before investing any time, effort or money into the pursuit of becoming an LPN, you should probably confirm to the best of your ability that you will not only have access to plenty of jobs but that they will offer well-enough pay and benefits too.
According to the U.S. Bureau of Labor Statistics, LPNs in VA earn an average income of $47,410 per year, which is equal to $22.79 per hour. This is slightly lower than the national average pay for LPNs, which is $48,820, or $23.47 per hour. As you will see, however, LPNs in many metro areas earn higher pay.
As for how easy it will be to find work, you shouldn't have any trouble there, either. According to the BLS, the LPN field in Virginia is projected to grow by 21 percent from 2014 through 2024. This means that around 1,070 new LPN jobs will become available in the state every year during that period. Now and well into the future, then, the job outlook is great for LPNs in Virginia.
LPN Salaries in Virginia by Area
You may have noticed that LPN salaries vary from one U.S. state to another. The same thing is true about LPN salaries within individual states too, as LPNs in some parts of a state may earn more and have access to more work than LPNs in other areas.
Keep this information in mind when seeking employment as an LPN in VA:
| Area | Total Employment | Average Hourly Wage | Average Annual Salary |
| --- | --- | --- | --- |
| Charlottesville | 580 | $24.38 | $50,710 |
| Richmond | 3,820 | $23.80 | $49,490 |
| Winchester | 260 | $23.15 | $48,150 |
| Roanoke | 1,180 | $21.84 | $45,430 |
| Staunton-Waynesboro | 370 | $21.82 | $45,380 |
| Harrisonburg | 380 | $21.60 | $44,930 |
| Virginia Beach-Norfolk-Newport News | 5,080 | $21.44 | $44,600 |
| Lynchburg | 660 | $20.61 | $42,860 |
| Blacksburg-Christiansburg-Radford | 510 | $20.47 | $42,590 |
TOP LPN PROGRAMS IN VIRGINIA
Since you can't get a VA LPN license without passing the NCLEX-PN, and you can't sit for the exam without completing an approved training program, the first and most crucial step is enrolling in the right one. This means not only selecting one that's approved by the Board of Nursing but selecting one that also has documented proof of top pass rates for the NCLEX-PN. Avoid programs with pass rates below 90 percent or so.
You will quickly find that there are dozens of programs out there, and choosing the right one can be daunting. Here are some recommendations to get you started:
Academies of Loudoun

21000 Education Ct,

Broadlands, VA 20148

American School of Nursing & Allied Health

14910 Jefferson Davis Hwy,

Woodbridge, VA 22191

Bedford Science and Technology Center

310 S Bridge St,

Bedford, VA 24523

Bryant & Stratton College - Richmond

8141 Hull Street Rd,

Richmond, VA 23235

Camp Community College

271 Kenyon Rd,

Suffolk, VA 23434

Camp Community College

100 N College Dr,

Franklin, VA 23851

Centra College of Nursing

1920 Atherholt Rd,

Lynchburg, VA 24501

Centura College

7020 N Military Hwy,

Norfolk, VA 23518

Centura College - Richmond

7914 Midlothian Turnpike,

Bon Air, VA 23235

Chesapeake Career Center

1617 Cedar Rd,

Chesapeake, VA 23322

Chesterfield County Public Schools

10101 Courthouse Rd,

Chesterfield, VA 23832

Dabney S. Lancaster Community College

35 Vista Links Drive,

Buena Vista, VA 24416

Danville Community College

1008 S Main St,

Danville, VA 24541

Eastern Shore Community College

29300 Lankford Hwy,

Melfa, VA 23410

Eastern Virginia Career College

10304 Spotsylvania Ave # 400,

Fredericksburg, VA 22408

ECPI University

5234 Airport Rd NW #200,

Roanoke, VA 24012

ECPI University

5555 Greenwich Rd,

Virginia Beach, VA 23462

ECPI University

1001 Omni Blvd,

Newport News, VA 23606

ECPI University - Northern Virginia

10021 Balls Ford Rd #100,

Manassas, VA 20109

Fairfax County Public Schools

8115 Gatehouse Rd,

Falls Church, VA 22042

Fortis College

6300 Center Dr #100,

Norfolk, VA 23502

Fortis College

2000 Westmoreland St Suite A,

Richmond, VA 23230

Germanna Community College

10000 Germanna Point Dr,

Fredericksburg, VA 22408

Giles County Technology Center

1827 Wenonah Ave,

Pearisburg, VA 24134

Global Health Institute

30 S Quaker Ln,

Alexandria, VA 22314

Healing Hands Health School

17323 Jefferson Davis Hwy #201,

Dumfries, VA 22026

Henrico Adult Education

3751 Nine Mile Rd,

Richmond, VA 23223

Lord Fairfax Community College

173 Skirmisher Ln,

Middletown, VA 22645

Massanutten Technical Center

325 Pleasant Valley Rd,

Harrisonburg, VA 22801

Medical Learning Center

1840 Wilson Blvd #101,

Arlington, VA 22201

Mountain Empire Community College

3441 Mountain Empire Rd,

Big Stone Gap, VA 24219

New River Community College

5251 State Rd 373,

Dublin, VA 24084

Patrick Henry Community College

645 Patriot Ave,

Martinsville, VA 24112

Petersburg Public Schools

100 Pleasants Ln,

Petersburg, VA 23803

Piedmont Virginia Community College

501 College Dr,

Charlottesville, VA 22902

Prince William County Schools

14715 Bristow Rd,

Manassas, VA 20112

Rappahannock Community College

12745 College Dr,

Saluda, VA 23149

Reynolds Community College

1851 Dickinson Rd,

Goochland, VA 23063

Ridgeview Practical Nursing Program

335 Vocational Dr,

Clinchco, VA 24226

Riverside College of Health Careers

316 Main St,

Newport News, VA 23601

Russell County Career & Technology Center

304 Career Tech Dr,

Lebanon, VA 24266

Smyth Career & Technology Center

121 Bagley Cir Suite 300,

Marion, VA 24354

Southside Virginia Community College

820 Bruce St,

South Boston, VA 24592

Southside Virginia Community College

316 N Main St,

Chase City, VA 23924

Standard Healthcare Services, Inc. - College of Nursing

1073 W Broad St,

Falls Church, VA 22046

Ultimate Health School

7839 Ashton Ave,

Manassas, VA 20109

Valley Career and Technical Center

49 Hornet Rd,

Fishersville, VA 22939

Virginia Beach Technical and Career Education Center

2925 N Landing Rd,

Virginia Beach, VA 23456

Virginia Highlands Community College

100 VHCC Dr,

Abingdon, VA 24210

Virginia Western Community College

3094 Colonial Ave SW,

Roanoke, VA 24015

Washington County Career & Technical Education Center

255 Stanley St,

Abingdon, VA 24210

Wytheville Community College

1000 E Main St,

Wytheville, VA 24382
As an LPN in Virginia, you will enjoy almost competitive pay and great benefits. Better still, you'll always have access to plenty of jobs. Get started by enrolling in an approved training program today!