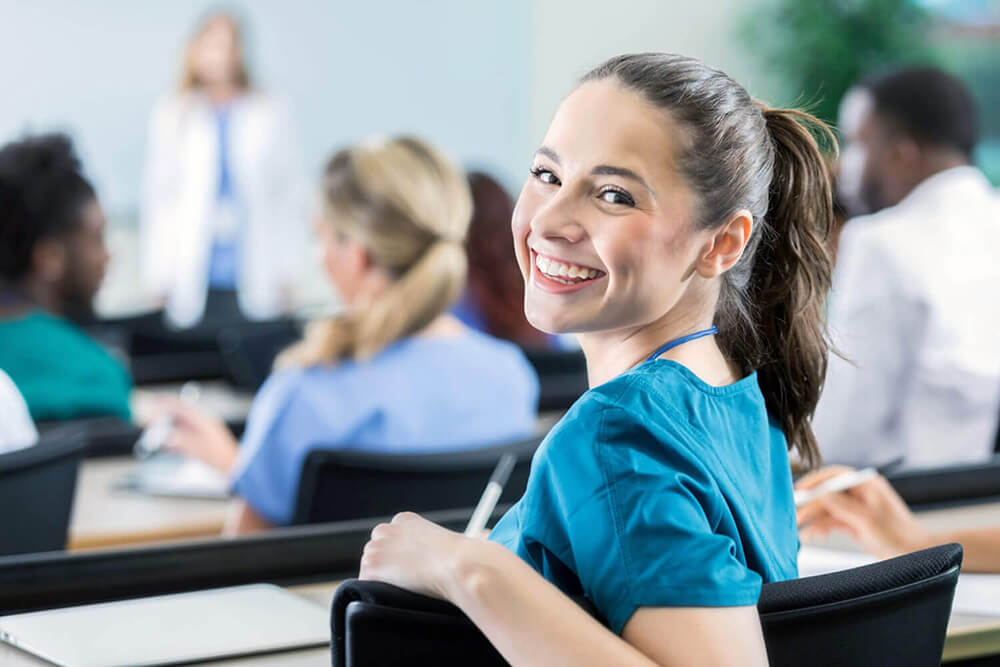 To become a Licensed Practical Nurse, or LPN, in any state, you have to obtain an LPN license of that state. Of the many available nursing career options, becoming an LPN is among the easiest options. In most cases, only about a year of training is needed, so you can get your LPN license and start applying for jobs fairly quickly. With an LPN license in hand, you will be eligible for all kinds of jobs, and you will enjoy many exciting advancement opportunities too.
Understand the Process

- Before working to obtain an LPN license, familiarize yourself with the specific steps that must be completed. No matter where you want to work as an LPN, you are required by law to have an LPN license. Employers cannot hire you to work as an LPN if you do not hold a valid license. While online training programs are available, they all have "offline" components due to clinical training requirements. The clinical training is vital because a large portion of the licensing exam consists of demonstrating clinical skills.

Meet the Requirements

- Fortunately, the requirements for enrolling in an LPN training program are fairly minimal. If you are still in high school, you must complete school and earn your diploma before being admitted into most LPN programs. If you are no longer in high school, but don't have your diploma, you'll have to obtain your GED before being accepted into most programs. Please note that some LPN training programs also have minimum GPA requirements that must be met. You most likely will have to undergo a criminal background check, since you will be working with real patients during your training.

Complete Your Coursework

- A significant portion of your LPN training will consist of learning and absorbing information about various aspects of nursing. This portion is often called the theory component of LPN training, and it largely consists of classroom lectures, reading assignments, and written assignments. There will be quizzes, tests, and exams along the way to track your progress. This portion of your training is designed to not only prepare you to work as an LPN, but to help you pass the NCLEX-PN licensing exam also. One section of this exam is completely made up of multiple-choice questions. Concentrate and work hard in all of your classes, as material from all of them is likely to appear on the exam. If you find yourself struggling, touch base with your teacher to get additional help as needed.

Complete Your Clinical Training

- As half of the NCLEX-PN, the LPN licensing exam, consists of multiple-choice questions, you'll be putting down your pen for the second half. That's because you will be required to demonstrate proficiency with specific nursing duties and skills in order to receive your LPN license. For many students, this part of the exam is the most nerve-wracking because they have to perform these tasks in front of an examiner. As long as you give it your all during your clinical training, however, this section should be a breeze to complete. If you still don't feel prepared prior to sitting for the exam, find another student to practice with first.

Apply for Your LPN License

- Some students wait until completing their training before applying for their LPN licenses. However, it is often possible to apply while you are still completing it, so be sure to ask. What happens in this case is you actually apply for taking the NCLEX-PN exam to your state board of nursing if it accepts applications before you even graduate from an accredited LPN program. Then, you register with Pearson Vue via their website, where your application to take the test remains pending until you complete your training and your board of nursing makes you eligible to take the test. Once your state board of nursing makes you eligible on Pearson Vue's website, Pearson Vue emails you the authorization to test, at which point you can schedule to take the exam. Your license will be issued shortly after you successfully pass the NCLEX-PN, with a onetime paper license being sent to you in the mail 7-10 working days after it is issued if it's your state's policy.

Taking the NCLEX-PN

- Whether you wait until before or after training to apply for your LPN license, you will have to take and pass the NCLEX-PN before it will be issued. Without question, this is the most daunting task for most students, as so much is on the line. Fortunately, even if you don't pass the exam on the first try, you can take it again within about a month. If you don't feel confident in the days leading up to the exam, go online to take some practice exams and study more. Remember that there are anywhere from 80 to 205 questions to answer as well as a clinical skills portion to complete, so there is a lot of ground to cover.

Receiving Your LPN License and Applying for Jobs

- With your training out of the way and the successful completion of the NCLEX-PN, you will now have everything that you need to receive your LPN license. In some states, the license becomes valid once the exam results come in, and you can check the status of your license online. Other times, LPN licenses are sent in the mail. In many cases, the license is issued both online and through the mail. Add the information about your LPN license to your resume to ensure that prospective employers are aware of this credential, and you will be ready to start applying for LPN jobs. Keep in mind that LPN licenses must be renewed from time to time and that they are only valid in the state of issuance.
Right now, it may seem like obtaining your LPN license is a far-away dream. However, with each passing step, you will be that much closer to joining the thousands who are happily employed as LPNs in hospitals, nursing homes, and other facilities around the country.