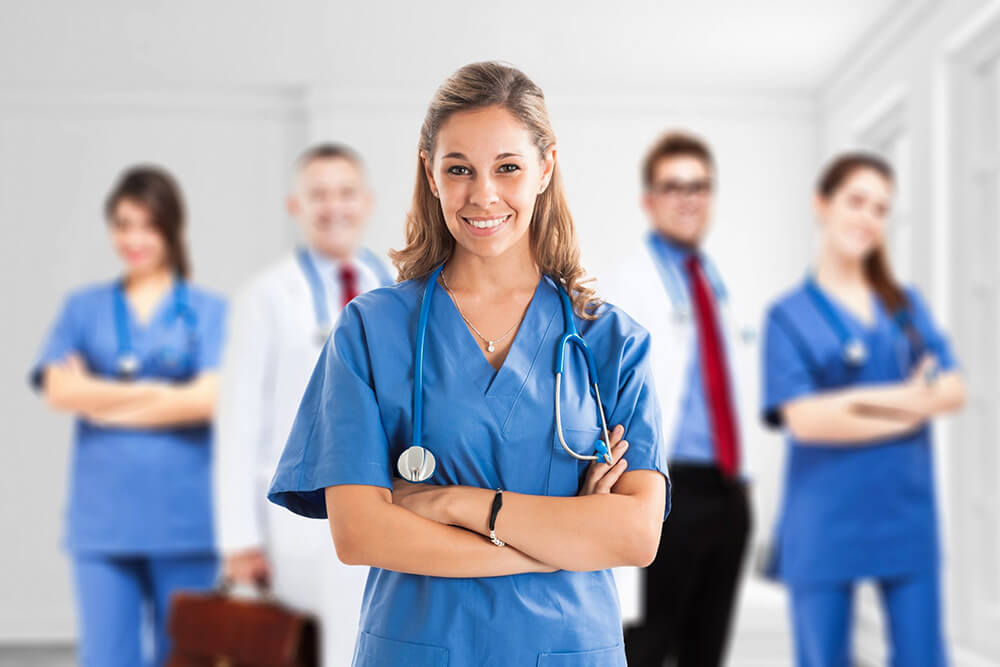 If you broke into the nursing field by becoming a certified nursing assistant, or CNA, you may be ready to progress further in your career. Luckily, you have plenty of options when you work in the field of nursing. For those who aren't ready to make the leap to registered nursing, which requires quite a bit of training, becoming a Licensed Practical Nurse, or LPN, is a great option. With a CNA-to-LPN bridge program, your experience working as a CNA will be taken into account, allowing you to potentially earn your LPN license much faster.
About CNA to LPN Bridge Programs
In the world of nursing education, bridge programs are popularly used to progress to more advanced roles more quickly. The concept behind such programs is simple: They are designed to "bridge the gap" in knowledge between two levels of education. CNA-to-LPN bridge programs, then, provide the additional education that is needed to become an effective LPN. Typically, it takes up to two years to complete LPN training. Through a bridge program, however, you may be able to finish in nine months or lesser time.
Requirements
To be accepted into a CNA-to-LPN bridge program, you don't just need to fulfill the requirements of an LPN training program, but you must also prove that you have a valid CNA license and that you have valid CNA work experience. Therefore, you will have to provide a copy or proof of your CNA license or certificate, and you may need to provide employment records. Additional requirements may include:
A high school diploma or GED
A minimum GPA of 2.0 or higher
Payment of tuition
Be at least 18 years or older
Locations
CNA-to-LPN bridge programs are widely available, as demand for these types of programs is strong. These types of programs are most commonly offered by community colleges and vocational training schools, but they are also offered by four-year colleges and universities as certificate programs. Local hospitals also offer affordable LPN training options, including bridge programs, so they are worth looking into as well. Many CNA-to-LPN bridge programs can also be completed at least partially online. Such programs are called hybrid programs because some of the work is done online, while other on site.
Cost
It probably feels like you just finished paying to get your CNA certification, so why pay even more to obtain your LPN license? Here's some good news: It is usually cheaper to obtain your LPN license through a bridge program than through a regular program, as fewer credit hours are typically required. In fact, you may be surprised by just how affordable it is. Around the country, these bridge programs cost anywhere from around $750 to around more than $2,500. If you are eligible for financial aid, you may be able to spend even less.
Duration
After being out in the real world working as a CNA, going back to school can be rough. Fortunately, however, it doesn't take long to complete CNA-to-LPN training. Normally, LPN training takes up to two years. Depending on how your previous education and work experience are applied, you may be able to finish your CNA-to-LPN bridge program in as little as nine months if you are able to do so on a full-time basis. If you can only attend part time, you should still be able to finish your training within 12 to 18 months.
Accreditation
To be eligible to sit for the NCLEX-PN, you must provide proof that you have successfully completed an accredited LPN training program. CNA-to-LPN training programs are also required to have the proper accreditation. Without it, your training will be worth nothing, as you will not be able to sit for the exam. While investigating these types of bridge programs, make sure that they are approved by your state board of nursing. Look for proof of accreditation from a legitimate body like the Accreditation Commission for Education in Nursing, or ACEN, or the Commission on Collegiate Nursing Education, or CCNE.
Courses
Since you already have CNA training under your belt, you're sure to find many of the required courses for your LPN training to be very familiar. Since your licensing exam includes a practical skills section, your CNA-to-LPN bridge program curriculum will require a certain number of on-site clinical training hours. These are in addition to the courses that you will have to complete. These span a broad array of nursing- and health-related topics, but some examples of courses that you will have to complete during CNA-to-LPN training include:
Health Assessment
Pathophysiology
Communication
Nutrition
Gerontology
Clinical Training
The NCLEX-PN includes a written section that consists of multiple-choice questions as well as a clinical skills portion. Due to the latter, clinical training is a crucial part of any CNA-to-LPN bridge program. Whether you are completing an online or campus-based program, you will be required to complete a minimum number of clinical training hours to successfully graduate. Some programs have arrangements with local facilities and automatically assign students. Others expect students to line up their own training, or externships. Depending on the program, you may even be able to use experience at your current job to fulfill this requirement.
Making the leap from CNA to LPN doesn't mean having to go back to the drawing board. Thanks to CNA-to-LPN bridge programs, working CNAs don't have to start from scratch to take the next step in their careers. Find an accredited and approved program and get started today.