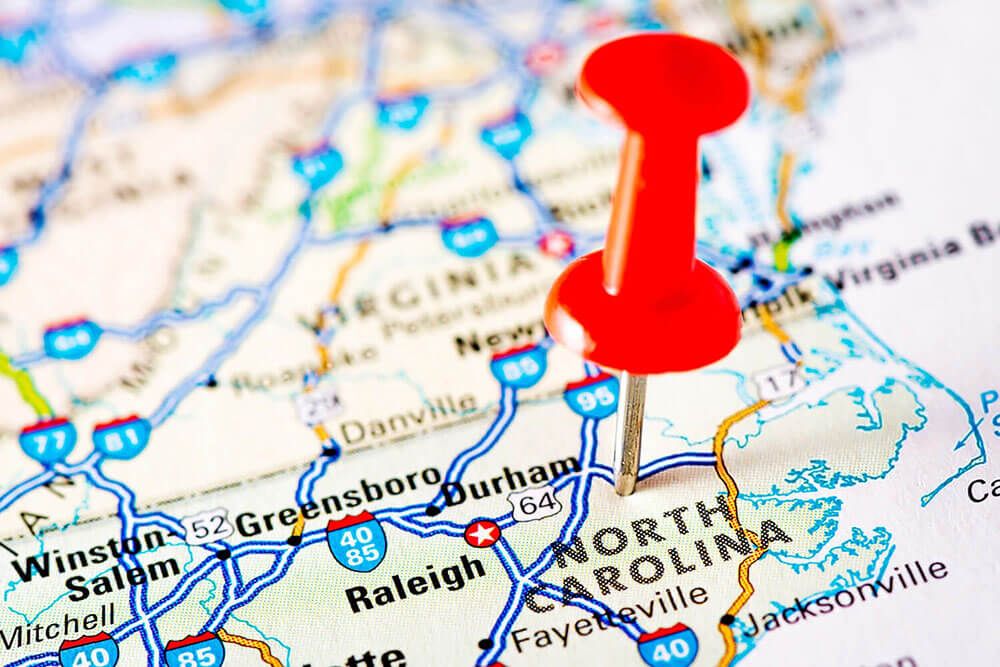 If you'd like to become a nurse but aren't prepared to devote the next four years of your life to earning a Bachelor of Science in Nursing, or BSN, becoming a licensed practical nurse is a great option to consider. In North Carolina, as in all other states, LPNs must be licensed by the board of nursing. To do so, they must meet a number of requirements. These include completing an approved training program, passing a licensing exam and paying the necessary fees.
Of the many steps that are involved in becoming an LPN in NC, enrolling in and completing a training program is among the most crucial. The quality of your training will directly impact how well you perform on the NCLEX-PN licensing exam; it will also affect your ability to find jobs. With these points in mind, read on to learn more about becoming an LPN in North Carolina and for recommendations for reputable LPN schools in the state.
LPN LICENSING REQUIREMENTS IN NORTH CAROLINA
Before taking the first steps toward becoming an LPN in NC, learn the basic requirements that are imposed by the North Carolina Board of Nursing. That way, you will know exactly what to do and when to do it, which will help you earn your license that much faster.
The most important LPN licensing requirements in North Carolina include:
Completing a training program that is approved by the North Carolina Board of Nursing. This usually takes anywhere from 12 to 18 months, but the length depends on various factors.
Applying for your LPN license by examination with the North Carolina Board of Nursing. When applying, include authorization to perform a criminal background check as well as the licensing fee.
Registering for, taking and passing the NCLEX-PN, the official licensing exam for LPNs. It's offered at testing sites around the state on dates throughout the year.
North Carolina belongs to the Nurse Licensure Compact, or NLC. This means that LPNs who hold valid multistate licenses in other participating states can just begin practicing here. If you come from a non-NLC state, an endorsement process is available.
In NC, LPN licenses expire every two years on the last day of the licensee's month of birth. If you were born on May 15, then, your expiration date would be May 31 every two years. You can choose from several continuing education options to renew your license; consult the North Carolina Board of Nursing for more info.
North Carolina Board of Nursing
Submit your application for an LPN license to the North Carolina Board of Nursing, the same agency that handles all aspects of nurse licensing in NC. Keep this contact information on hand for convenience:
North Carolina Board of Nursing
4516 Lake Boone Trail, Raleigh, NC 27607
Phone: (919) 782-3211
Fax: (919) 781-9461
LPN SALARY & EMPLOYMENT OUTLOOK IN NORTH CAROLINA
Although becoming an LPN in North Carolina is fairly straightforward, it also means having to invest time, money and effort into the process. Avoid wasting your time and money by confirming that you will be able to find gainful employment after earning your LPN license.
According to the U.S. Bureau of Labor Statistics, LPNs in NC earn a median wage of $47,120 per year, which is equal to $22.65 per hour. This is less than the national average annual pay for LPNs, which is $48,820, or $23.47 per hour.
In addition to being eligible for well-paying jobs, you'll have access to plenty of them in NC. According to the BLS, the LPN field in North Carolina will grow by 18 percent from 2014 to 2024. This is even faster than the national average rate of 16 percent, and it means that every year during that period, around 730 jobs will be added for LPNs.
LPN Salaries in North Carolina by Area
The amount that you are likely to earn as an LPN in NC depends on a number of factors. In particular, where you are located in the state will dictate not only your earning potential but how easily you'll be able to find employment.
Here's a quick breakdown of LPN salaries and job outlook across the state:
| Area | Total Employment | Average Hourly Wage | Average Annual Salary |
| --- | --- | --- | --- |
| Burlington | 120 | $24.36 | $50,670 |
| Durham-Chapel Hill | 980 | $24.21 | $50,350 |
| Rocky Mount | 180 | $23.58 | $49,040 |
| Asheville | 780 | $23.42 | $48,720 |
| Raleigh | 1,830 | $23.23 | $48,320 |
| Wilmington | 490 | $22.94 | $47,710 |
| Charlotte-Concord-Gastonia | 3,540 | $22.77 | $47,360 |
| Fayetteville | 1,230 | $22.65 | $47,110 |
| Hickory-Lenoir-Morganton | 530 | $22.25 | $46,270 |
| Greensboro-High Point | 1,380 | $22.20 | $46,170 |
| Winston-Salem | 1,350 | $22.11 | $45,980 |
| Greenville | 350 | $21.86 | $45,470 |
| New Bern | 190 | $21.86 | $45,460 |
| Jacksonville | 130 | $21.12 | $43,920 |
| Goldsboro | 240 | $20.58 | $42,800 |
TOP LPN PROGRAMS IN NORTH CAROLINA
Now that you know the basics about LPN programs in North Carolina, you are about ready to start searching for the right one for you. As you'll quickly learn, zeroing in on the right one can be challenging since there are so many options across the state. It's crucial to choose a program that is approved by the NC Board of Nursing; it should also have competitive NCLEX-PN pass rates.
Get your search going by checking out these recommendations for LPN programs in NC:
Beaufort County Community College

5337 US-264 ALT,

Wilson, NC 27893

Bladen Community College

7418 NC Hwy 41W,

Dublin, NC 28332

Brunswick Community College

50 College Rd NE,

Bolivia, NC 28422

Caldwell Community College & Technical Institute

2855 Hickory Blvd,

Hudson, NC 28638

Cape Fear Community College

411 N Front St,

Wilmington, NC 28401

Central Carolina Community College

1105 Kelly Dr,

Sanford, NC 27330

Cleveland Community College

137 S Post Rd,

Shelby, NC 28152

Coastal Carolina Community College

444 Western Blvd,

Jacksonville, NC 28546

College of The Albemarle

1208 N Road St,

Elizabeth City, NC 27909

Craven Community College

305 Cunningham Blvd,

Havelock, NC 28532

Durham Technical Community College

1637 E Lawson St,

Durham, NC 27703

ECPI University

4800 Airport Center Pkwy,

Charlotte, NC 28208

ECPI University

4101 Doie Cope Rd,

Raleigh, NC 27613

ECPI University

7802 Airport Center Dr,

Greensboro, NC 27409

Edgecombe Community College

225 Tarboro St,

Rocky Mount, NC 27801

Fayetteville Technical Community College

2201 Hull Rd,

Fayetteville, NC 28303

Forsyth Technical Community College

2100 Silas Creek Pkwy,

Winston-Salem, NC 27103

Gaston College

201 US-321,

Gastonia, NC 28052

Guilford Technical Community College

601 E Main St,

Jamestown, NC 27282

Halifax Community College

College Dr,

Weldon, NC 27890

Isothermal Community College

134 Maple St,

Rutherfordton, NC 28139

James Sprunt Community College

133 James Sprunt Dr,

Kenansville, NC 28349

Lenoir Community College

231 North Carolina Hwy 58,

Kinston, NC 28501

Mayland Community College

88 Hospital Dr,

Spruce Pine, NC 28777

McDowell Technical Community College

54 College Dr,

Marion, NC 28752

Montgomery Community College

1011 Page St,

Troy, NC 27371

Nash Community College

522 N Old Carriage Rd,

Rocky Mount, NC 27804

Richmond Community College

1042 W Hamlet Ave,

Hamlet, NC 28345

Robeson Community College

5160 Fayetteville Rd,

Lumberton, NC 28360

Rockingham Community College

215 Wrenn Memorial Rd,

Wentworth, NC 27375

Rowan-Cabarrus Community College

1333 Jake Alexander Blvd S,

Granite Quarry, NC 28146

Sampson Community College

1801 Sunset Ave,

Clinton, NC 28328

South College

140 Sweeten Creek Rd,

Asheville, NC 28803

South Piedmont Community College

3509 Old Charlotte Hwy,

Monroe, NC 28110

Southeastern Community College

4564 Chadbourn Hwy,

Whiteville, NC 28472

Surry Community College

630 S Main St,

Dobson, NC 27017

The College of Davidson and Davie Counties

297 Davidson Community College Rd,

Thomasville, NC 27360

Vance-Granville Community College

200 Community College Rd,

Henderson, NC 27537

Wayne Community College

3000 Wayne Memorial Dr,

Goldsboro, NC 27534

Wilson Community College

902 Herring Ave E,

Wilson, NC 27893
The faster you find and enroll in an approved LPN program, the faster you'll be able to start applying for LPN jobs in NC. Find a program and enroll today!