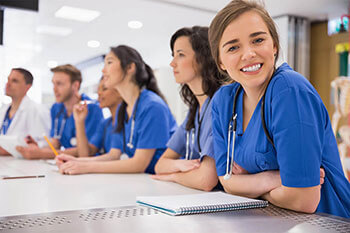 Becoming a Licensed Practical Nurse, or LPN, is one of the fastest ways to get the ball rolling on a career in nursing. Unlike registered nurses (RNs), who must undergo anywhere from two to four years of training and education before becoming eligible to work, LPNs can typically complete their training in a year. Although the path to becoming an LPN is fast, it's not necessarily easy. It pays to have a clear idea about what to expect going forward, so read on to learn how to become an LPN.
1. Assess Your Skills
First, take a good, hard look at yourself. Why do you want to become an LPN? Are you naturally suited to be one? While you learn most of what you need to know during training, it helps to possess certain traits. For example, having compassion for others is crucial. This includes having a sincere desire to help people. It's also vital to have great communication skills. You will not only interact constantly with patients, but you must also communicate effectively with doctors, RNs, and other professionals.
2. Complete a Training Program
To obtain your LPN license, you must take and pass the NCLEX-PN licensing exam. To be eligible to sit for this exam, you must take and pass a state-approved and properly accredited LPN training program. Take care when looking for LPN training programs. If you enroll in one that doesn't have the right credentials, you won't be able to take the licensing exam. Look for accreditation from either the American Commission for Education in Nursing (ACEN) or the Commission for Collegiate Nursing Education (CCNE).
Make sure that you meet the basic requirements of LPN training before looking for a program. Most LPN training programs require students to possess either a high school diploma or a GED. In some cases, they will accept current high school students. If it's been a while since you've been in school, you may have to take the Test of Essential Academic Skills, or TEAS, exam to be admitted. Some programs also require incoming students to undergo criminal background checks and physical exams. The latter is typically to ensure that all vaccinations are up to date, as this is very important in a healthcare setting.
As far as the training itself is concerned, it primarily consists of classroom lectures and labs. Your training will cover a variety of subjects, including human anatomy and physiology, medical terminology, and microbiology. If you are not familiar at all with medical terminology, the learning curve may seem steep at first. However, it will become like second nature before you know it. Make sure to communicate with your instructor. This is especially important if you find yourself falling behind or experiencing other problems.
3. Pass the Licensing Exam
Completing LPN training is just one piece of the puzzle. Once you have graduated from the training program, you can register to sit for the NCLEX-PN. In fact, you may be able to register for the exam while you are still completing your training. That way, you can schedule the exam ahead of time so that you can take it right after finishing your training.
The NCLEX-PN is administered at testing sites across the country. The fee for the test is around $200, and you are given five hours to complete it. The exam is administered on computers, and adaptive testing is used. This means that the questions adjust based on your previous answers. You have to answer anywhere from 85 to 205 multiple-choice questions spanning five categories. Your results are available only from your state's nursing regulatory body and will be sent to you about six weeks following you taking the exam. If you don't pass the exam, you can retake the exam in 45 days.
4. Apply for Your LPN License
This step may actually be handled while you are still completing your LPN training in some cases. If so, your application will simply remain pending until your test results are submitted to the state. At any rate, applying for your LPN license is easy and straightforward. The process varies a little from state to state, so check with yours to learn the exact steps that you must follow so that you know what to do when the time comes. You may have to provide fingerprints and get a notary signature.
5. Apply for LPN Jobs
Your LPN license will be valid in your chosen state, which should obviously be your state of residence. Keep in mind that it is fairly easy to get endorsements for other states and that you don't usually have to undergo additional training. With your license in hand, you will now be able to apply for LPN jobs. The types of jobs that are available will depend on where you live, but you can expect to find most offered by nursing homes and assisted living facilities. Put together a professional resume, and just start applying. Given how in-demand LPNs are across the country, it shouldn't take long for you to land your first job.
6. Obtain Certifications
Finally, you can make yourself more marketable as an LPN by obtaining certifications in areas of specialization. This especially makes sense if you find yourself working more often than not in a particular area. Popular certifications for LPNs include gerontology, long-term care, dialysis, and hospice and palliative care - which makes sense since they all relate to the elderly in some way. Obtaining these certifications doesn't guarantee that you will get more pay or better jobs, but it certainly makes it a lot more likely.
You are sure to find that the payoff for undergoing LPN training and licensing is well worth it once you start working professionally. Later, if you want to advance more in your nursing career, you can always go back to get your ADN or BSN to become a registered nurse. In the meantime, focus on honing your skills and on gaining more experience.
Additional Resources for LPNs