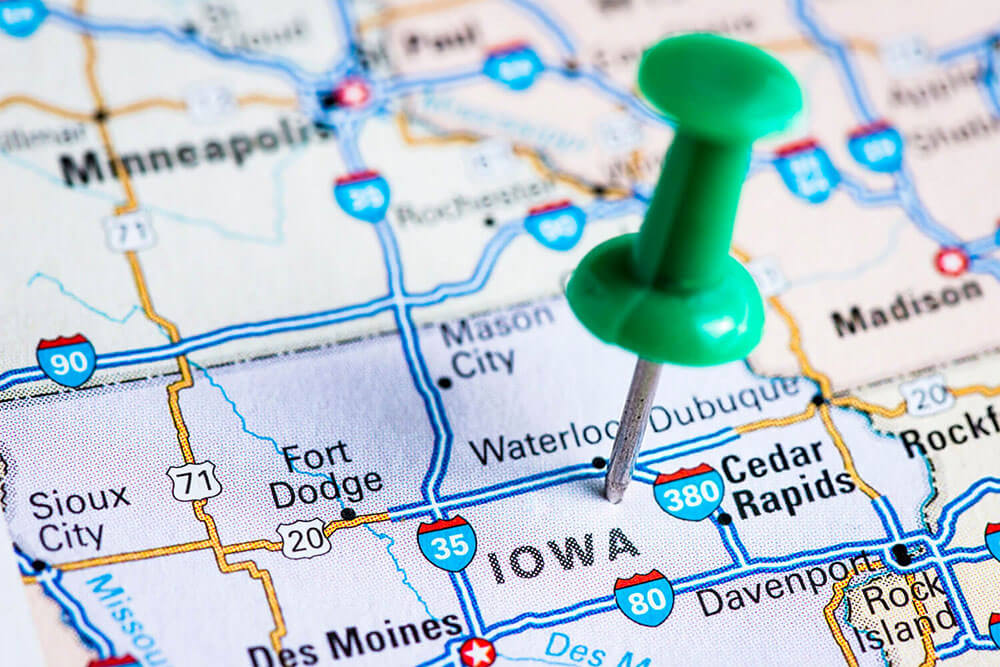 If you live in Iowa and would like to become a nurse as quickly as possible, consider becoming a licensed practical nurse, or LPN. Training can be completed in just 12 to 18 months in most cases, and then you just need to pass the licensing exam, apply for your license and then start looking for work.
With that being said, if you are serious about becoming an LPN in Iowa, it's crucial to understand the importance of the required training. To be eligible to sit for the NCLEX-PN licensing exam, which is required to obtain an LPN license in Iowa, you must complete a state-approved LPN training program. The quality of the program can affect your ability to easily move into licensing practical nursing, so it's vital to take your time and consider plenty of options. Below, you'll find a list of the top LPN schools in Iowa.
Top LPN Programs in Iowa
Since the ease with which you become an LPN depends considerably on the quality of your training, it is crucial to select a suitable program. It should be approved by the board of nursing, or you won't be eligible to sit for the licensing exam. Additionally, the school should have top-notch pass rates for the NCLEX — avoid anything below 95 percent.
To help, here's a list of some of the most reputable LPN programs in Iowa:
306 W River Dr,

Davenport, IA 52801

(563) 441-4001

Indian Hills Community College

525 Grandview Ave,

Ottumwa, IA 52501

(800) 726-2585

1 Triton Cir,

Fort Dodge, IA 50501

(515) 576-7201

2700 College Rd,

Council Bluffs, IA 51503

(712) 325-3200

3702 S Center St,

Marshalltown, IA 50158

(641) 752-4643

500 College Dr,

Mason City, IA 50401

(641) 423-1264

1625 IA-150,

Calmar, IA 52132

(563) 562-3263

603 W Park St,

Sheldon, IA 51201

(712) 324-5061

Southeastern Community College

1500 W Agency Rd,

West Burlington, IA 52655

(319) 752-2731

Western Iowa Tech Community College

4647 Stone Ave,

Sioux City, IA 51106

(712) 274-6400
LPN Licensing Requirements in Iowa
LPNs in the state of Iowa are overseen by the Iowa Board of Nursing, and the agency has several licensing requirements that applicants must meet before being granted licenses. Familiarize yourself with these requirements to know what to expect:
Complete a state-approved LPN program, which typically takes anywhere from 12 to 18 months.
Submit your application to the Iowa Board of Nursing along with proof of registration for the NCLEX-PN; official transcripts from your completed training program; fingerprint cards and a signed waiver; permission to perform a background check; and applicable fees.
Take and pass the NCLEX-PN licensing exam. It is administered at testing sites around Iowa on dates throughout the year.
Because it is part of the Nurse Licensure Compact, or NLC, Iowa allows LPNs from other participating states to transfer their licenses through a streamlined process.
As for renewal periods, LPN licenses in Iowa renew every two-to-three years, so you may not have to worry about it for a while. Keep in mind that to renew your LPN license in this state, you must show proof of having completed 36 contact hours of continuing education.
Iowa Board of Nursing
When applying for LPN licenses in Iowa or engaging in any matters pertaining to LPN licensing in the state, direct inquiries to the Iowa Board of Nursing. The contact information is as follows:
Iowa Board of Nursing
400 SW 8th St B, Des Moines, IA 50309
Phone: (515) 281-3255
Fax: (515) 281-4825

LPN Salary & Employment Outlook in Iowa
Over the next 12 to 18 months, you will invest considerable amounts of money, time and effort to completing your LPN training and obtaining your license. Without question, you'd like to be sure that you'll have access to well-paying jobs and that your investment will truly pay off.
According to the U.S. Bureau of Labor Statistics, licensed practical nurses in Iowa earn a mean salary of $45,860 per year, which is equal to $22.05 per hour. Nationally, LPNs earn an average salary of $48,820 per year, which is $23.47 per hour. Although it's true that LPNs in this state earn less than the national average, they typically enjoy many other benefits.
Will you be able to find employment as an LPN in Iowa? The BLS reports that job growth in this field will continue at a rate of 10 percent between 2014 and 2024. This is lower than the projected growth rate for LPN jobs nationwide, which is closer to 16 percent. Still, during that period of time, approximately 300 new LPN jobs will be added. Therefore, it is unlikely that you will have any trouble finding work.
LPN Salaries in Iowa By Area
One way to potentially boost your earning potential as an LPN in Iowa may be by relocating to a different part of the state. As with LPN pay rates across the country, salaries around the state of Iowa vary widely. Remember also, however, that they are affected by other factors like experience and education.
Here are average job salaries and availability across various parts of the state:
| Area | Total Employments | Avg. Hourly Wage | Avg. Annual Salary |
| --- | --- | --- | --- |
| Des Moines-West Des Moines | 920 | $23.35 | $48,570 |
| Iowa City | 250 | $23.09 | $48,020 |
| Ames | 120 | $22.49 | $46,780 |
| Davenport-Moline-Rock Island | 700 | $21.77 | $45,280 |
| Sioux City | 380 | $21.71 | $45,150 |
| Cedar Rapids | 450 | $21.30 | $44,300 |
| Waterloo-Cedar Falls | 500 | $21.05 | $43,780 |
| Dubuque | 220 | $20.69 | $43,040 |
Source: U.S. Bureau of Labor Statistics (BLS)
As you can see, becoming an LPN in Iowa is pretty straightforward. By understanding how to go about it, you'll get the process much more quickly. With that in mind, find an LPN program and get going today.