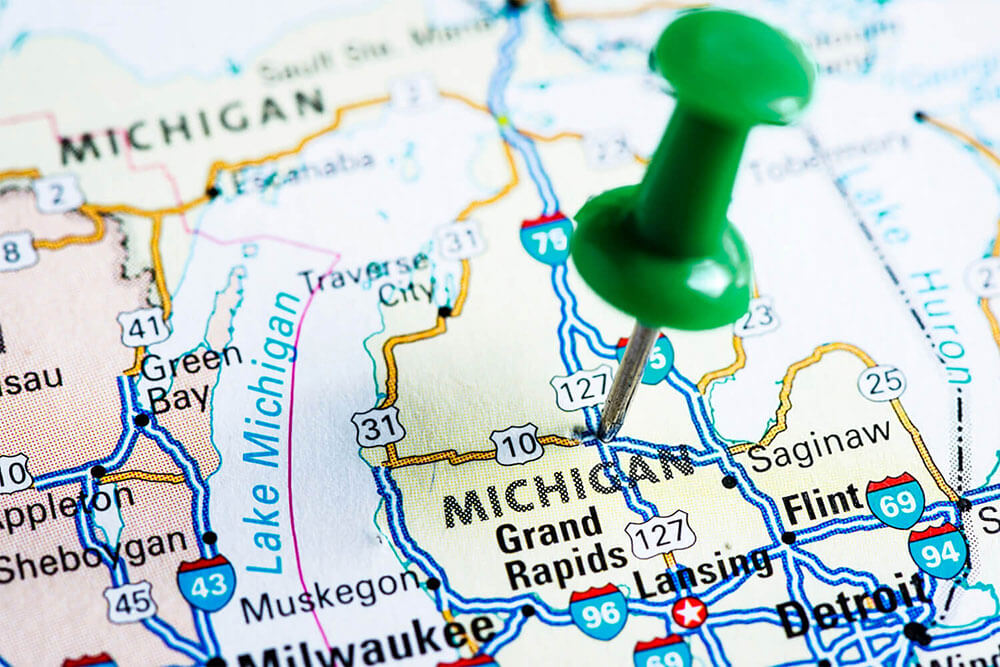 If you'd like to pursue a career in nursing but can't wait two to four years to start earning money as a registered nurse, becoming a licensed practical nurse, or LPN, may be a better first step. In Michigan as in all other states, it takes around 12 to 18 months to complete this training, so you can start earning a competitive LPN salary in as little as one year.
With that being said, your ability to effectively and easily obtain your license largely depends on the quality of the LPN training that you receive. No matter what, you must enroll in a program that is approved by the Michigan Board of Nursing. That's not all that matters, however, and you can learn more about what to look for and get recommendations for top training programs in the state by reading on below.
Top LPN Programs in Michigan
In addition to being the first step in becoming an LPN in Michigan, selecting a training program is the most important one. It is vital to enroll in a program that has been approved by the Michigan Board of Nursing, and it's also smart to check each program's NCLEX pass rates. Try to stick with programs with pass rates of 95 percent or higher.
To get you started, here's a list of some of the most reputable LPN programs in Michigan:
665 Johnson St,

Alpena, MI 49707

(989) 356-9021

2001 N Lincoln Rd,

Escanaba, MI 49829

(906) 786-5802

3555 E Patrick Rd,

Midland, MI 48642

(989) 835-5588

Davenport University

27650 Dequindre Rd,

Warren, MI 48092

(586) 558-8700

1961 Delta Rd,

Bay City, MI 48706

(989) 686-9000

19100 Fort St,

Riverview, MI 48193

(734) 479-0660

Glen Oaks Community College

62249 Shimmel Rd,

Centreville, MI 49032

(269) 467-9945

e4946 Jackson Rd,

Ironwood, MI 49938

(906) 932-4231

47420 M-26 #10,

Houghton, MI 49931

(906) 483-0070

143 Bostwick Ave NE,

Grand Rapids, MI 49503

(616) 234-4000

2111 Emmons Rd,

Jackson, MI 49201

(517) 787-0800

515 N Washington Square,

Lansing, MI 48933

(517) 483-1410

1555 S Raisinville Rd,

Monroe, MI 48161

(734) 242-7300

Muskegon Community College

221 Quarterline Rd,

Muskegon, MI 49442

(231) 777-0510

Northern Michigan University

1401 Presque Isle Ave,

Marquette, MI 49855

(906) 227-1000

1701 E Front St,

Traverse City, MI 49686

(231) 995-1000

Schoolcraft College

1751 Radcliff St,

Garden City, MI 48135

(734) 462-4770

St. Clair County Community College

323 Erie St,

Port Huron, MI 48060

(810) 989-5500

West Shore Community College

3000 N Stiles Rd,

Scottville, MI 49454

(231) 845-6211
Don't settle for less when searching for LPN schools in Michigan. Keep in mind that there's something for everyone. For example, if time is limited due to work or other obligations, look for an online LPN training program for more flexibility. Note that you must still complete on-site clinical training.
LPN Licensing Requirements in Michigan
LPNs in Michigan are overseen by the Michigan Board of Nursing, and this is the agency that handles licensing for all nursing professionals in the state. The Board of Nursing has specific requirements that must be met to obtain an LPN license in Michigan. It helps enormously to familiarize yourself with these requirements beforehand, so here are the most important ones:
Completing an LPN program that is approved by the Michigan Board of Nursing. Note that this usually takes 12 to 18 months to complete
Submitting an application for an LPN license to the Michigan Board of Nursing. Note that you must agree to undergo a criminal background check as a part of this process
Registering for, taking and passing the NCLEX-PN licensing exam, which is offered at testing sites around the state on dates throughout the year.
Michigan is part of the Nurse Licensure Compact, or NLC, which means that it offers a streamlined process for transferring LPN licenses from other NLC states.
LPN licenses in Michigan expire every two years, and it is crucial to be proactive about renewal when it comes up. To renew your LPN license, you must show proof of having completed 25 hours of board-approved continuing education.
Michigan Board of Nursing
When applying for an LPN license in Michigan, submit your application to the Board of Nursing. Keep their contact info handy as you will need it in the future. Contact information is as follows:
Michigan Board of Nursing
611 W Ottawa St, Lansing, MI 48933
Phone: (517) 241-0199

LPN Salary & Employment Outlook in Michigan
Compared with training to become a registered nurse, training to become an LPN is generally quicker and less expensive. Still, you don't want to go through all of that only to learn that job opportunities are scarce or that pay isn't that great.
Luckily, you have nothing to worry about as an LPN in Michigan. These professionals do quite well across the state. According to the U.S. Bureau of Labor Statistics, LPNs in Michigan on average earn $52,220 per year, which is equal to $25.10 per hour. The national average pay for LPNs is $48,820, or $23.47 per hour, so you stand to enjoy better earning potential simply by working in the Great Lakes State.
As for employment outlook, it is solid too. According to the BLS, the LPN field in Michigan is projected to grow at a rate of around 6 percent from 2014 through 2024. This is somewhat slower than the national average, which is around 16 percent, but it still means that more than 500 LPN jobs should open up in the state every year during that 10-year period.
LPN Salaries in Michigan By Area
Many factors can affect how much you stand to earn as an LPN. For example, where you are located in the state can mean higher or lower pay as well as more or fewer job opportunities. Get a feel for how LPNs fare in various metro areas around Michigan below:
| Area | Total Employments | Avg. Hourly Wage | Avg. Annual Salary |
| --- | --- | --- | --- |
| Detroit-Warren-Dearborn | 5,510 | $26.76 | $55,660 |
| Ann Arbor | 540 | $25.79 | $53,640 |
| Jackson | 180 | $25.68 | $53,420 |
| Flint | 360 | $25.66 | $53,370 |
| Niles-Benton Harbor | 180 | $25.20 | $52,420 |
| Kalamazoo-Portage | 280 | $25.05 | $52,090 |
| Lansing-East Lansing | 340 | $25.00 | $52,010 |
| Battle Creek | 380 | $24.86 | $51,710 |
| Bay City | 160 | $24.43 | $50,820 |
| Monroe | 110 | $24.23 | $50,410 |
| Midland | 170 | $23.63 | $49,150 |
| Saginaw | 310 | $23.58 | $49,040 |
| Grand Rapids-Wyoming | 1,770 | $23.52 | $48,910 |
| Muskegon | 230 | $22.60 | $47,010 |
Source: U.S. Bureau of Labor Statistics (BLS)
Are you ready to become an LPN in Michigan? If so, find the right training program and get started now.