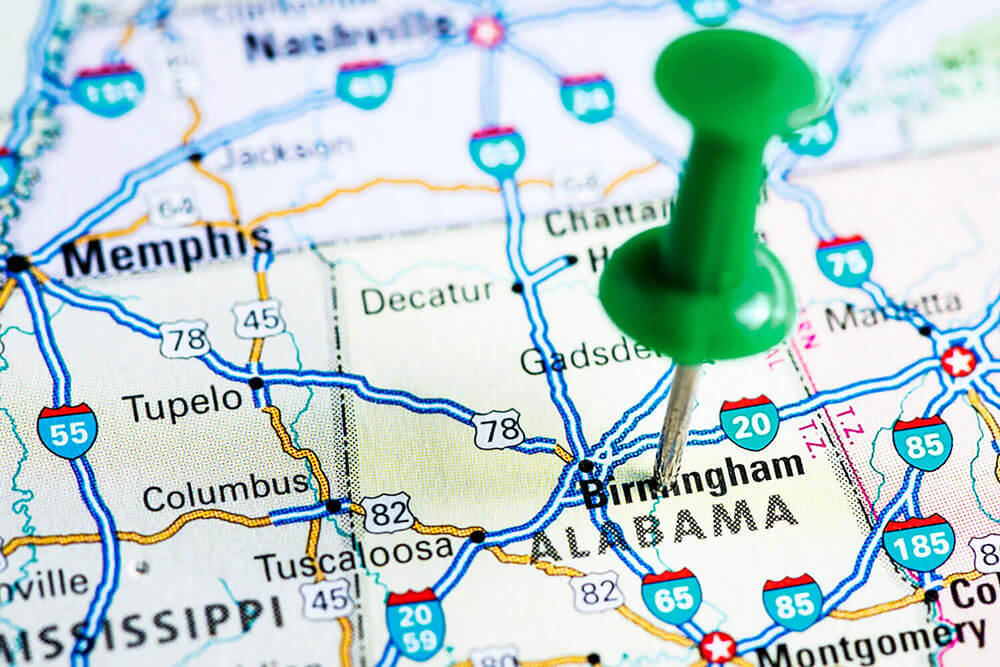 Looking for information about becoming a licensed practical nurse in Alabama? You've come to the right place. This page includes everything that you need to know to start your journey toward becoming an LPN in Alabama. From requirements that you must follow to obtain your license to salary and employment info, get up to speed about the basics regarding licensed practical nursing in the Yellowhammer State.
One of the most crucial aspects of successfully becoming an LPN in AL is completing an accredited and state board-approved LPN training program. It is important to take your time while considering various options. The right program won't just be affordable; it will also be designed to help you take and pass the NCLEX-PN licensing examination on the first try. Therefore, always look at NCLEX-PN pass rates for any LPN school that you are considering. That way, you can head into your nursing career with the best credentials and should have an easier time landing LPN jobs with competitive pay.
LPN LICENSING REQUIREMENTS IN ALABAMA
What does it take to obtain an LPN license in Alabama? Familiarize yourself with the basic requirements to ensure that you can kick-start your career:
Complete an LPN training program that is approved by the Alabama State Board of Nursing
Apply for licensure/registration with nursing regulatory body (NRB) in the state where you wish to be licensed.
Register and pay the exam fee to Pearson VUE.
After receiving from Pearson Vue acknowledgement of receipt of Registration and Authorization to Test (ATT), schedule your exam with them and then take and pass the NCLEX-PN licensing examination.
Alabama LPN licenses are valid for two years. LPN renewal is every ODD numbered year. A license issued prior to August 31 will expire December 31 of that same year (Renewal begins September 1 each year). For example, an LPN license issued 08/31/2021 will not expire until 12/31/2021. When renewing an AL LPN license, you must provide proof of completing at least 24 contact hours of continuing education.
Alabama State Board of Nursing
Before enrolling in an LPN program in Alabama, confirm that it has been approved by the Alabama State Board of Nursing. Keep this contact information handy so that you know where to turn if and when you need assistance regarding your LPN license:
Alabama Board of Nursing
RSA Plaza Building, 770 Washington Ave #250, Montgomery, AL 36104
Phone: (334) 293-5200
Fax: (334) 293-5201
LPN SALARY & EMPLOYMENT OUTLOOK IN ALABAMA
Licensed practical nurses in Alabama enjoy competitive compensation and benefits. Although the mean annual salary for LPNs in AL is lower than the national average, the cost of living in most parts of the state is also comparatively low. Further, some areas of the state offer more lucrative LPN career opportunities than others.
According to the U.S. Bureau of Labor Statistics, the mean annual salary for an LPN in Alabama is $40,680. This is equivalent to an hourly rate of $19.56. Nationally, the median annual salary for LPNs is $48,820, which is equal to $23.47 per hour.
The outlook is excellent for LPNs in the state of Alabama. Between 2014 and 2024, the LPN field in the state is expected to grow by around 15 percent. This translates into about 650 new LPN jobs in Alabama per year, so now is a great time to get the ball rolling on an LPN career in this state.
LPN Salaries in Alabama by Area
Just as the average pay for LPNs varies from state to state, it varies within a state too, and Alabama is obviously no exception. Similarly, job opportunities vary from one part of a state to another. As Alabama remains a largely rural state, the highest concentration of LPN jobs are found in major metropolitan areas like Birmingham and Tuscaloosa.
Some of the top places to work as an LPN in Alabama are as follows:
| Area | Total Employment | Average Hourly Wage | Average Annual Salary |
| --- | --- | --- | --- |
| Daphne-Fairhope-Foley | 320 | $21.20 | $44,090 |
| Birmingham-Hoover | 2,750 | $21.17 | $44,040 |
| Huntsville | 920 | $19.99 | $41,580 |
| Montgomery | 680 | $19.70 | $40,970 |
| Gadsden | 390 | $19.61 | $40,800 |
| Tuscaloosa | 870 | $19.30 | $40,150 |
| Anniston-Oxford-Jacksonville | 280 | $19.14 | $39,810 |
| Auburn-Opelika | 160 | $19.03 | $39,590 |
| Florence-Muscle Shoals | 280 | $18.53 | $38,550 |
| Mobile | 1,300 | $18.53 | $38,540 |
| Decatur | 270 | $17.70 | $36,810 |
| Dothan | 540 | $17.17 | $35,710 |
Source: U.S. Bureau of Labor Statistics (BLS)
TOP LPN PROGRAMS IN ALABAMA
One of the best ways to locate a suitable LPN training program in Alabama is by simply contacting the state board of nursing and asking for a recommendation. At any given time, there are dozens of such programs available throughout the state. In Alabama, LPN training programs are most commonly offered by community colleges and vocational and technical schools, but you can also find training at some large colleges and universities in the state as well.
Here are some recommendations for the top schools offering LPN training in AL:
Bevill State Community College

101 State St,

Sumiton, AL 35148

Bishop State Community College

351 N Broad St,

Mobile, AL 36603

Calhoun Community College

6250 US-31,

Tanner, AL 35671

Coastal Alabama Community College

2800 S Alabama Ave,

Monroeville, AL 36460

Coastal Alabama Community College

220 Alco Dr,

Brewton, AL 36426

Gadsden State Community College

1001 George Wallace Dr,

Gadsden, AL 35903

Herzing University

280 W Valley Ave,

Birmingham, AL 35209

J. F. Drake State Community and Technical College

3421 Meridian St N,

Huntsville, AL 35811

Lawson State Community College

3060 Wilson Rd SW,

Birmingham, AL 35221

Northeast Alabama Community College

138 AL-35,

Section, AL 35771

Northwest-Shoals Community College

800 George Wallace Blvd,

Tuscumbia, AL 35674

Reid State Technical College

100 AL-83,

Evergreen, AL 36401

Shelton State Community College

9500 Old Greensboro Rd,

Tuscaloosa, AL 35405

Southern Union State Community College

750 Roberts St,

Wadley, AL 36276

Trenholm State Community College

1225 Air Base Blvd,

Montgomery, AL 36108

Wallace Community College

1141 Wallace Dr,

Midland City, AL 36350

Wallace Community College

3000 Earl Goodwin Pkwy,

Selma, AL 36703

Wallace State Community College

801 Main St NW,

Hanceville, AL 35077
While browsing available LPN training programs in Alabama, look for a program that is conveniently located. Tuition and other costs vary by program, so ask for a complete breakdown before making your decision. Keep in mind that although many LPN programs in AL are offered online, your training still requires on-site clinical training experiences at local healthcare facilities. Every LPN program handles this requirement differently, so inquire about this training while doing your research.
Once you have identified an Alabama LPN program that suits your needs, make sure that you meet the requirements and enroll. LPN training programs typically take about a year to complete, but you may be able to finish sooner if you have previous experience in the healthcare field. Upon completing your program, you will be eligible to sit for the NCLEX-PN and will be that much closer to earning your license.