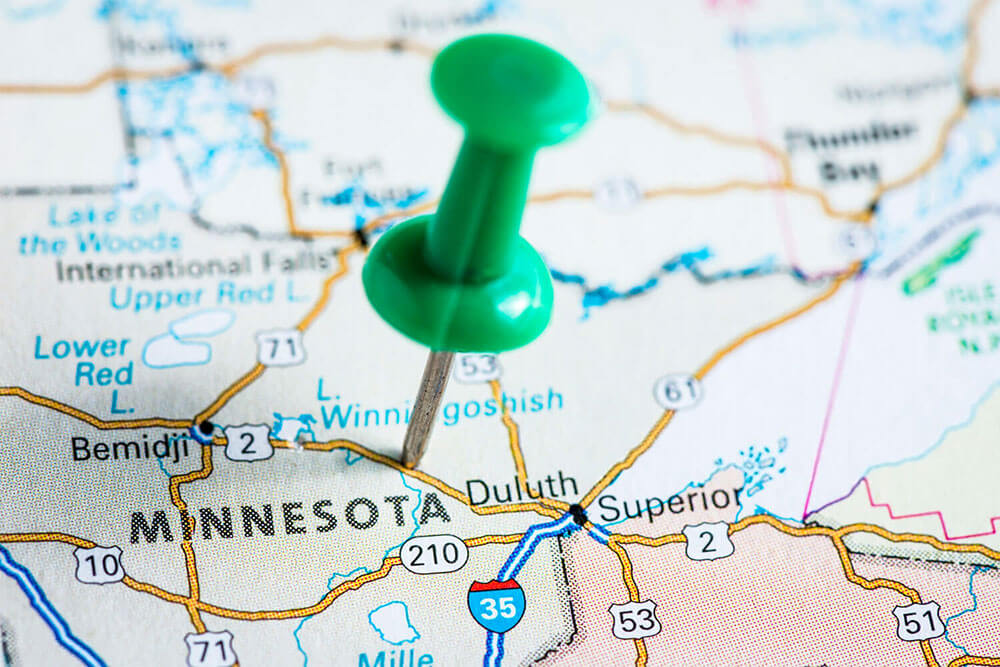 If you'd like to become a nurse and live in the state of Minnesota, becoming a licensed practical nurse, or LPN, is a convenient first step. In the space of just 12 to 18 months or so, you can complete the necessary training, sit for the licensing exam and become a licensed LPN, which means that you can start earning an income in short order.
There's more to becoming an LPN in Minnesota than applying for jobs. You must become licensed, and the first step in this process is completing an LPN training program that is approved by the Board of Nursing. Therefore, choosing the right program is of the utmost importance, as the quality of the training that you receive directly impacts your ability to pass the exam and to effectively work as an LPN.
With all of this in mind, read on to learn more about LPN programs in Minnesota as well as general information about becoming licensed in this state.
Top LPN Programs in Minnesota
It's normal to feel overwhelmed while looking for LPN training programs in Minnesota, but it's important to take your time and to select one that suits your needs and budget. More importantly, it's crucial to select a program that is confirmed to be approved by the Minnesota Board of Nursing. While you are at it, find out each program's NCLEX-PN pass rates, if possible, and stick with programs with rates of 95 percent or higher.
To help get your search started, here are some of the top LPN programs in Minnesota:
Alexandria Technical & Community College

1601 Jefferson St,

Alexandria, MN 56308

(888) 234-1222

Anoka Technical College

1355 US-10,

Anoka, MN 55303

(763) 576-4700

Central Lakes College

501 W College Dr,

Brainerd, MN 56401

(218) 855-8000

Dakota County Technical College

1300 145th St E,

Rosemount, MN 55068

(651) 423-8000

Fond du Lac Tribal & Community College

2101 14th St,

Cloquet, MN 55720

(218) 879-0800

Hennepin Technical College

9000 Brooklyn Blvd,

Minneapolis, MN 55445

(952) 995-1300

Itasca Community College

1851 US-169,

Grand Rapids, MN 55744

(218) 322-2300

Lake Superior College

11501 MN-23,

Duluth, MN 55808

(218) 733-1074

Mesabi Range College

1001 Chestnut St,

Virginia, MN 55792

(218) 741-3095

Minnesota State College Southeast

1250 Homer Rd,

Winona, MN 55987

(507) 453-2700

Minnesota State Community & Technical College

900 MN-34,

Detroit Lakes, MN 56501

(877) 450-3322

Minnesota West Community and Technical College

1450 College Way,

Worthington, MN 56187

(507) 372-3400

Northland Community and Technical College

2022 Central Ave NW,

East Grand Forks, MN 56721

(218) 793-2800

Northwest Technical College

905 Grant Ave SE,

Bemidji, MN 56601

(218) 333-6600

Pine Technical & Community College

900 4th St SE,

Pine City, MN 55063

(320) 629-5100

Rasmussen College

226 Park Ave S,

St Cloud, MN 56301

(320) 251-5600

Rasmussen College

1400 Madison Ave,

Mankato, MN 56001

(507) 625-6556

Rasmussen College

3500 Federal Dr,

Eagan, MN 55122

(651) 687-9000

Rasmussen College

1250 29th Ave S,

Moorhead, MN 56560

(218) 304-6200

Rasmussen College

8301 93rd Ave N,

Brooklyn Park, MN 55445

(763) 493-4500

Ridgewater College

2101 15th Ave NW,

Willmar, MN 56201

(320) 222-5200

Riverland Community College

965 Alexander Dr SW,

Owatonna, MN 55060

(507) 455-5880

Rochester Community & Technical College

851 30th Ave SE,

Rochester, MN 55904

(507) 285-7210

Saint Paul College

235 Marshall Ave,

St Paul, MN 55102

(651) 846-1600

South Central College

1920 Lee Blvd,

North Mankato, MN 56003

(507) 389-7200

St. Cloud Technical & Community College

1540 Northway Dr,

St Cloud, MN 56303

(320) 308-5000
Neighboring States: Iowa | North Dakota | South Dakota | Wisconsin
LPN Licensing Requirements in Minnesota
At a glance, it may seem like there's a lot to do to become a licensed LPN in Minnesota. In reality, though, the process is pretty straightforward. Here are the most pertinent pieces of information regarding LPN licensing requirements in Minnesota:
Complete a training program that is approved by the Minnesota Board of Nursing; this typically takes 12 to 18 months
Submit your license application to the Board of Nursing, including a completed Confirmation of Program Completion form from your training program
Register for, take and pass the NCLEX-PN licensing exam for LPNs. This exam is administered at test sites around the state on dates throughout the year
Because Minnesota is not part of the Nurse Licensure Compact, or NLC, the only way to transfer an LPN license from another state is through the endorsement process. Get more information about this process by contacting the Minnesota Board of Nursing.
In Minnesota, your first LPN licensure period is determined by the date of licensure as it relates to the month and the type of year (even or odd) of your birth. After this initial period of licensure, your license will be in effect for two years. To renew, you must submit your application with the renewal fee along with proof of completing 12 contact hours of continuing education.
Minnesota Board of Nursing
When applying for a Minnesota LPN license, you will submit your application to the Minnesota Board of Nursing. Likewise, this is the agency to contact regarding anything related to nurse licensing. Contact info is as follows:
Minnesota Board of Nursing
1210 Northland Dr #120, Mendota Heights, MN 55120
Phone: (612) 317-3000
Fax: (651) 688-1841

LPN Salary & Employment Outlook in Minnesota
Before investing any money, time or effort into your quest to obtain an LPN license, make sure that you will come away with credentials that allow you to find steady employment and to make a comfortable living. The news is nice for LPNs in Minnesota, as the U.S. Bureau of Labor Statistics reports that these professionals earn, on average, $54,870 per year, or $26.38 per hour. This is almost exactly in line with the national average pay for LPNs, which is $55,860 per year, or $26.86 per hour.
As far as how job outlook looks for LPNs in Minnesota, the picture is fairly rosy as well. According to the BLS, the LPN field is expected to grow by a rate of around 11 percent between 2014 and 2024. This is a bit lower than the national growth rate of 16 percent, but still very strong. It means that every year during that period, around 720 new LPN jobs will be added. Therefore, regardless of where you live in the state, you should be able to land work as an LPN without too much effort - and you should be well-compensated as well.
LPN Salaries in Minnesota By Area
You may have noticed that LPN salaries vary widely from state to state. The same concept applies to various geographic regions within the state of Minnesota. Depending on where you live, access to the top jobs, pay and benefits will vary. Get an idea about what to expect around the state with this information:
| Area | Total Employments | Avg. Hourly Wage | Avg. Annual Salary |
| --- | --- | --- | --- |
| Minneapolis-St. Paul-Bloomington | 7,310 | $27.70 | $57,620 |
| Rochester | 2,110 | $25.78 | $53,620 |
| Mankato-North Mankato | 290 | $25.54 | $53,130 |
| St. Cloud | 840 | $24.97 | $51,940 |
| Duluth | 570 | $24.48 | $50,910 |
Source: U.S. Bureau of Labor Statistics (BLS) May 2022
If you start now, you will be on track to start applying for LPN jobs in just a year or two, so what are you waiting for? Explore Minnesota LPN training programs and enroll in one to get the ball rolling.