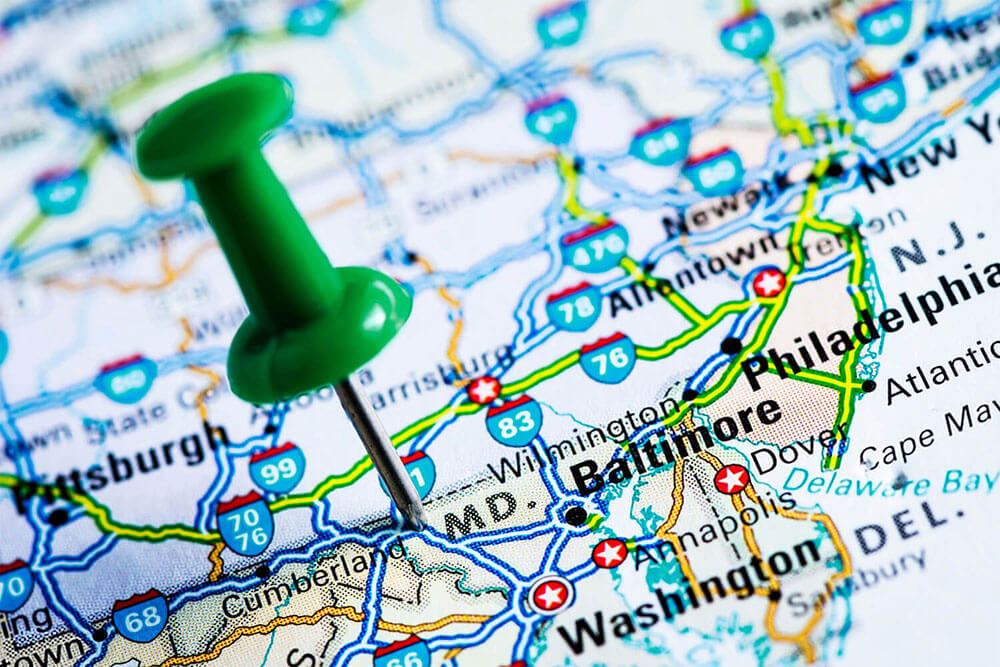 If you're looking for information about becoming a licensed practical nurse, or LPN, in Maryland, you've come to the right place. On this page, quickly get up to speed regarding LPN training programs and related information specific to the state of Maryland. You'll find recommendations for approved training programs around the state as well as in-depth information regarding licensing requirements, salary and job outlook and much more.
The first step in becoming an LPN in Maryland is completing a training program that has officially been approved by the Board of Nursing. It's the only way to be eligible to sit for the NCLEX-PN licensing exam, which you must pass to obtain your license. One of the most critical steps in the process, therefore, is selecting the right program. You'll find advice for doing exactly that below.
Top LPN Programs in Maryland
As you can see, you stand to enjoy excellent compensation and a very rosy job outlook as an LPN in the state of Maryland. Did you know, however, that the ease with which you obtain that license is directly impacted by the quality of the training that you receive? Therefore, it is essential to carefully investigate the available options and to stick with LPN programs that have proven reputations.
To get the ball rolling, here are some of the most popular and reputable LPN programs in Maryland:
12401 Willowbrook Rd,

La Vale, MD 21502

(301) 784-5000

101 College Pkwy,

Arnold, MD 21012

(410) 777-2222

2901 Liberty Heights Ave,

Baltimore, MD 21215

(888) 203-1261

Carroll Community College

1601 Washington Rd,

Westminster, MD 21157

(410) 840-8443

Cecil College

1 Seahawk Dr,

North East, MD 21901

(410) 287-1000

8730 Mitchell Rd,

La Plata, MD 20646

(301) 934-2251

Community College of Baltimore County

7200 Sollers Point Rd,

Dundalk, MD 21222

(443) 840-2222

7932 Opossumtown Pike,

Frederick, MD 21702

(301) 846-2400

11400 Robinwood Dr,

Hagerstown, MD 21742

(240) 500-2000

10901 Little Patuxent Pkwy,

Columbia, MD 21044

(443) 518-1000

301 Largo Rd,

Largo, MD 20774

(301) 322-0900

32000 Campus Dr,

Salisbury, MD 21804

(410) 334-2800
All of the schools on this list have been approved by the Maryland Board of Nursing, so you can rest assured of having what you need to sit for the exam upon completion. Speaking of which, consult NCLEX pass rates for all schools that you consider, and stick with programs with pass rates of 95 percent or higher.
LPN Licensing Requirements in Maryland
If you want to work as an LPN in Maryland, there's no time like the present. As with all other 50 states, Maryland has specific licensing requirements that must be met before a license will be issued. By being aware of these requirements from the outset, you are more likely to have a smooth, easy time.
Some of the most important licensing requirements for LPNs in Maryland include:
Completing a state-approved LPN training program. This generally takes anywhere from 12 to 18 months.
Submitting an application to the Maryland Board of Nursing, and including authorization to perform a criminal background check as well as a declaration of your primary state of residency.
Registering for, taking and passing the NCLEX-PN licensing exam, which is administered throughout the year at test sites around the state.
Maryland belongs to the Nurse Licensure Compact, or NLC. This means that if you hold a multistate LPN license from another NLC state, you don't need an LPN license to practice in Maryland and vice versa.
In Maryland, LPN licenses expire once a year, so it is crucial to pay attention to the date and to proactively apply for renewal. Otherwise, your license may lapse, and this can affect your ability to keep working as an LPN.
Maryland Board of Nursing
To apply for a Maryland LPN license, submit your application to the Maryland Board of Nursing. Note that going forward, this is the agency that you will contact regarding anything concerning licensing. Contact information is as follows:
Maryland Board of Nursing
4140 Patterson Ave, Baltimore, MD 21215
Phone: (410) 585-1900
Fax: (410) 358-3530

LPN Salary & Employment Outlook in Maryland
While becoming an LPN is one of the quickest and most affordable ways to break into nursing, it still requires investments of time, effort and money. It is wise to make sure that you will get something in exchange for all of that. The last thing you need is to get your license and be unable to find work.
Here's some great news: LPNs in Maryland have it great. Indeed, this is one of the best states for LPNs. According to the U.S. Bureau of Labor Statistics, LPNs in this state earn a median wage of $56,220 per year, which is equal to $27.03 per hour. This is well above the national average pay for LPNs, which is $48,820 per year, or $23.47 per hour.
You can also expect to have access to plenty of job opportunities as an LPN in Maryland. According to the BLS, the field in this state is expected to grow by a whopping 35 percent from 2014 through 2024. This is 19 percent higher than the national rate of growth, which is around 16 percent. At this rate, approximately 750 new LPN jobs should be added across the state during that period of time.
LPN Salaries in Maryland By Area
Like any profession, many factors affect how much LPNs in Maryland can expect to make. One factor that you may actually be able to control is geography, as LPNs in some parts of the state make more than LPNs in others. Likewise, job opportunities are more readily available in some markets than in others.
With that in mind, here's an overview of the LPN job and salary situation across some of the biggest metro areas in the state:
| Area | Total Employments | Avg. Hourly Wage | Avg. Annual Salary |
| --- | --- | --- | --- |
| California-Lexington Park | 130 | $28.06 | $58,360 |
| Baltimore-Columbia-Towson | 4,450 | $26.64 | $55,420 |
| Hagerstown-Martinsburg | 590 | $25.38 | $52,790 |
| Salisbury | 650 | $23.93 | $49,780 |
| Cumberland | 270 | $23.18 | $48,210 |
Source: U.S. Bureau of Labor Statistics (BLS)
That's all there is to it! Find an LPN program and get going today.