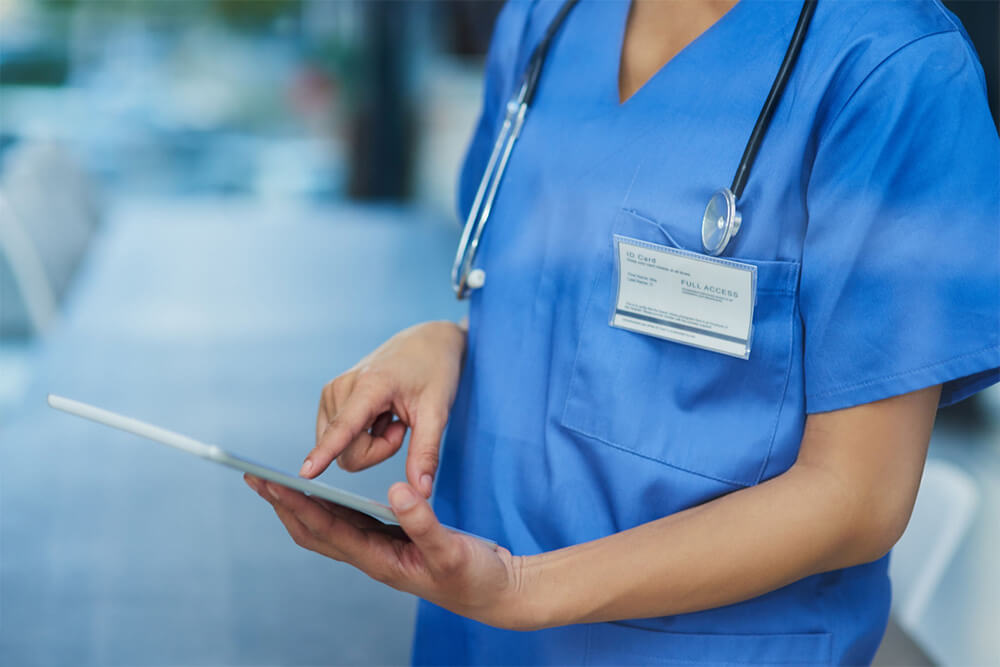 To work as a Licensed Practical Nurse, or LPN, in the U.S., you must possess a valid LPN license. This is, of course, also true in California and Texas, but these professionals are referred to as licensed vocational nurses, or LVNs, there. Learn what you need to know about LPN licensing below.
Requirements
Because LPNs work in healthcare, they are required to obtain licenses from their state boards of nursing before they can formally be employed in this capacity.
Do you meet the general requirements for obtaining an LPN license? That is best answered by considering whether you could be admitted into an LPN training program. The completion of such a program is the first step in the licensing process, so it is crucial to ensure that you can enroll in one. Most LPN training programs require high school diplomas or GEDs, but some will accept students who are still in high school. You usually must take and pass at least one entrance exam, which is typically the TEAS exam, to have your basic academic skills assessed by your program's institute. Finally, most programs like these require criminal background checks before enrollment.
How to Get an LPN License
The process behind obtaining an LPN license in all 50 states is straightforward and simple, and it typically includes these steps:
Complete Your LPN Training

- Complete LPN training through an accredited program. Most programs like this take anywhere from 12 to 18 months to complete, and they include theory classes, laboratory work, and clinical training experiences.

Apply for Your License

– You'll submit an application for licensure/registration to the board of nursing/regulatory body (BON/RB) where you wish to be licensed. This is in order to be made eligible to take the NCLEX. Then, you'll register for the NCLEX with Pearson VUE, either online or via telephone. You will need a program code to register, and an email address must be provided with your registration. Correspondence from Pearson VUE will only be available via email. After an NCLEX registration is created, it will stay open for 365 days waiting for candidate eligibility from the BON/RB, which will make you eligible after you've graduated from the program by receiving an electronic certification of completion from your program's director and the official transcripts from the school. Once you are made eligible, you must test within the validity dates on the Authorization to Test (ATT) email.

Pass the NCLEX-PN

- This exam is held throughout the year at locations around the country. It consists of multiple-choice questions and a practical skills section. Your training program should have prepared you for the exam, but additional studying and preparation may be required.

Receive Your License

- If it's your state's policy, a physical copy of your license may be mailed to you shortly after you successfully pass your NCLEX-PN, and you will be able to verify it online.
Renewal
An LPN license is what is known as a "permanent license," but that doesn't mean that you don't have to worry about anything after receiving it. Part of the reason that LPNs must be licensed is to ensure that they maintain their skills and continue to provide optimal care. Therefore, you will have to renew your LPN license to keep it valid and to remain eligible for employment.
Sometimes, renewing an LPN license is as simple as going online and paying a small fee. Other times, however, you must provide proof that you have successfully completed certain continuing education credits, or CECs. This may mean that you will have to return to school for some additional training, so make sure that you know what's required ahead of time. Your license information will be pulled to ensure that it is still in good standing, and you may have to undergo another criminal background check to confirm that you are still eligible for employment as an LPN.
Reinstatement
It is important to keep track of when your LPN license will come up for renewal, so be on the lookout for correspondence from your state board of nursing. If you inadvertently overlook the expiration date of your license, it may lapse. Should you continue working as an LPN despite having a lapsed license and are caught, you may face fines or even be fired from your job. Therefore, it is crucial to have your license reinstated as quickly as possible, and it also helps to know how to reinstate it.
Typically, LPN licenses can be reinstated online. You can expect to be asked for your full name as well as your LPN license number, driver's license number, or possibly your social security number. If continuing education credits are required, you must provide proof of completing them. As with renewing a license, you may have to undergo another criminal background check before the process is complete. Depending on how long it has been since your license lapsed, you may also have to sit for the NCLEX-PN exam again. This means having to pay the testing fee again, and it might even mean completing training again, so keep track of your license's expiration date.
Transfer
When you obtain an LPN license, it is valid only in the state where it was issued. Therefore, if you sit for the exam in Florida, you will be licensed as an LPN in that state. Should you move to another state, you will have to transfer your LPN license over. This is because different states sometimes have different licensing requirements, so they must check LPNs' credentials before approving them for licensing transfers.
With all of that being said, the vast majority of states engage in licensing reciprocity. Indeed, most states are what are known as nurse licensure compact states, which means that if you possess a multistate LPN license in one of these states, it is essentially valid in all of them.
Verification
Never assume that your LPN license is okay. Although it probably is, things happen all the time. Information on your license may be invalid or missing, or your license may be missing entirely. It is wise to verify the status of your LPN license at least once or twice per year. You should also always do so whenever you apply for new jobs, as prospective employers will be pulling up your licensing information. Make sure that they receive accurate information by pulling it up yourself and looking everything over.
In most cases, verifying an LPN license just takes a few seconds. It can usually be done online. It is especially easy if the license was issued in a state that participates in the Nursys information system. Most states do, so you shouldn't have to jump through too many hoops. If you can't verify it online, you should be able to do so over the phone or by mail.
In addition to verifying the accuracy of the information on your license, you can review your probationary status, check for any disciplinary actions that have occurred, and review your overall licensing history. If you find errors, contact your state board of nursing right away to have them corrected.