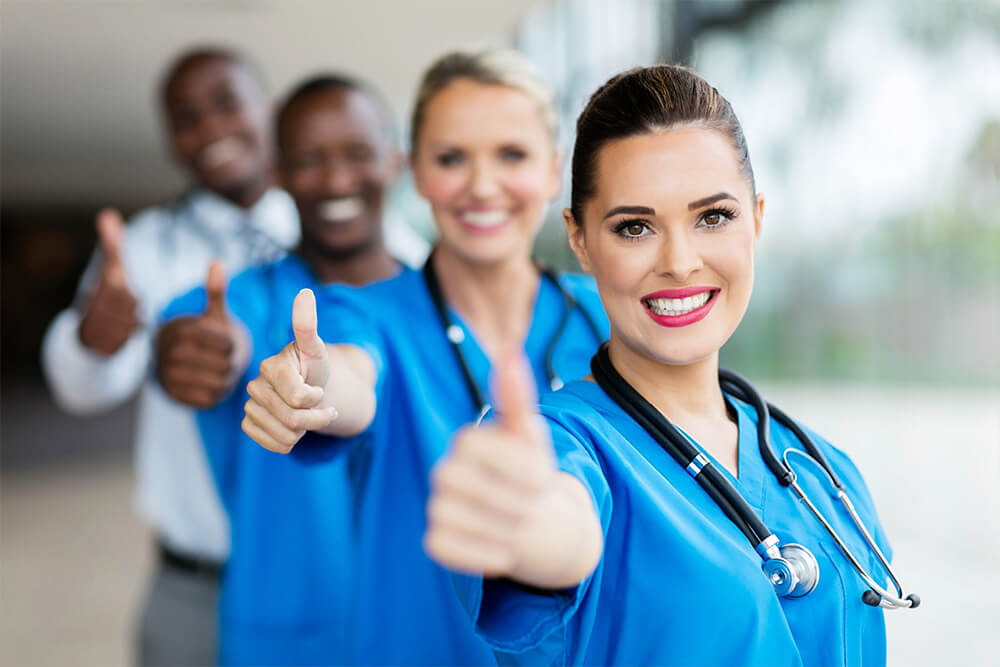 Licensed practical nurses, or LPNs, are entry-level nursing professionals. They typically handle the most basic needs of patients in hospitals, nursing homes, and other facilities, so it is said that they provide practical care as opposed to clinical care. People often assume that working as an LPN is a dead-end position, but nothing could be further from the truth. In reality, many successful registered nurses (RNs) and even many successful advanced practice registered nurses (APRNs), started out as LPNs. The question, of course, is how did they progress after starting out at the bottom of the ladder? Read on to learn more.
The Basics of LPNs
As mentioned above, LPNs are nursing professionals who provide basic, "practical" care to patients. They undergo far less training and education than RNs, so they have far fewer responsibilities and a lot less autonomy. Indeed, LPNs typically work under the direct supervision of doctors and RNs, and they take care of day-to-day things for patients like hygiene, feeding, and housekeeping. Like RNs, LPNs are licensed by their state boards of nursing. They must maintain their licenses to remain eligible for employment.
Specialty Certifications for LPNs
Some of the top specialty certifications for LPNs include:
geriatrics
IV administration
obstetrics
long-term care
advanced life support
hospice and palliative care
It's easy to assume that the only way to advance in your nursing career while working as an LPN is by going back to school to become an RN. Luckily, that's not necessarily true. Depending on where you work and other factors, you may be able to command higher pay and better benefits by acquiring certifications in various areas of specialization. LPNs in hospitals and nursing homes, in particular, focus on obtaining specialty certifications to provide better care and to be more marketable as employees. Common specialty certifications for LPNs include geriatrics, long-term care, IV administration, advanced life support, and hospice and palliative care. If you aren't ready to go back to school, but want to progress as an LPN, specialty certifications may be the answer.
Work Environments and Growth Potential
One of the best ways to advance your nursing career as an LPN is by returning to school. If that's not possible right now, don't worry. You may be able to find better opportunities in different work environments. Some work environments for LPNs are experiencing much higher growth than others. These places often have better opportunities for LPNs, so it is well worth it to do a little exploring if you feel as if you are in a rut in your current position.
Some of the most common work environments for LPNs and their potential for long-term growth include:
Nursing And Residential Care Facilities

- By the year 2029, it is estimated that employment for LPNs in these facilities will increase by 4.5 percent. Therefore, if you work in a different setting and are looking for more opportunities to advance in your career, finding employment at a nursing home or other elderly care facility may be the answer.

Hospitals

- LPN jobs are expected to grow by 6 percent in hospitals about over this decade. For better opportunities, you might consider switching to a different work environment.

Doctors' Offices

- Doctors' offices will be hiring more LPNs than ever in the next eight years or so, and the growth rate for LPNs in this job setting is expected to be 8.4 percent.

Home Care

- This field is expected to grow by a whopping 26.3 percent by 2029, so be on the lookout for employers who are hiring LPNs to work as home health aides.
ADN Path to Become an RN
Progressing into working as an RN after working as an LPN is easier than you probably suspect. You must sit for the NCLEX-RN exam to become an RN, and you can become eligible to sit for the exam by earning at least an associate degree in nursing, or ADN. It typically takes around two years to complete the training. At that point, you can sit for the exam. Once you have passed the exam, you can apply for and receive your RN license. A whole new world of job opportunities will open for you.
BSN Path to Become an RN
If you'd like to not only become an RN, but enjoy the best pay and opportunities also, consider earning your bachelor of science in nursing (BSN) to become an RN. This involves four years of training, so it takes longer and costs more. However, BSN-educated RNs enjoy the best career opportunities. They also leave the door open for many additional advancement opportunities in the future, including earning an MSN or DNP to move into advanced practice registered nursing. If you think there is even the slightest chance that you will want to do so someday, earning a BSN is probably the best thing to do at this juncture.
Bridge Programs for LPNs
Examples of LPN bridge programs include:
LPN-to-ADN

- Earn your ADN and become an RN more quickly.

LPN-to-BSN

- Obtain your BSN to open up more opportunities.

Accelerated LPN-to-BSN

- If you have a bachelor's degree in another field, this program can help you earn your BSN more quickly.
To become an LPN, you had to undergo training and pass the NCLEX-PN. Having to go back to school and start from scratch can seem pretty unfair. Fortunately, you may not have to. Bridge programs allow working nurses to advance their educations more quickly by taking their previous education and work experience into account. For example, through an LPN-to-ADN bridge program, you may be able to earn your ADN in just 12 to 18 months instead of 24. There are also LPN-to-BSN bridge programs that may reduce the time that it takes to earn a degree from four years to just three or two. If you hold a bachelor's degree in another subject, an accelerated BSN program may be the best way to go.
Starting out your nursing career as an LPN does not mean that you are going to be stuck in an entry-level position forever. You can take your pick from many great paths for advancing your career, and not all of them involve going back to traditional school. Whatever your long-term career goals may be, you can achieve them with work and persistence.