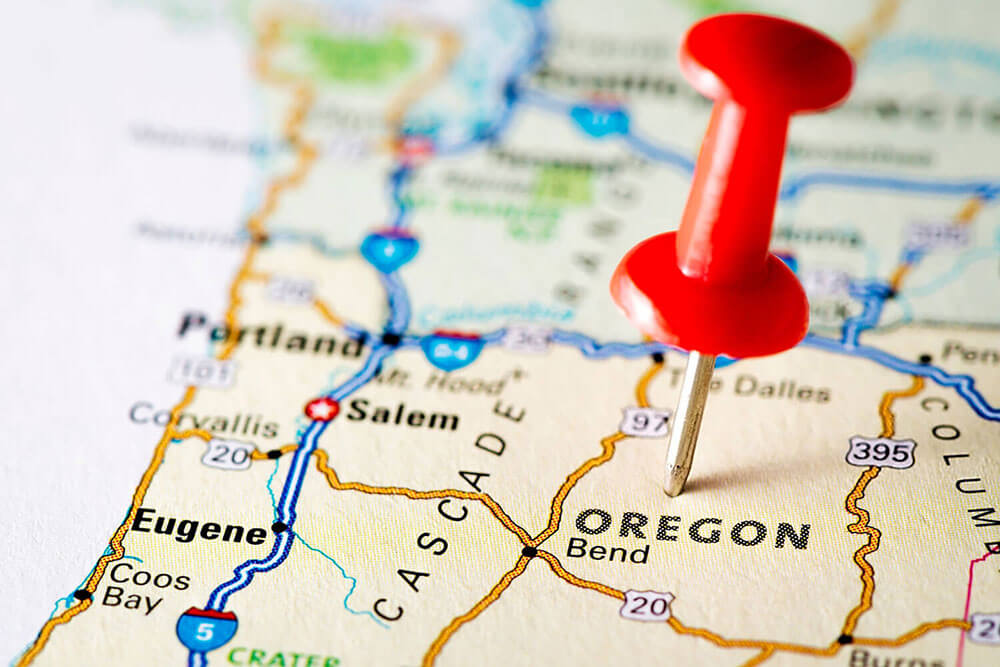 As a resident of Oregon who aspires to work in the field of nursing, you should consider training to become a licensed practical nurse. It's a great way to get the ball rolling not only because the training is fairly affordable but because it can typically be completed in just 12 to 18 months. As a result, within about a year or a year and a half of embarking on this journey, you could become a licensed LPN and start applying for jobs.
With all of that being said, selecting an LPN training program is without question the most important step in the process. The quality of the training that you receive directly impacts your ability to pass the licensing exam, the NCLEX-PN. The right program will be approved by Oregon State Board of Nursing. Dozens of them are, but you can get help zeroing in on the right one by reading on below.
LPN LICENSING REQUIREMENTS IN OREGON
Becoming an LPN in OR is fairly straightforward. For best results, contact the Oregon State Board of Nursing before you begin to ensure that you are completely up to speed regarding the latest licensing requirements. In the meantime, here are the basics:
Complete an LPN program that is approved by the Oregon State Board of Nursing. This program will likely take 12 to 18 months to complete, and it may be entirely campus based or conducted partly online.
Submit your application for licensure by examination to the Oregon State Board of Nursing. With it, complete criminal background check and include official transcripts from your LPN training program and a passport photo or headshot taken within the last six months.
Register for, take and pass the NCLEX-PN, the official licensing exam for LPNs. Note that this exam is administered on dates throughout the year at testing sites around the state.
In Oregon, legislation for NLC is pending at the time of this writing, so if you possess a multistate LPN license from an NLC state, you can't just begin practice as an LPN in Oregon. Check with the Oregon State Board of Nursing for more info if you want to.
In Oregon, LPN licenses expire every two years at 12:01am on the licensee's birthday. No continuing education is typically required.
Oregon State Board of Nursing
To apply for LPN licensure in Oregon, you must submit an application to the Oregon State Board of Nursing. Later, when you need to renew your license or when you have other issues pertaining to it to take care of, this is the agency that can help. Its contact information is as follows:
Oregon State Board of Nursing
17938 SW Upper Boones Ferry Rd, Portland, OR 97224
Phone: (971) 673-0685
Fax: (971) 673-0684
LPN SALARY & EMPLOYMENT OUTLOOK IN OREGON
Before devoting any time, money or effort into becoming an LPN in OR, you should confirm that you will be able to not only find jobs but to find jobs that offer competitive pay and benefits. Fortunately, LPNs around the country have it good, and that's especially true in Oregon.
According to the U.S. Bureau of Labor Statistics, LPNs in the state of Oregon earn a median wage of $57,320 per year, which is equal to $27.56 per hour. By comparison, the nationwide average annual pay for LPNs is $48,820, which is equal to $23.47 per hour. Simply by being in Oregon, then, you can expect to earn more than average.
As far as job outlook goes, it's also excellent. According to the BLS, the LPN field in OR will grow by a rate of around 13 percent from 2014 to 2024. This is slightly slower than the national growth rate of 16 percent, but it still means that around 120 new jobs will be added every year during that period.
LPN Salaries in Oregon by Area
Just as LPNs in Oregon enjoy higher pay than LPNs in many other states, LPNs in certain parts of the state earn more than LPNs elsewhere. Depending on where you live, then, compensation and job availability will vary:
| Area | Total Employment | Average Hourly Wage | Average Annual Salary |
| --- | --- | --- | --- |
| Albany | 110 | $27.82 | $57,870 |
| Portland-Vancouver-Hillsboro | 2,210 | $27.81 | $57,850 |
| Salem | 540 | $27.26 | $56,710 |
| Eugene | 500 | $26.93 | $56,020 |
| Corvallis | 70 | $26.82 | $55,790 |
| Grants Pass | 60 | $26.45 | $55,010 |
| Medford | 200 | $26.42 | $54,960 |
| Bend-Redmond | 110 | $25.97 | $54,010 |
TOP LPN PROGRAMS IN OREGON
To be eligible to sit for the NCLEX-PN licensing exam in Oregon, you must complete and pass a state board-approved LPN training program. Ensuring that a program is approved is merely the first step; you should also consider its pass rates for the NCLEX-PN, as they reflect how well students are prepared after graduation. Ideally, stick with programs that have pass rates of 95 percent or higher.
Finding the right program amid so many can be tricky, so here are recommendations for reputable LPN training programs in OR:
Institute of Technology

4700 Silverton Rd NE,

Salem, OR 97305

Lane Community College

4000 E 30th Ave,

Eugene, OR 97405

Mt. Hood Community College

26000 SE Stark St,

Gresham, OR 97030

Pioneer Pacific College

4145 SW Watson Ave #300,

Beaverton, OR 97005

Pioneer Pacific College

3800 Sports Way,

Springfield, OR 97477

Rogue Community College

117 S Central Ave,

Medford, OR 97501

Sumner College

8909 SW Barbur Blvd,

Portland, OR 97219
Note that all LPN programs include on-site training experiences, and keep in mind that some are offered partly online for convenience and flexibility. If you are ready, find and enroll in an approved LPN training program today!