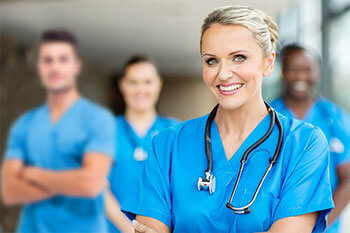 Making the leap from being a Licensed Practical Nurse, or LPN, to being a Registered Nurse (RN) is easier than you probably think. Like many LPNs, you may be intimidated by the prospect of returning to school and may wonder if it's even worth your while. Without a doubt, the answer is a resounding yes. In fact, you don't necessarily have to start from scratch to become an RN. By completing an LPN to RN bridge program, you may be able to get where you need to be more quickly, easily, and affordably.
About LPN to RN Bridge Programs
A bridge program is one that attempts to bridge the gap between two levels of education. Such programs take previous work and education into account, allowing students to skip past things that they have already learned so that they can complete their training faster.
When it comes to LPN to RN bridge programs, there are two options:
LPN to ADN Bridge Programs

- With an associate degree in nursing (ADN), you will be eligible to sit for the NCLEX-RN licensing exam to become an RN. Typically, it takes around two years to earn an ADN. With a bridge program, however, you may be able to complete your training a lot sooner. ADN-educated RNs have plenty of opportunities, but they are limited in terms of career advancement. If you'd like to keep your options open, earning a BSN may be the way to go.

LPN to BSN Bridge Programs

- As a BSN-educated nurse, you will be eligible for more competitive pay and better positions. You will also be able to pursue a master of science in nursing or doctor of nursing practice to eventually move into advanced practice nursing if you would like. Normally, it takes around four years to earn a BSN, but the right bridge program can slash this by a considerable amount.
Prerequisites and Requirements
Whether you opt to pursue an ADN or a BSN, you will complete your bridge program at a college or university. Such institutions usually have fairly strict admission requirements, so familiarize yourself with them before applying. Some of the most common requirements for LPN to RN bridge programs include:
A minimum number of general education credits
A valid LPN license
Documentation of work experience
High school diploma or GED
Locations
Since so many LPNs eventually move up to become RNs, LPN to RN bridge programs are widely available around the country. BSN programs are most commonly offered by four-year colleges and universities; many times, they are offered by these schools' schools of nursing. ADN programs, meanwhile, are typically offered by community colleges and vocational schools.
Online LPN to RN training programs are available, but they aren't exclusively online. Due to clinical training requirements, such programs still have on-campus portions that must be completed. However, a hybrid program may allow you to complete lectures and coursework online for a little extra flexibility.
Cost
The cost of LPN to RN programs varies widely. One factor that affects the overall cost is whether you pursue an ADN or a BSN. For the former, the average cost of training from a community college program is around $16,000. For the latter, the average cost of training from a four-year university is around $30,000. However, costs vary a lot within these categories as well. For example, you will pay less by attending an in-state school than an out-of-state school. If you are currently employed, your employer may offer tuition reimbursement to help offset costs. It's always worth it to check into financial aid too.
Duration
People complete bridge programs not only to save money, but also to obtain the credentials that they need more quickly. Although every program is different, the average duration of an LPN to ADN bridge program is 15 to 18 months, while it usually takes 24 months to earn an ADN. The average duration of an LPN to BSN bridge program, meanwhile, is 24 to 36 months, which is far shorter than the usual four-year timeframe that is required.
Courses
Whether you pursue an ADN or a BSN through an LPN to RN bridge program, the types of courses you'll have to complete will be fairly similar. The main difference is that with the BSN route, you will have to complete more advanced versions of most of them. Examples of some of the courses that you'll complete during your bridge program include:
Transition to Professional Nursing
Health Assessment
Pharmacology
Accreditation
Upon completing your LPN to RN training, you must sit for the NCLEX-RN licensing exam to earn your RN license. To be eligible to sit for the exam, you must prove that you completed RN training through an accredited program. Therefore, always check that the program you decide to enroll in has the proper accreditation. It should be from a reputable accrediting body like the Accreditation Commission for Education in Nursing, or ACEN, or the Commission on Collegiate Nursing Education, or CCNE.
Clinical Training
Clinical training is a crucial part of all RN training programs, and it is required for bridge programs too. To complete your program, you must complete a minimum number of clinical training hours at an approved facility. Your bridge program may provide a list of options for you to choose from, or you may have to line up your own training. Because it is a bridge program, your previous training will also be taken into account.
There's no need to go back to square one to progress into a career as an RN. If you are already working as an LPN, an LPN to RN bridge program is the fastest, simplest way to go.