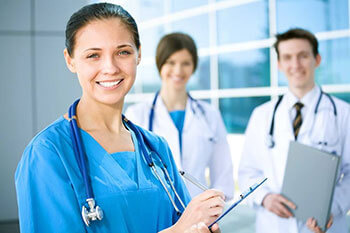 As a Licensed Practical Nurse, or LPN, you enjoy excellent job security, competitive pay, and plenty of other perks. Like many LPNs, however, you may want to progress into more advanced roles later. For that to happen, additional training is required. Although bridge programs are available to help you progress more quickly, programs that let you move directly from being an LPN to possessing a master of science in nursing (MSN) don't exist. However, you can still use bridge programs to get where you want to be faster. Read on to learn more.
About LPN to MSN Bridge Programs
A considerable amount of ground must be covered between the LPN and MSN education levels, so a bridge program isn't really practical. However, many nurses leap-frog through the LPN to BSN bridge program to gain the credentials that they need to earn their MSN degrees more quickly. With that in mind, here's the most popular path:
Complete an LPN to BSN Bridge Program

- Typically, it takes four years of full-time training to earn a bachelor of science in nursing (BSN). However, your previous training and education as an LPN will be taken into account in this type of bridge program, so you can earn your BSN a lot faster. Depending on the program and on your credentials, you can expect this stage to take anywhere from two to three years to complete. You won't be quite done yet, but you will have saved a lot of time.

Complete Your MSN

- Since you have now completed a bachelor's degree, better a BSN, you can now enter an MSN program. Completing an MSN takes only 1-2 years, but the training for an MSN-level education is very complex and involved.
Requirements
You will have to meet the requirements for the LPN to BSN program and the MSN program to earn your MSN. For the bridge program portion of the process, you will need a valid, currently active LPN license; a high school diploma or GED; a certain minimum GPA from high school; and, in some cases, documentation illustrating your work experience as an LPN.
For the MSN portion of the process, you will need a valid RN license and a bachelor's degree (since you are going the LPN-BSN-MSN route, you will have the most relevant BSN degree by now) to be considered. You may need to provide documentation about work or training that you have completed, as it may help you fulfill requirements faster. As a part of the process, you will also have to select a specialization.
Duration
Since there is no such thing as an actual LPN to MSN bridge program, information regarding the duration of such a program is not available. However, it usually takes about four years to go through an LPN to BSN route.
Locations
Bridge programs that help you more quickly progress from being an LPN to holding an MSN are overwhelmingly offered by nursing schools at four-year colleges and universities. Since you can't enroll in a single bridge program to get from point A to point C, you will have to complete at least one bridge program. You may be able to get done faster by completing all classes at the same school. When enrolling, tell them your ultimate goal of earning an MSN, and the school should be able to suggest the best path.
Specialization
A crucial part of any MSN degree program is selecting an area of specialization. This will depend on what you want to do with your career in the future. If you want to move into advanced practice nursing to become an advanced practice registered nurse (APRN), for example, you might choose to specialize as a family nurse practitioner or pediatric nurse practitioner. If you'd rather assume leadership roles, you might choose a specialization in administration or in nursing leadership.
Accreditation
At every step along the way to progressing from LPN to MSN, make sure that the programs you enroll in are properly accredited. If you accidentally complete a program that isn't accredited by a respected body like the Accreditation Commission for Education in Nursing (ACEN), or the Commission on Collegiate Nursing Education (CCNE), your degree will be pretty much worthless. Additionally, you may be unable to progress to the next level in your education without a properly accredited degree. To be extra safe, double-check with your state board of nursing before enrolling in any program.
Online Training
You don't have to put your entire life on hold to progress from the LPN level to the MSN level. After all, you probably need to keep working and otherwise taking care of your obligations even while working toward your next degree. Happily, most nursing bridge programs are available in online versions that offer a lot more flexibility. These are technically hybrid programs, however, as some of the work typically needs to be completed in labs and/or at local facilities as a part of an externship. Still, by adding an online component to the process, you should be able to earn your MSN that much faster.
As an LPN, the idea of someday possessing an MSN may seem unfathomable. However, getting there may not be nearly as difficult as you are anticipating. Take full advantage of the LPN bridge program route to jump from level to level more quickly and easily and for less money.