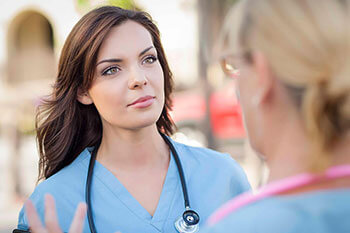 What does the year ahead have in store for the nursing field? Things change quickly in the field of health care due to rapid advances in technology and the like. Whether you are just starting out in your nursing career or have been in the field for years, it is crucial to stay abreast of the latest developments to continue to be the most effective professional possible. Check out some predictions for what 2023 has in store for the nursing profession by reading on below.
While you may know where you will be and what you'll be doing in terms of your nursing career in 2023, what is in store for the profession as a whole? Keeping track of what's ahead can help you to make more informed decisions regarding your career. While no one can truly predict what is going to occur with any degree of accuracy, certain trends seem to be emerging for the year ahead. Here are eight especially relevant ones:
More Men Enter the Nursing Profession
This trend has been happening for some time, and it's only going to intensify in the years to come. While nursing has traditionally been a woman-dominated field, men are increasingly turning to this career path for a variety of reasons. In particular, strong demand for qualified nurses has attracted more attention from men who are entering the medical field. Additionally, many men opt to become paramedics and later continue their schooling to become registered nurses to advance their careers. If you are a man who is thinking about pursuing a career in nursing, there's never been a better time.
Increased Demand for BSN-Educated Nurses
To become a registered nurse, you can either earn an associate degree in nursing, or ADN, or a bachelor of science in nursing, or BSN. The former only takes around two years while the latter typically takes around four. While you'll get where you want to be faster by going the ADN route, employers are increasingly requesting BSN-educated nurses. Thanks to their additional schooling, they are perceived as being more qualified and less of a liability. Additionally, with a BSN, you will be able to pursue additional schooling later much more easily.
Increased Demand for Tech-Savvy Nurses
With high-tech advances like electronic medical records becoming par for the course, today's RNs are increasingly expected to be comfortable with computer technology. Of course, today's nursing school graduates grew up with things like the internet, so they tend to be fairly savvy in this regard. With that being said, nurses who can demonstrate proficiency with various forms of technology are more likely to have their pick of jobs when looking for work.
Telemedicine Comes Into Its Own
At long last, the technology that's needed for people to communicate live and via video has become accessible and affordable. This means that telemedicine, which involves treating patients on a remote basis, is becoming more widely available. Many nurses can now find jobs in telemedicine, which is an emerging field. Those who gain experience in this area are more likely to be eligible for better compensation and other perks. Of course, telemedicine isn't for everyone, as many nurses truly prefer working with patients on a face-to-face basis.
More Nurses Working Outside of Hospitals
This is another trend that has been unfolding for some time, and it's going to become even more evident in 2023. While the majority of RNs continue to work in hospitals, more and more of them are branching out into other industries and fields. In particular, home-based health care has become more commonplace as the baby boomer generation enters its golden years. Home health care jobs for qualified RNs will become more broadly available, and they will increasingly become more coveted among experienced nurses.
Nurses Are Finally Getting the Credit They Deserve
People often say that nursing is a largely thankless job, but that seems to finally be changing. Health care providers are under increased pressure to provide truly top-notch care and service, and RNs are at the front lines of this phenomenon. Employers now realize that the quality of the nurses who they hire directly affects their ability to provide exceptional care. This is great news for RNs at all levels of their careers, as it gives them more clout and increases the odds of being fairly compensated for their work.
Increased Demand for Travel Nurses
Demand for qualified nurses continues to be high across the country. In some areas, in fact, employers struggle to employ enough RNs. Oftentimes, these facilities turn to travel nurses to address these issues. If you are looking for a specialization that will earn you better compensation and other perks, travel nursing might be the way to go. You won't stay in one place for very long, but you will gain all kinds of experience along the way.
Increased Need for Specialized Knowledge
Finally, registered nurses will increasingly be expected to possess some sort of specialized knowledge if they want to progress in their careers. This means not only keeping up with the minimum requirements for continuing education but earning certifications in various areas of specialization. You are likely to see more specific requirements in job postings for RNs in the years to come, as employers look to fill specific roles in their facilities. No matter where you currently are in your career, make earning certifications a priority.
While there's no way to know for certain how accurate the above predictions will turn out to be, one this is certain: The field of nursing isn't going anywhere. Today's registered nurses, especially those with BSNs, can rest easy in the knowledge that they will never struggle to find gainful employment.