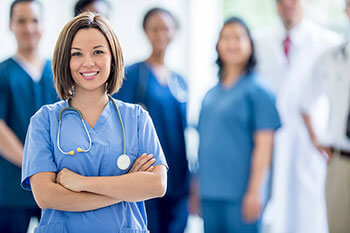 As a Licensed Practical Nurse, or LPN, you enjoy competitive pay, a plethora of job opportunities, and many other advantages. Like many LPNs, however, you may have taken this position as more of a stepping stone toward becoming a registered nurse. If you're interested in progressing to a career as an RN, you don't necessarily have to start from scratch. Accelerated programs for LPNs who want to earn their bachelor of science in nursing, or BSN, degrees, are readily available, and they can save you a lot of time and money.
Become an RN more quickly by completing an accelerated LPN-to-BSN program. Get your search started by considering these popular options:
North Dakota State University
You need to have some college credits under your belt to apply for this program, which is offered primarily online. Accredited by CCNE, the accelerated BSN program's sequence of nursing courses is six semesters (including summers) in length. Currently, the program is about 6 credits of nursing per semester for part-time students. Most students, however, complete 6-9 credits per semester.
California State University
At several of its campuses, California State University offers an affordable LVN-to-BSN accelerated program. Students complete this program in 15 months. Tuition is per unit for 53 units (15 months) at the time of this writing. Check the university's website for most up to date information. If you live in the state of California, this may be the option for you.
Worcester State College
Located in Worcester, Massachusetts, Worcester State College offers an LPN-to-BSN degree program that takes your experience as an LPN into account. As a result, this experience may translate into credit hours already completed. Accredited by CCNE, Worcester State's program will completely prepare you for the licensing exam. Tuition for full-time in-state students is per credit hour at the time of this writing. Some students qualify for scholarships and other forms of financial aid. Part of this program may be completed online for extra flexibility.
Ball State University
This university, which is located in Muncie, Indiana, offers an LPN to BS track for students who already possess LPN licenses and want to earn their bachelor of science in nursing degrees. This popular program is accredited by CCNE and consists of 120 credits. The total fixed cost for the program (minus costs for books/supplies and personal/transportation) for Indiana residents is . For out-of-state students, it is . You can qualify for financial aid that can make the training more affordable.
Indiana State University
Located in Terre Haute, Indiana, Indiana State University is a great option to consider if you live in Indiana and prefer to complete as much of your BSN program online as possible. The school offers a comprehensive online program for LPNs who want to become BSN-educated RNs. This online RN training program is accredited by ACEN. Like most online RN programs, however, some portions must be completed on campus, as practical training is required. As a resident of the state, you will enjoy more affordable tuition by enrolling in this program and will still have the ability to complete most of the work online from the comfort of home.
Idaho State University
Although this university, which is based in Pocatello, Idaho, doesn't have a dedicated accelerated LPN-to-BSN degree program or accelerated program, it does allow those who possess LPN licenses to complete the Traditional BSN Track more quickly. The state-of-the-art nursing school includes a top-notch human simulation lab and other advanced training options. The program consists of 120 credits, but you may be able to skip some if your previous LPN experience is taken into consideration. The average total per semester cost for in-state students is at the time of this writing.
Georgia Southern University
Georgia Southern University in Statesboro, Georgia, offers an accelerated track for LPNs who want to earn their BSN degrees. Upon enrolling into the university (that's different from being accepted into the program), you must complete an entrance exam to determine whether you qualify for the accelerated track. The total cost of tuition for in-state students is per term at the time of this writing. The program is accredited by CCNE, so you can rest assured of being eligible to sit for the NCLEX-RN. You must complete 120 credit hours to earn this degree, but your previous experience may be used to pare down that number a little.
As you can see, you don't have to put your entire life on hold to go back to school and earn your BSN degree. Simply enroll in an accelerated nursing program for LPNs to get where you need to be more quickly and easily.