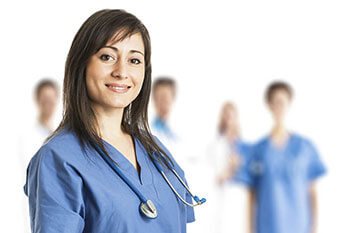 As a licensed practical nurse, you can take your pick from a variety of work settings. While many LPNs prefer the more relaxed pace of working at residential care facilities, others thrive in the fast-paced and sometimes stressful environment of acute care. Acute care refers to care that's provided on an active but short-term basis. It includes providing urgent treatments for illnesses and injuries as well as support and care following surgery. If you are considering working as an acute LPN, familiarize yourself with the responsibilities that you'll be expected to handle on a daily basis by reading on below.
In many ways, the duties of an acute LPN aren't a lot different than those of any other LPN. The primary difference is that the work is performed in a much more stressful and chaotic environment. As an acute care LPN, you can expect to be tasked with the following duties and more:
Provide Bedside Care
As an acute LPN, you can expect to spend much of your time at patients' bedsides. In these environments, LPNs are typically responsible for things like taking vital signs and performing health assessments. A major part of providing effective bedside care is having a good bedside manner, so this is a skill that you'll want to hone. Simply being a caring presence for those in need is often enough.
Treat Bedsores
Although patients don't tend to remain in acute care for very long, many arrive from other facilities for various procedures. Sometimes, these folks have been bed-bound for some time and are therefore at high risk of developing bedsores. As an acute LPN, you can expect to be tasked with treating and caring for patients' bedsores. You will also learn how to keep them at bay, which mostly involves shifting the patient around in bed periodically to keep pressure off of one spot for too long.
Monitor and Report Patients' Conditions
While you'll be working with a whole healthcare team, the RNs and doctors will be busy and will depend on you for updates about patients. Therefore, as an acute care LPN, you will be required to monitor and report on all patients on your caseload. You will essentially serve as the eyes and ears for busy physicians and senior nurses, so you stand to make a major difference in patients' experiences.
Collect Samples
Many patients who come under your care as an acute LPN will have to undergo various tests. Most of the time, LPNs are the ones who collect samples for such tests. These may include blood samples, urine samples or other materials or substances. It may sound intimidating, but your LPN training will fully prepare you for it. After doing it a few times, it will become like second nature to you. Many times, the toughest part is getting the patient to cooperate.
Administer Medication
While LPNs don't have the authority to prescribe medication, they are usually the ones who administer it. This usually means simply bringing the medication to the patient and making sure that they take it.
Treat Wounds
In acute care settings, the workplace often has an all-hands-on-deck mentality. This means that everyone should be willing to pitch in as needed. For LPNs, this sometimes means having to treat minor wounds. Naturally, if someone arrives with a major, life-threatening injury, doctors and nurses will tend to them. If the wound is fairly minor and doesn't require stitches, however, LPNs are usually the ones that clean and dress the wound. You might be squeamish at first, but it should pass.
Administer IV Medications
Although it isn't true in all states, LPNs in most areas are authorized to administer intravenous medications. During your training, you will learn all about venipuncture and will become adept at performing it. Putting it to work in real life is pretty intimidating, but you will get the hang of it before too long. Depending on where you work, you may have to do this quite often or rarely or not at all.
Perform Routine Lab Tests
It's not very common, but in some workplaces, LPNs occasionally have to perform routine lab tests. These are the most basic of tests, and proper training must be provided first. This only usually happens in situations where the facility doesn't have a dedicated lab staff, so it's unlikely to occur in a hospital or other large facility. You may only be asked to do this when you are otherwise caught up with your regular duties.
Help Patients With Meals
Many patients who you work with as an LPN will be in no shape to feed themselves. Therefore, you can expect to spend much of your time helping patients eat and drink. At the same time, you will probably be asked to track their intake of food and liquids and to report back to the head RN. Feeding someone is fairly intimate, so it can be a bit off-putting for new LPNs. Before very long, however, it becomes just a normal part of your daily routine, and you shouldn't have any trouble handling this responsibility.
Assist With Personal Hygiene Needs
Because patients are often incapacitated to some extent, acute LPNs are often tasked with assisting them with their personal hygiene needs. Some patients may only need a little help with getting dressed. Others may need minor assistance while showering. Still others may need extensive assistance with these and other activities.
While acute care LPNs tend to be under a lot more pressure than LPNs who work in more relaxed environments, they also tend to be paid more. If the idea of working in a fast-paced environment while handling the above responsibilities sounds good to you, consider working as an acute LPN.