Average Salary for a Licensed Practical Nurse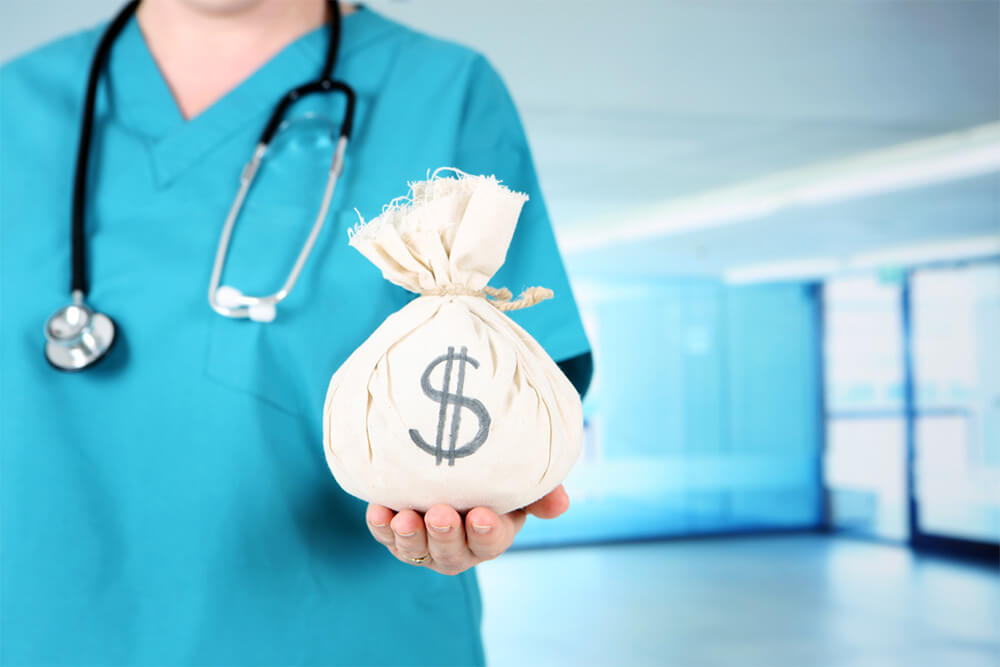 Before embarking on any career path, it is smart to have a clear idea about what kind of salary you can expect. After all, this is important information, and it can affect whether or not you decide to move into that field. Like most people, however, you are sure to be pleasantly surprised by the kinds of salaries that even new Licensed Practical Nurses, or LPNs, can command. Of course, LPN salaries vary based on many factors, including geography, experience, and area of specialization. Read on to learn more about LPNs' average salaries.
Current Average Salary for LPNs
The best source of information about compensation for LPNs is available from the Bureau of Labor Statistics (BLS). The agency reports that in 2016, the median pay for LPNs in the U.S. was $21.20 per hour, which is equal to around $44,090 per year. Since that is the median salary, many LPNs make more than that and many make less. According to the BLS, the lowest compensated 10 percent of LPNs earn around $32,310 per year, while the highest compensated 10 percent of LPNs earn around $76,400 per year. That alone reflects the huge range in pay that exists.
Work Environments and Average Pays
Like many jobs, the environment where you work often affects how much you will be paid. LPNs can find gainful employment in many healthcare settings, including in nursing homes, hospitals, doctor's offices, and even in private homes. Average salaries vary a little from one work environment to the next, but it may be helpful to be aware of how much you can expect to receive depending on where you are hired.
Some of the average yearly salaries for LPNs in different work environments as of 2015 include:
Nursing Homes and Other Elder Care Facilities: $45,300
Government Facilities: $45,620
Doctor's Offices: $39,990
Hospitals: $42,660
Home Healthcare: $44,510
Industries and Average Pays
LPNs' average salaries also often vary based on industry. Naturally, the vast majority of LPNs work in the healthcare or medical industry. However, plenty of others are employed in other sectors. Many times, LPNs who work in industries outside of healthcare enjoy higher compensation, so it's something worth looking into.
Some average LPN salaries for various industries include:
Employment Services - $21.67 per hour, or $45,060 per year
State-Owned Elementary and Secondary Schools - $21.81 per hour, or $45,390 per year
Pharmacies - $22.03 per hour, or $45,820 per year
Research and Development - $22.90 per hour, or $45,950 per year
Insurance Carriers - $23.29 per hour, or $48,450 per year
Geography and Average LPN Salaries
Depending on where you live, you may be paid less or more than the national average while working as an LPN. The law of supply and demand largely determines average pay in any given geographic area. Therefore, states and regions that offer higher pay tend to have fewer LPNs available, so they tend to offer more competitive pay.
Some of the states and regions that compensate LPNs particularly well include:
Bay Area/San Francisco - $29.11 per hour, or $60,550 per year
Southeast Alaska - $26.57 per hour, or $55,260 per year
St. Mary's County, MD - $25.97 per hour, or $54,020 per year
Connecticut - $25.75 per hour, or $53,560 per year
Nevada - $25.41 per hour, or $52,850 per year
Alaska - $25.23 per hour, or $52,480 per year
Massachusetts - $25.03 per hour, or $52,060 per year
New Jersey - $24.69 per hour, or $51,350 per year
Generally speaking, pay for LPNs tends to be higher in metropolitan areas than in rural areas. Pay on average is rising across the country and across most metro regions, so these figures are likely to rise as time goes by. Please note that the figures highlighted above do not include benefits like health insurance.
Factors Affecting Average LPN Salaries
There are no hard and fast rules regarding LPN compensation, so there is no way to predict how much you can expect to be paid for your first job. However, many factors come into play to affect average LPN salaries, and understanding those factors can help you understand whether or not you are being offered a fair rate.
Some of the factors affecting LPN salaries include:
Geographical Location - By far, geographical location has the largest impact on average LPN pay. In some parts of the country, including the Bay Area and parts of Alaska, LPNs are harder to come by and therefore enjoy better compensation.
Experience - Another major factor when it comes to average salary for an LPN is experience. The longer you work and develop a track record, the easier it will be for you to command higher pay and better benefits.
Work Environment - Work environment also often affects pay for LPNs. For example, LPNs who work in nursing homes tend to be paid more than LPNs who work in doctor's offices. Similarly, the industry that you're in affects your average salary. Most LPNs work in the medical field, but those who work in insurance or in research and development tend to enjoy better pay.
Attainment of Certifications - Finally, LPNs usually have the opportunity to earn certifications in various areas of specialization. In doing so, they increase their marketability, which allows them to qualify for better pay and better employment terms. If you plan to stay an LPN for a while, look into earning certifications to increase your pay and improve your marketability.
Although LPNs don't earn as much as registered nurses, they make well more than other entry-level employees in many other industries. The return on your investment in training to become an LPN will more than pay off within a very short period of time.